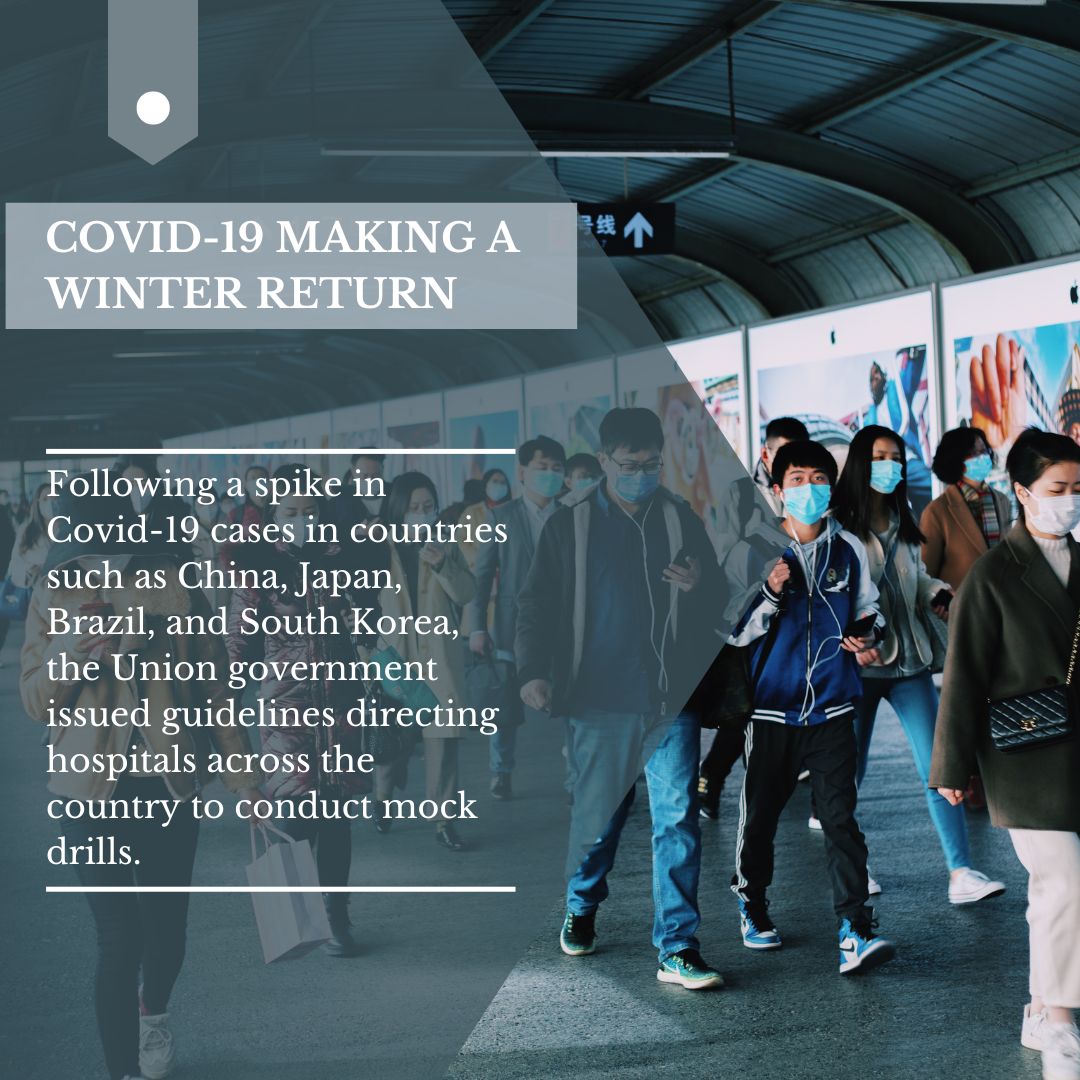 Mock drills are being conducted in hospitals across India to assess their readiness to handle an increase in Covid-19 cases. Following a spike in Covid-19 cases in countries such as China, Japan, Brazil, and South Korea, the Union government issued guidelines directing hospitals across the country to conduct mock exercises. Mock drills begin across a number of health facilities in several states and Union territories to ensure their readiness to deal with any eventuality related to COVID-19.
The Health Minister stated during a meeting with doctors from the Indian Medical Association (IMA), "Based on our previous experience managing this pandemic, we are conducting several drills, one of which will take place across the country tomorrow. Such exercises would improve our operational readiness, assist in filling gaps, and thus strengthen our public health response."
"Prime Minister Shri. Narendra has addressed us as a nation to be cautious to avoid a Covid surge in the country. The government is also preparing in case the number of covid cases increases. Today, mock drills are held across the country in order to ensure that people receive proper care.", says Union Health Minister Mansukh Mandaviya.
The exercise will focus solely on parameters such as the availability of health facilities in all districts, the capacity of isolation beds, oxygen-supported beds, ICU beds, and ventilator-supported beds, and the best possible availability of doctors, nurses, and paramedics. It will also focus on human resource capacity, such as healthcare professionals trained in COVID-19 management, cardiorespiratory management protocol for severe cases, and healthcare workers trained in PSA plant operation, among other things. Also available are Advanced and Basic Life Support (ALS/BLS) ambulances, testing equipment and reagents, and essential drugs. Referring to the surge in COVID-19 progression in many countries around the world, the Union Health Ministry on Saturday emphasized the importance of putting in place necessary public health measures in all states and union territories to meet any circumstances.
After two new cases were reported from Unnao and Agra, the Uttar Pradesh government activated the administrative machinery to test Covid preparedness and management, including mock drills at medical colleges and hospitals across the state. In light of the recent increase in Covid cases in some countries, Delhi government officials have begun physically visiting all government hospitals in the city to assess their readiness to deal with any eventuality.
Be informed, be prepared, be smart, be safe and be ready to fight covid.