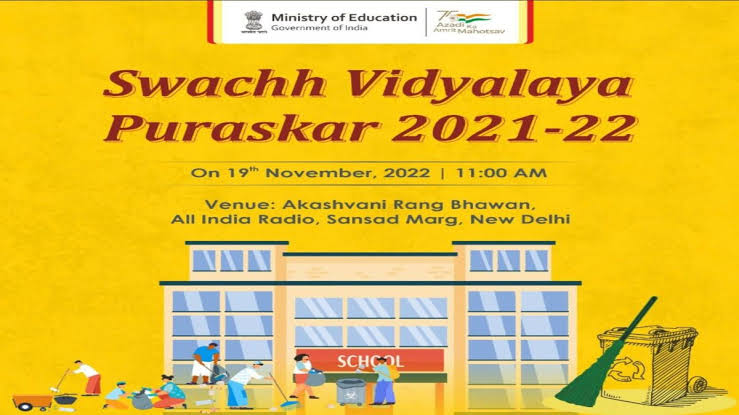 The Ministry of Education will confer the national-level award under Swachh Vidyalaya Puraskar 2021-22 today, November 19.
The Ministers of State for Education, Subhas Sarkar and Rajkumar Ranjan Singh will award the selected schools at Akashvani Rang Bhawan, All India Radio, Sansad Marg in New Delhi at 11 am today.
This national-level Swachh Vidyalaya Puraskar has been instituted by the Education Ministry to recognise, inspire and celebrate the excellence in sanitation and hygiene practices in schools.
The main objective of the Swachh Vidyalaya Puraskar is to honor schools that have initiated steps in fulfilling the mandate of the Swachh Vidyalaya Campaign.
The national level award, according to a statement on its official website, is based on an IT-enabled assessment of WASH infrastructure, hygienic practices and COVID-19 appropriate behaviour. The awards will be presented to both rural and urban government schools, government aided schools and private schools.
A total of 39 schools have been selected for the national award including 34 in the overall category and five in sub-categories by the national selection committee. The schools will get an award money of Rs 60,000 each.
The Swachh Vidyalaya Puraskar has been instituted by MoE to recognize, inspire and celebrate excellence in sanitation and hygiene practice in schools.
The purpose of the SVP is to honor schools that have undertaken significant steps towards fulfilling the mandate of the Swachh Vidyalaya Campaign.
Schools were able to apply for the awards between January to April 15, 2022. The committee selected the schools at the district level between April 1 and May 21, 2022. The results for state and union-territory level were declared on May 27. Schools were then selected for state level awards from May 27 to June 30 and results were released between July 1 and 7.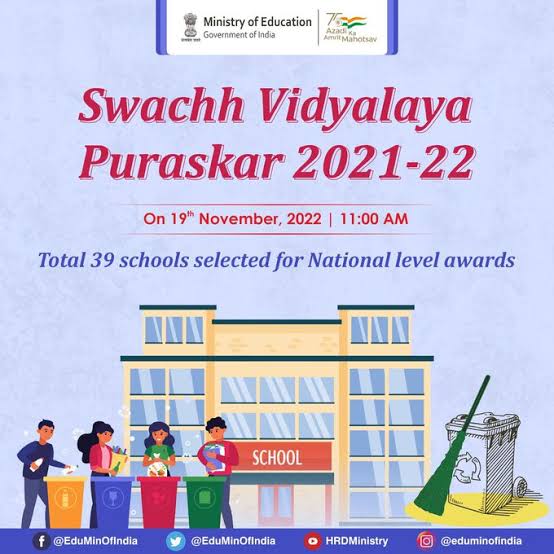 Six sub-category wise awards have also been introduced for the first time, with award money of Rs 20,000 per school. The system will generate the overall score and rating of schools on these categories automatically. The schools will be assessed through an online portal and mobile app in these sub-categories:
Water
Sanitation
Hand Washing with soap
Operation and Maintenance
Behaviour Change and Capacity Building
Preparedness and Response (the newly added category on COVID-19)
The provision of water, sanitation and hygiene facilities in school secures a healthy school environment and protects children from illness (including COVID-19) and exclusion, a statement on the official website said adding that it is a first step towards a healthy physical learning environment, benefiting both learning and health.
In 2014, Swachh Bharat Swachh Vidyalaya (SBSV) initiative was launched to ensure that all schools in India have access to separate functional toilets for boys and girls.
The initiative lays emphasis on promoting safe and appropriate hygiene practices.
Schools have been awarded at the district, state and are now being awarded at the national level based on an internationally recognized five star rating system.
Besides, every school will get a certificate of participation showing the category-wise scores and overall rating of the school.
Subhas Sarkar launched the Swachh Vidyalaya Puraskar (SVP) 2021-22 on January 12.