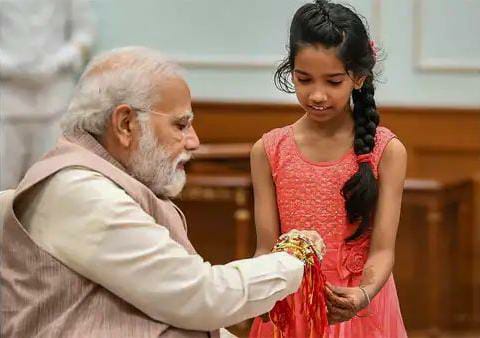 The little girls whose fathers work at the Prime Minister's Office will always look back on this day as one of the most memorable ones because they had the chance to celebrate the festival with none other than the nation's Prime Minister.
These PMO staff members' daughters, who work as sweepers, peons, gardeners, etc., tied raakhi on PM Narendra Modi's wrists and created lifelong memories.
In a video montage posted by PMO, PM Modi is shown celebrating Raksha Bandhan with daughters of PMO employees who work as sweepers, peons, gardeners, and drivers.
The celebration of the relationship between brothers and sisters is marked by Raksha Bandhan.
Raksha Bandhan is annually celebrated by PM Modi with young people and women from all walks of life.
All of these distinguished visitors are welcomed by him at his home and office throughout the day. Widows from locations like Vrindavan and Varanasi visit him on this day, and they are now becoming a more acceptable part of society thanks to such initiatives.
The kids wrap him in gorgeous, colourful Rakhi threads, and Modi reciprocates by giving them several lovely presents. The women also tie Rakhis around his wrists and talk to him about their varied issues, which he tries to address right away.
On the occasion of Raksha Bandhan earlier in the day, Prime Minister Modi sent his greetings and best wishes to the populace.
PM Modi tweeted, "Greetings to everyone on the special festival of Raksha Bandhan."
Indians celebrate Rakha Bandhan to symbolise the sanctity and purity of the relationships between brothers and sisters.
This auspicious event is observed on a full moon in the Shravana month, per the Hindu lunar calendar. During the joyous Raksha Bandhan celebrations, sisters buy Rakhi for their brothers, tie the sacred thread on their wrists, and ask God for protection, happiness, prosperity, and good health for them.