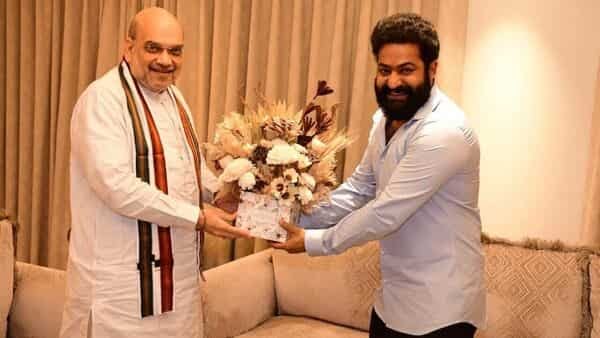 On Sunday evening in Hyderabad, Telugu Desam Party (TDP) founder NT Rama Rao's grandson, a Tollywood actor, met with Union Home Minister Amit Shah. Amit Shah visited Telangana for one day.
Shah tweeted a few images from the gathering. Had a positive interaction with Jr. NTR, the crown jewel of Telugu cinema, in Hyderabad, tweeted Amit Shah.
Prior to the by-elections, Amit Shah travelled to the state to speak to a crowd at Munugodu. After sitting Congress MLA Komatireddy Raj Gopal Reddy left the party and joined the Bharat Janata Party, a byelection for the Munugodu assembly was held.
The Telangana government, according to Shah, has betrayed the confidence of the state's citizens, and the K Chandrashekar Rao administration is "anti-farmer," he claimed while speaking at the large public protest.
The tweet from Junior NTR included the following message: "It was a pleasure meeting you and having a lovely encounter. I appreciate the warm remarks.
The BJP leaders requested Junior NTR to join them for dinner with Union Home Minister Amit Shah on Sunday night. Despite having a close relationship with the TDP, RRR actor is not thought to be politically engaged. Since 2009, Junior NTR has avoided being photographed with TDP or other party officials in order to focus solely on his acting profession.
While the Tollywood actor stayed out of active politics, his actor uncle Nandamuri Balakrishna is a TDP MLA in Hindupur, Andhra Pradesh, and his father Nandamuri Harikrishna served in the TDP's Rajya Sabha from 2008 to 2013.
Previously, Telugu Desam Party was a National Democratic Alliance ally (NDA). Before the 2019 parliamentary elections, it broke apart from the NDA, accusing the BJP of treating the newly-divided state of Andhra Pradesh like a stepmother.
Nara Chandrababu Naidu has led the party as president since since 1995. He is NTR's son-in-law, who came to power in 1983 and helped the TDP win its first election.
The meeting between Junior NTR and Amit Shah has many political analysts scratching their heads. While some political analysts appear to be delighted by the news, some fans of Junior NTR would prefer that he remain a Tollywood movie star without joining any political parties.