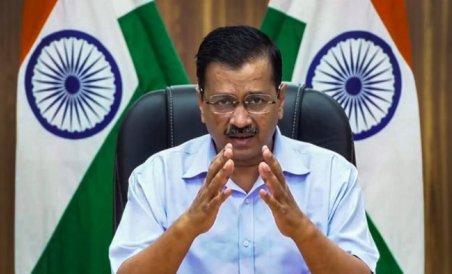 Before entering politics, the national convener of the political group Aam Aadmi Party worked as a government servant. Kejriwal, once known as the "muffler guy with a broom," has undergone significant adjustment since entering politics.
On August 16, the Delhi CM turned a year older. Let's look at Arvind Kejriwal's transition from a civil servant to a minister in advance of his birthday.
Early days of his career
Gobind Ram Kejriwal and Gita Devi were Kejriwal's parents. Electrical engineer Gobind Ram received his degree from Mesra's Birla Institute of Technology. Arvind undoubtedly became a mechanical engineer in the same field as his father. He attended IIT Kharagpur and received an All-India Rank of 563 in the IIT-JEE admission exam.
Kejriwal began by working for Tata Steel. However, after taking a leave of absence to prepare for the Civil Services Examination, resigned in 1992. After passing the exam, he began working for the Indian Revenue Service (IRS) as an Assistant Commissioner of Income Tax in 1995.
IRS exit in a mess
In 2000, Kejriwal was given a two-year paid leave of absence to pursue his further education, with the understanding that he would not leave the Service for at least two years after returning to work. He would have to pay back the salary he received while on leave if he didn't follow the rules in place.
A politician claimed, however, that he was not posted for 18 months but continued to get pay, and that after that time he asked for leave without pay, which was also approved.
He reportedly incurred the anger of the government when he left his position as Joint Commissioner of Income Tax in 2006 because they felt he hadn't upheld his half of the bargain.
Although Kejriwal claims that the government had the required duration of time—18 months without posting and 18 months of unpaid leave—it was not the case. He was forced to settle the lawsuit by paying the government around Rs 9 lac 30 000 in 2011.
Creation of the Aam Aadmi Party
Since his time as an IRS official, Arvind Kejriwal has been actively involved in activism. After his brief stint as president of the Jan Lokpal movement, he has criticised those who can't impose their will on elected officials. As a result, Kejriwal and other activists made the decision to enter politics and run for office, launching the Aam Aadmi Party in 2012 as a party for the general populace.
But Kejriwal and Hazare developed a gap after the formation of the AAP. And in 2013, he ran in his first election. He was chosen as the mayor of Delhi and left office after 49 days.
Later, he won two elections and came to power.