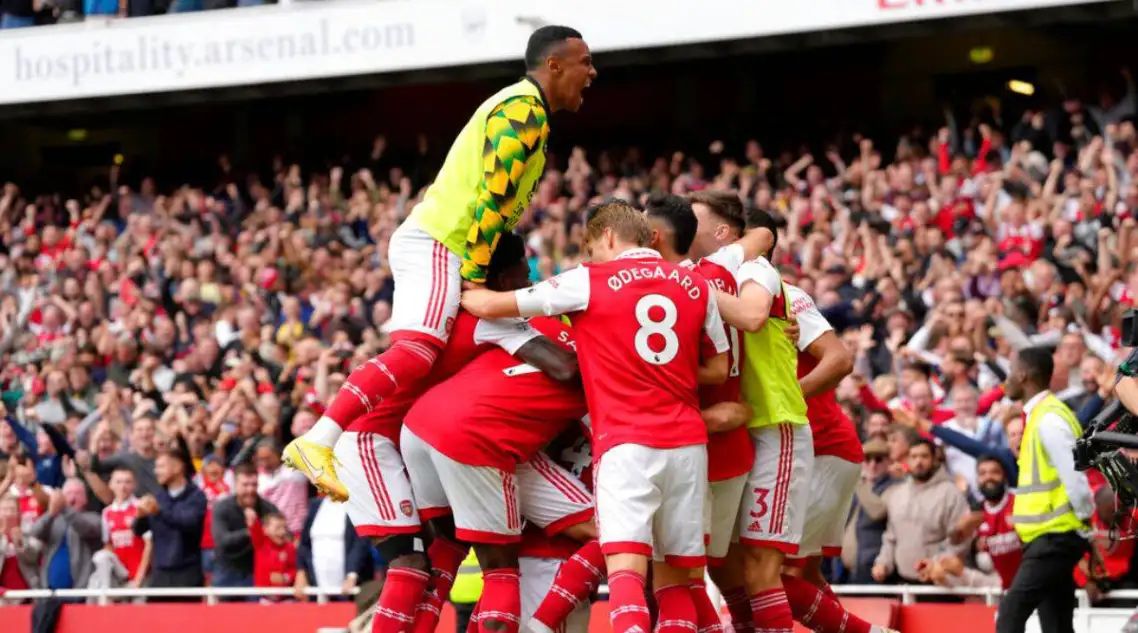 Arsenal players celebrate after their teammate Granit Xhaka scored his side's third goal during the English Premier League soccer match between Arsenal and Tottenham Hotspur, at Emirates Stadium, in London, England, Saturday, Oct. 1, 2022.
Mukesh Ambani is being mentioned in relation to a potential bid for Arsenal after Manchester United and Liverpool. The fascination arises from son Akash's passion for the Gunners both then and now, the adoring parent that the businessman is. The Athletic has been informed by sources who must remain anonymous to protect business interests that the London club is the one the family would go for if they did enter the football world. Ambani's son Akash, 31, is reportedly a big Arsenal fan.
Ambani first expressed interest in purchasing a premier league club in 2010, when he and Subroto Roy, chairman of the Sahara Group, were interested in acquiring a 51% stake in Liverpool. However, the club dismissed the interest as a rumour.
With a net worth of $92.4 billion, Mukesh Ambani is ranked as the eighth-richest person in the world by Forbes.
Privately, it is also rumoured that Ambani is interested in purchasing Manchester United from the Glazer family, who are the current owners, for a price between six and seven billion pounds.
If Ambani is looking to purchase Arsenal, the plot becomes even more intriguing. Arsenal, along with Manchester United, Liverpool, and Chelsea, has a strong following in India. In reality, The Mirror reported in November that Ambani and FSG, the owners of Liverpool, were in negotiations about a 4 billion pound price tag.
A Saudi-Qatari group was apparently exploring a proposal in addition to the Ambani family. Sir Jim Ratcliffe and Amancio Ortega, the owner of Zara, have both expressed interest in United and are poised to make offers.