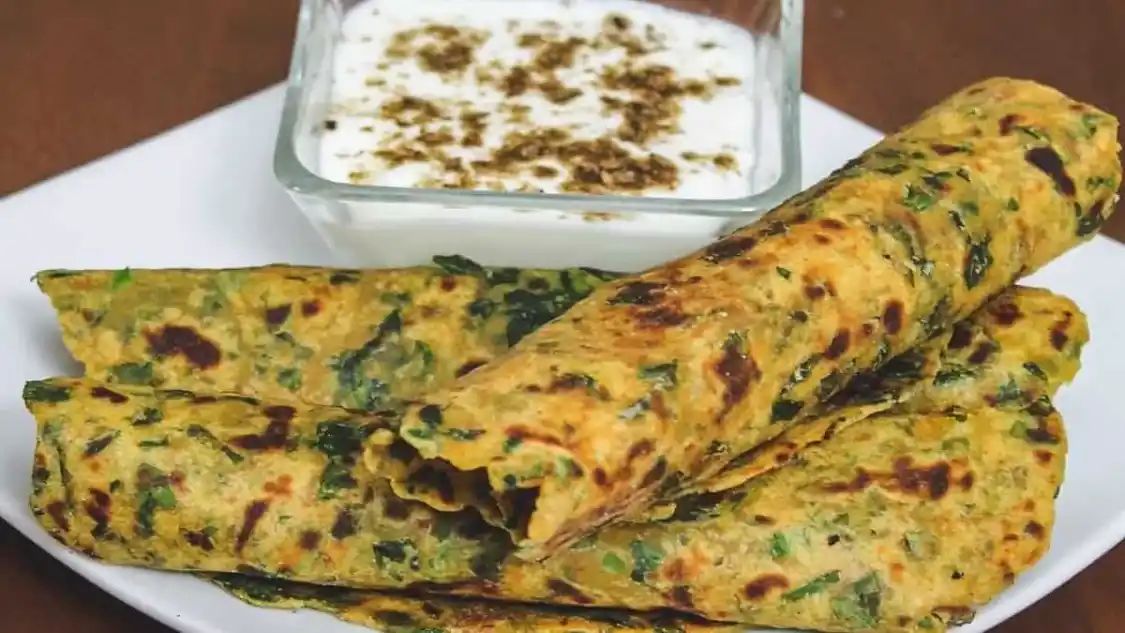 India is renowned for the variety of parathas and flatbreads it produces. Epicureans can choose from a variety of Indian parathas, including plain and ones that are packed with ingredients like potato, radish, cauliflower, paneer, and others. Fresh green leafy vegetables are added to the healthier variants to improve flavour, nutrition, and taste.
These parathas made from leaves are popular due to their flavour and health benefits.
Let's explore 5 of these variations!
MethiParatha
In Indian cuisine, there are many different dishes and methods to employ these incredibly healthy greens. Kasuri methi, the name for the dried leaves, is generally used as a herb to season food. Fenugreek leaves in their fresh green state are used to make methi paratha. The leaves are thoroughly cleaned, washed, and chopped before being added to the whole wheat flour and combined to form the dough. This is a common staple in Indian households for breakfast, lunch, and dinner.
Palak Paratha
We are all aware of spinach's power. Do you recall Popeye the Sailor Man from cartoons? Spinach is his on-the-spot energy enhancer. Palak parathas have been used by Indian mothers to give their children a little extra energy. These flatbreads fall under the category of plain paratha. They are frequently served with curd, achaar, and plain bhaji. There are two methods for producing it. Some people puréed fresh spinach leaves, while others like to chop it and combine it with flour to produce dough. It can be cooked right away because it doesn't require any resting time.
Moringa Greens Paratha
Drumstick leaves, also known as moringa greens, are a common ingredient in South Indian food and are high in beta-carotene, vitamin C, protein, iron, and potassium. Take around 1 cup of the drumstick leaves after harvesting them to create this. For 10 to 15 minutes, soak the greens in a large container of water. Before being chopped, the leaves are taken out of the water and given a small squeeze. To make the dough, it is combined with wheat flour and one's favourite herbs and spices. Parathas made from them can be enjoyed with curd or alum curry.
Curry-patta parathas
Would you like to try a brand-new curry leaf recipe? Try this paratha with fresh curry leaves if you haven't already. Curry leaves are used in this low-fat, nutritious paratha, which is made by kneading chopped curry leaves into the dough. Later, when rolling the paratha, a roasted curry leaf powder seasoned with red chilli powder, cumin powder, and sesame seeds is spread on it. It gains a characteristic scent from this powder.
Hara dhania paratha
The hara dhania paratha, also called the coriander paratha, is a flatbread. It is a simple paratha that is filling and full of fibre. Serve with boondi raita and your favourite pickle. These are perfect for lunchboxes for children as well as for breakfast and dinner. To produce the dough, freshly picked coriander leaves are cleaned, diced, and combined with a few spices, including coriander powder, cumin powder, and green chilies. The parathas were then rolled and baked.