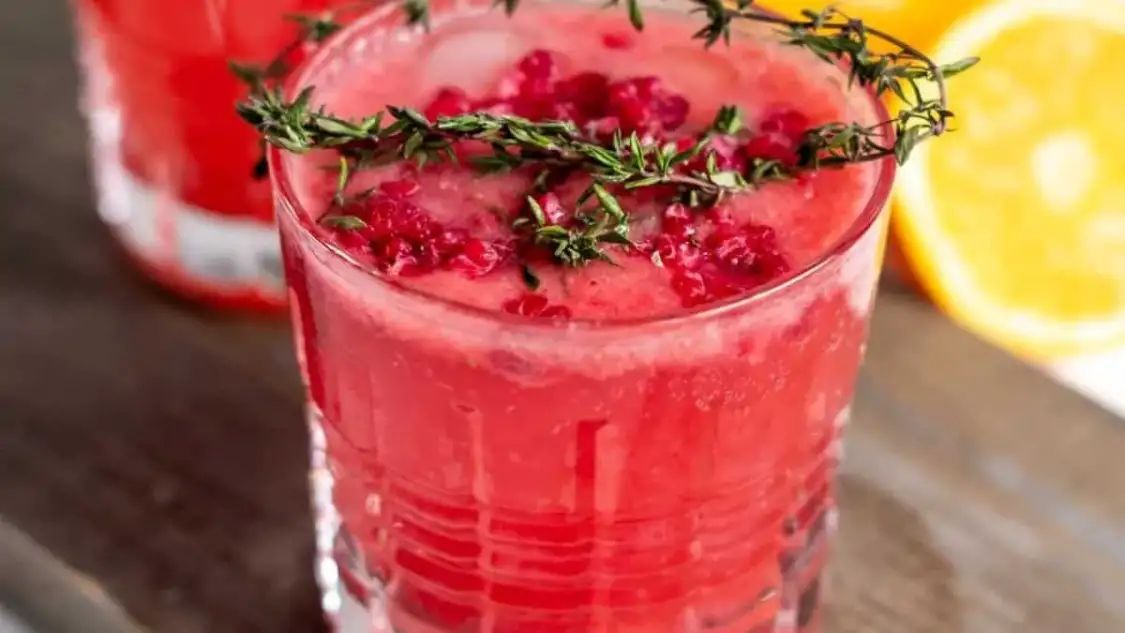 Fruit juices are available as reviving refreshments while we fast during Navratri. This holiday's second day is devoted to the colour red.
Make some pomegranate juice instead, then. For pomegranate juice, people don't commonly browse online for recipes. It takes time and effort to extract the fruit's exquisite flavour because it is made up of tiny berries. But it's all worthwhile in the end. It can keep one hydrated while they observe these nine days of fasting.
Let's test out these five pomegranate juice recipes.
Pomegranate-basil blend
One California apple, sliced. Pick up a pomegranate (remove the arils). Transfer the fruit to a pitcher and place 12 large fresh basil leaves in the bottom. And almost to the halfway mark, fill it with ice. Pour 350 ml each of apple, pomegranate, and one lemon juice that has just been freshly squeezed.
Pomegranate meets rosemary
Blend 14 cup fresh pomegranate juice, 12 cup sugar, 14 cup water, and a few rosemary sprigs in a pot to make the straightforward pomegranate syrup. Maintain a medium flame while stirring until the sugar dissolves. Bring to a boil, then immediately turn off the heat. Allow the rosemary to steep in the warm simple syrup for 15 minutes. Give it time to cool. Juice from four ounces of fresh lemons. Serve it in a glass with ice cubes and pomegranate seeds as a garnish.
Cranberry paired pomegranate
To create the sugared cranberries, mix ¼ cup sugar and ¼ cup water in a medium saucepan over medium heat. After simmering the sugar, it must be stirred to dissolve it. After turning off the heat, add 3 ounces of fresh cranberries to the pot. Till coated, thoroughly combine. Allow it to sit for 10 minutes. The cranberries should be moved to a wire rack and dried for at least an hour. On a large dish, sprinkle ½ cup of sugar. The cranberries should be evenly covered with sugar after rolling in it. Give them an hour to dry. In a mason jar, combine soda with ½ cup each of pomegranate juice, ½ cup cranberry juice, and ¼ cup fresh lime juice. Blend well. Add a spoonful of sugared cranberries to each glass before adding ice cubes on top.
Pomegranate with the goodness of chia
Overnight soak one spoonful of chia seeds. It can be kept longer and used for a few days by storing more of it. Take two pomegranate fruits the following morning. Remove the peels, then mash the kernels with the juice. Leave the seeds and fibre in the juice and consume it as is. Fill the bottom layer of a pitcher with the soaked chia seeds before adding the pomegranate juice, two tablespoons of organic honey, one tablespoon of lemon juice, and a bunch of freshly washed mint leaves. Stir each one thoroughly. Add ice cubes to a glass of juice before serving.
Watermelon and pomegranate punch
One of the best fruits for keeping you hydrated is the watermelon. Blend one entire pomegranate and one half of a watermelon into a highly vitamin C-enriched drink (remove the peel). You needn't add water. Mix some ice cubes if you like. This drink has enough sweetness to it by nature. Add honey or jaggery powder for more sweetness.