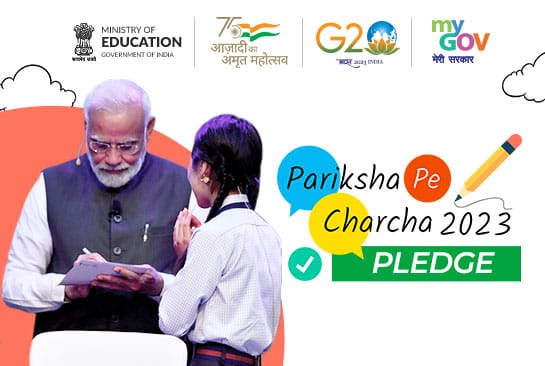 5 subjects for teachers and parents to discuss with the PM in Pariksha Pe Charcha 2023
Today, Prime Minister Narendra Modi will engage in discussion with educators, parents, and students on the approaching board exams in 2023.
Every year, the prime minister hosts "Pariksha Pe Charcha" to address the issue of stress and anxiety associated to board exams.
At the Talkatora Stadium in New Delhi, the Ministry of Education will host the sixth Pariksha Pe Charcha (PPC) in a town hall format.
The event will be attended by registered parents, instructors, and students from grades 9 through 12.
For Pariksha Pe Charcha this year, nearly 38 lakh students have signed up.
As part of Pariksha Pe Charcha 2023, PM Modi recently distributed to pupils a "collection of mantras and activities" to help them cope with exam stress.
Videos of the prime minister, text summaries of the ideas, and images that clearly convey the message are all available on the website.
Students in classes 9 through 12 are eligible to compete. Additionally, parents and teachers were offered the opportunity to take part in the same.
There are three topics for parents and five themes for teachers. Parents should pay attention to the following themes: My Child, My Teacher; Adult Education- Making Everyone Literate; and Learning and Growing Together. Our Heritage; Enabling Learning; Environment; Education for Skill; Lessen Curriculum Load; No Fear for Exams; Future Educational Challenges are the themes for instructors.
Pariksha Pe Charcha 2023 would involve more than 2000 students and instructors.
The director of NCERT will present PPC Kits and certificates of gratitude to about 2050 kids, teachers, and parents who were chosen through competitions on MyGov. Additionally, the programme may include a few of the NCERT-selected questions that were shortlisted. It might be possible for the participants who posed those queries to speak with the media.