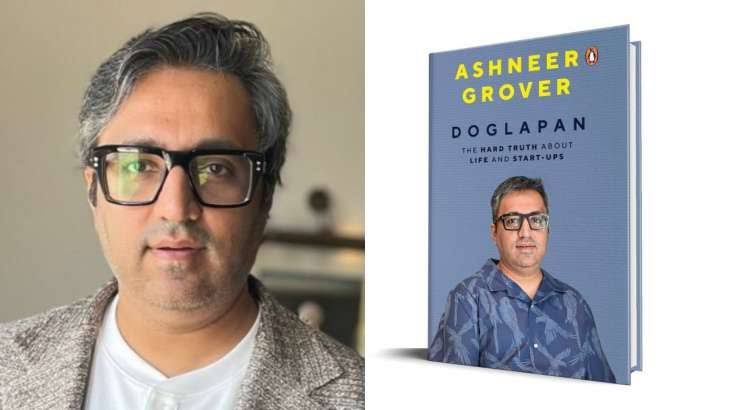 This is the unfettered story of Ashneer Grover-the favourite and misunderstood poster boy of Start-up India.
Raw, gut-wrenching in its honesty and completely from the heart, this is storytelling at its finest.
A young boy with a 'refugee' tag growing up in Delhi's Malviya Nagar outpaces his circumstances by becoming a rank-holder at the pinnacle of academic excellence in India-IIT Delhi. He goes on to do an MBA from the hallowed halls of IIM Ahmedabad, builds a career as an investment banker at Kotak Investment Banking and AmEx, and is pivotal in the making of two unicorns-Grofers, as CFO, and BharatPe, as co-founder.
As a judge on the popular TV show Shark Tank India, Ashneer becomes a household name even as his life turns upside down. Controversy, media spotlight, garrulous social media chatter descend, making it difficult to distinguish fact from fiction.
Is kitab padhne ke baad ya to aap ek dum apni naukri chhod doge ya fir zindagi bhar naukri hi karoge. At least beech mein nahi phase rahoge.
To get absolute clarity in life – read my incredible life story ! Order your copy of 'Doglapan' now on Amazon.
1: 𝑮𝒆𝒕 𝒕𝒉𝒆 𝒃𝒆𝒔𝒕 𝒑𝒐𝒔𝒔𝒊𝒃𝒍𝒆 𝒆𝒅𝒖𝒄𝒂𝒕𝒊𝒐𝒏:
Ashneer (Born into a middle-class family) studied hard and went on study at IIT-Delhi & IIM-Ahmedabad, both being the best premier educational institutes in India.
𝘞𝘩𝘺 𝘪𝘴 𝘵𝘩𝘪𝘴 𝘪𝘮𝘱𝘰𝘳𝘵𝘢𝘯𝘵?
Later, when he worked as an Investment banker (Kotak & American Express) or finally co-founded BharatPe, a common theme was that he frequently crossed paths with some of his batchmates from those institutes. 
2: 𝑳𝒆𝒂𝒏 𝒐𝒏 𝒕𝒐 𝒇𝒂𝒎𝒊𝒍𝒚/𝒇𝒆𝒘 𝒊𝒏𝒅𝒊𝒗𝒊𝒅𝒖𝒂𝒍𝒔 𝒇𝒐𝒓 𝒔𝒖𝒑𝒑𝒐𝒓𝒕:
Most people didn't know much that a large part of his support group had always been his Family. Be it his wife, Madhuri Jain, has always been his pillar of support since the day they started dating.
After going through the book, you would have pure respect for her, considering the sheer number of risky decisions Ashneer has made (Trust me, they were plenty of difficult choices backed by conviction & belief in one's abilities).
3: 𝑫𝒐 𝒏𝒐𝒕 𝒃𝒖𝒚 𝒕𝒉𝒆 8 𝒉𝒓 𝒘𝒐𝒓𝒌 𝒔𝒉𝒊𝒇𝒕 𝒎𝒊𝒏𝒅𝒔𝒆𝒕
When Ashneer started as a young recruit at Kotak Investment bank, he took up challenging M&A assignments for a vast range of Businesses (ranging from Electrical accessories makers, Real estate, Payments investment firms etc.) to name a few.
4: 𝑶𝒑𝒆𝒏 𝒕𝒐 𝒆𝒙𝒑𝒍𝒐𝒓𝒊𝒏𝒈 𝒏𝒆𝒘 𝒊𝒅𝒆𝒂𝒔
One thing I must take away from this book is that he never restricted himself to one business sector. He has this insatiable curiosity to know everything about Businesses.
You will be blown away to discover that he, in some way or the other, is connected to almost every prominent Indian startup that has emerged right from the Flipkart days.
He is one of those rare individuals who has seen it all in the Indian Startup Scene. (For future generations, like Freedom fighters who have experienced so much of the Indian freedom struggle.)
5: 𝑩𝒆 𝑷𝒂𝒓𝒂𝒏𝒐𝒊𝒅
When you are going for the bigger game, especially when competing against Billion-dollar players, you have to live with this state of mind that everyone is out there to get you and kill your business.
It's like running, having the endurance to run a marathon with a 100-metre dash explosiveness. You cannot afford to celebrate your wins for too long.

𝐀 𝐦𝐮𝐬𝐭-𝐫𝐞𝐚𝐝 𝐟𝐨𝐫:
For startup enthusiasts: offers excellent insights into the whole Indian startup ecosystem.
𝐓𝐡𝐢𝐬 𝐛𝐨𝐨𝐤 𝐢𝐬𝐧'𝐭 𝐟𝐨𝐫:
Someone who is risk-averse and would rather prefer to live a safe & secure professional life.
𝑯𝒂𝒑𝒑𝒚 𝑹𝒆𝒂𝒅𝒊𝒏𝒈!
𝐏.𝐒:
The Epilogue section is the most valuable section at the end of the book, which beautifully captures all the lessons learned during Ashneer's journey.