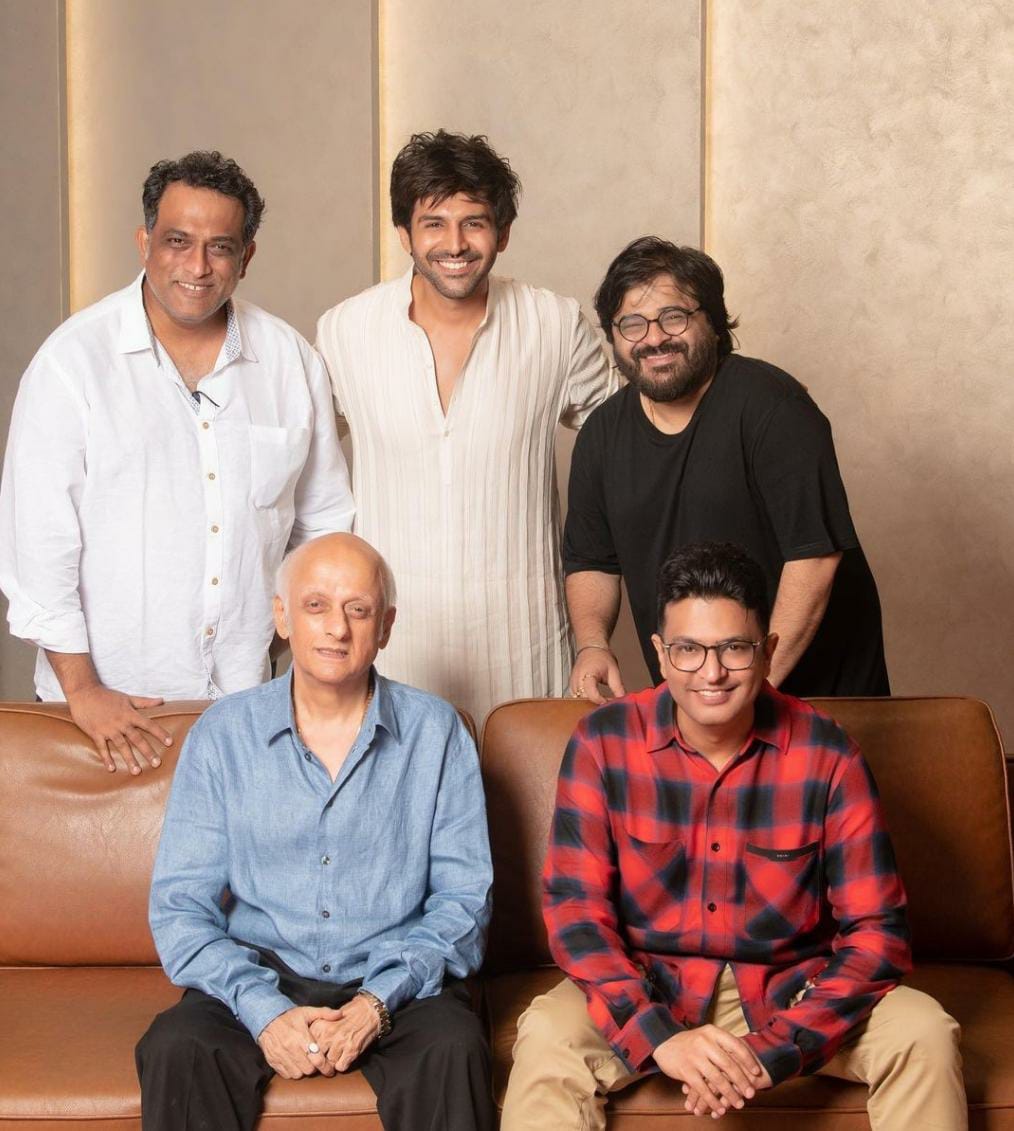 Bollywood hunk Kartik Aaryan will appear in the third episode of the Anurag Basu-directed "Aashiqui" series. "I grew up watching the timeless classic 'Aashiqui,' and working on 'Aashiqui 3' is like living out a dream,'" added Kartik. I'm honoured and thankful for the chance to work with Bhushan Sir and Mukesh Sir on this project. I've always admired Anurag Sir's work, and working with him on this project undoubtedly influenced me in many ways.
The actor also made the same announcement by publishing a message to his official Instagram account. The well-known song from Aashiqui featured on the reel. Zeher Zindagi Ka Pi Lenge Hum.. Ab Tere Bin Ji Lenge Hum.. #Aashiqui3 This one is going to make you cry!! My First with Basu Da," the actor captioned the post.
Kartik also shared a picture of himself with the Aashiqui 3 crew.
Rahul Roy and Anu Aggarwal appeared in the 1990 film "Aashiqui." It presented the tale of a hopeful singer who encounters a stunning woman in a police station by chance.
When "Aashiqui 2," starring Shraddha Kapoor and Aditya Roy Kapoor, was released in 2013, it was hailed as a blockbuster.
Producing the show together are Mukesh Bhatt and Bhushan Kumar. Pritam will provide the soundtrack. By asking Lord Ganesha's blessings during the festival, the team got the collaboration off to a good and spiritual start.
Mukesh Bhatt, the director, said: "Gulshanji and I were really anxious on the evening of August 16, 1990, the day before the release of Aashiqui. The next day, however, history was made and records were broken. I can tell everyone that "Aashiqui 3″ will celebrate love like never before thanks to Bhushan, Pritam, Anurag, and the nation's heartthrob Kartik."
Added Bhushan Kumar: "It's time to experience the movies whose plot and music left such a lasting impression on us! We are thrilled to present "Aashiqui" 3, which was directed by my all-time favourite Dada Anurag Basu and produced by Mukesh Ji. The movie will definitely have a new side to it while keeping the original spirit! Kartik is the perfect choice for the role; he truly fits the bill and is a rockstar in every sense thanks to the huge hits he has produced!"
Anurag Basu, the film's director, is pleased to be helming "Aashiqui 3."
"The goal is to continue the heritage forward in the best way possible. "Aashiqui" and "Aashiqui 2″ were emotions for the fans that have endured in hearts to this day. It would be my first collaboration with Kartik Aaryan, who is renowned for his guts, commitment, and hard work in his work, and I'm really looking forward to this one."
The 'Aashiqui' franchise is well known for its really fantastic music, according to music composer Pritam.
I'm thrilled to be a part of this fantastic franchise and will work to advance it.