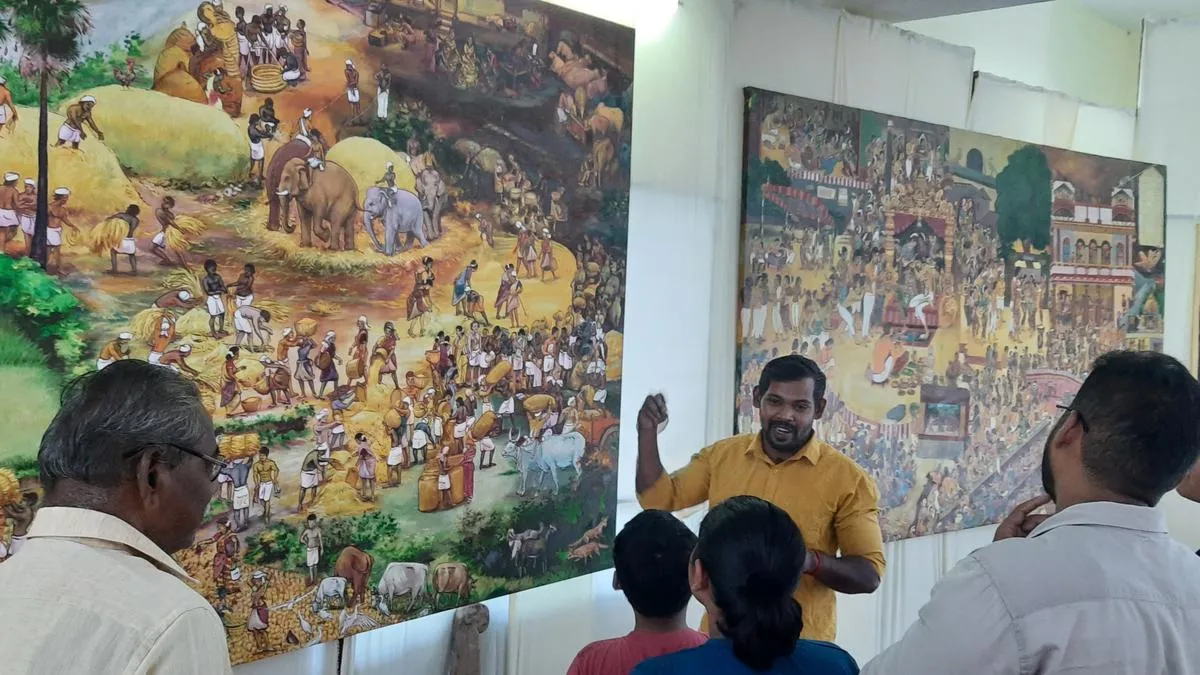 Sithan Siva presents ideas that appeal to the average person.
Sithan Siva believes that idols found in temples make the best art instructors. This week, the artist from Kattur had a two-day show in Tiruverumbur comprising paintings and bronze sculptures spanning more than 15 years of his career.
No matter how much you learn from a human teacher, you might undoubtedly pick up fresh information by carefully examining a religious sculpture. Every day offers a different view of how such beauty may be sculpted from stone, Mr. Siva told The Hindu.
The 16 feet by 6 feet oil painting featuring images from Tamil Nadu's rural landscape that have been gradually rendered obsolete by mechanisation was the most stunning of his creations on display at the show, which was held over the weekend of May 4 and 5. "I come from a farming family, and I spent my childhood working in the fields with my maternal grandfather. It was a self-sustaining existence that was in harmony with the cycles of nature. According to Mr. Siva, who took four years to finish the enormous project with more than 200 figures illustrating various farming practises, "I wanted to capture this as a visual document of an ancient occupation that has been changed by automation."
A farmer in the area of Thirukattupalli gave a wood and iron plough as an homage to the subject.
Mr. Siva uses historical sketching techniques to understand modern celebrations. In his artwork "Cycle of Life," which features characters created in the Chola aesthetic, a south Indian arranged marriage is shown. The COVID-19 epidemic and its aftermath are the subject of artwork that attempts to capture humanity's response to the health disaster.
Mr. Siva studied at the Government College of Fine Arts in Kumbakonam and received training from Pattukottai K. Balashangmugam at a young age. The artist is a visiting professor at a college in Tirunelveli and maintains an institution in Kattur.
"I choose conventional topics and approaches because they are simpler to comprehend. I want to reach out to the youth and encourage them to pursue art themselves, therefore I want to exhibit these paintings in schools and colleges," he said.