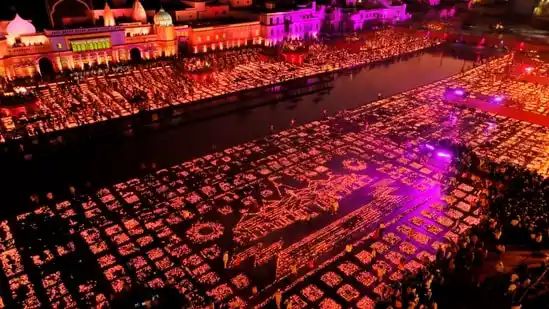 Beginning his speech with 'Jai Shri Ram', Modi addressed a gathering on the occasion of Deepotsav. "From the holy birthplace of Lord Ram, I pass on Diwali wishes to my countrymen," Modi said.
Modi also said people have to learn as much as they can from Lord Ram.
"Lord Ram doesn't leave anyone behind, doesn't turn away from anyone," Modi said.
Earlier, Modi offered prayers to Ram Lalla at Ram Janmbhoomi in Ayodhya. This is Modi's first visit to Ayodhya after a "bhoomi pujan" for the construction of a Ram temple on August 5, 2020.
Thanks to Lord Ram's blessings, I was able to see him, and Modi expressed happiness that people all around the world were watching the Deepotsav celebrations in Ayodhya.
The prime minister went to the improvised Ram temple as soon as he arrived in Ayodhya for the Deepotsav celebrations and prayed to Ram Lalla. There, he conducted a "aarti" and lighted an earthen candle. On his forehead, temple chief priest Acharya Satyendra Das painted vermillion.
"This wonderful fortune can only be attained by the favour of Lord Ram thanks to Shri Ram Lalla's "Darshan" and subsequent "Rajyabhishek" of King Ram. The timing of this Deepawali coincides with our 75th anniversary of independence. Lord Ram's "Sankalp Shakti" would lead India to unprecedented heights, "The PM said.
Anandiben Patel, the governor, and Yogi Adityanath, the chief minister, welcomed Modi earlier. He went to the Deepotsav festivities.
More than 22,000 volunteers will light more than 15 lakh earthen lamps at Ram ki Paidi on the Saryu bank as part of the Deepotsav celebrations, according to Ayodhya Divisional Commissioner Navdeep Rinwa. The remaining ones will be positioned at significant town locations and junctions.
"PM Narendra Modi provided direction and inspiration for the beginning of the Deepotsav of Ayodhya six years ago. This UP event spread throughout the nation. It is currently achieving new heights of success "Yogi Adityanath, the chief minister of Uttar Pradesh, attended the event.