Benu Heritage Takes Indian Heritage Classical Music To School Students
Benu Heritage Musical Concert in Mumbai witnessed about 300 school students cherish Indian Classical Music
Mumbai, February 06 2023:  About 300 school students from different schools and colleges of Mumbai immersed into melodious tunes of Santoor by the Santoor Maestro Padmashri Pandit Satish Vyas and to the renditions of the legendary Vocalist Pandit Jayteerth Mevundi and also took the pledge to preserve and take forward the heritage of music at 'Benu Heritage', India's  biggest and first – ever initiative of orienting school and college students to the rich tradition of Indian Classical Music, organised in Mumbai at Yashwantrao Chavan Centre.
'Benu Heritage' was organised by BENU, a non-profit organisation promoting Indian Culture and Heritage in the field of Classical Music, Dance, Art and Indigenous Handicraft, along with Matrix Freight Systems Private Limited, India's fast growing freight management Company.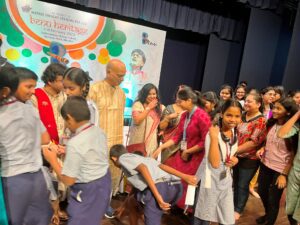 The Concert was inaugurated by the School Teachers present on the occasion along with an eminent vocalist Vidushi Smt Padmaja Chakraborty, President of Benu, Mr Jayanta Ray, Managing Director of Matrix Freight Systems Private Limited.
Benu has organised Benu Heritage Musical Concerts in three cities of Mumbai, Ahmedabad and New Delhi. The first flower of the Concert was strung in Mumbai today and the other two will happen in Ahmedabad and Mumbai. In the inaugural edition in Mumbai, the legendary Indian Classical icons Santoor Maestro Padmashri Pandit Shri Satish Vyas and Vocalist Pandit Shri Jayteerth Mevundi rendered soulful melodies that oriented the school students to the glory of Indian Classical Music.
Benu has created a musical platform of Benu Heritage with an objective to take Indian heritage of classical music to the school and college – level students by enlightening them about the rich tradition and quality of music. It intends to give the future generation a plethora of artists through this initiative.
Talking about the initiative, Vidushi Smt Padmaja Chakraborty, President of Benu said, "Inspired by the vision of Prime Minister Shri Narendra Modi to preserve and give impetus to our cultural heritage, we intend to re – define the course and promote Indian Classical Heritage music. Now on, BENU will work with an 'Institutional Approach' and reach out to the youths in schools and colleges whereby we act as their partner and expose them to good quality Indian Classical Music. Till now, there was no opportunity for the young minds for such an experience. We want the young generation to take up the mantel of preserving our rich traditional heritage, so that they will be able to preserve our rich heritage only when they get to know the right value. Though a small step, this effort will be a vital step to strengthen our cultural heritage."
As a part of the initiative, BENU will associate with participating schools to impart classical music training to the students at least once in a month.
Smt Chakraborty added, "Indian Classical Music is not taught at a school level largely and Benu intends to contribute here. With a large number of latent talents, we are sure that our efforts will develop likings among a large number of youths and students. This would help to generate a cultural shift towards Indian Heritage Music over the next few years. We shall organise classical music programmes in educational institutions, provide training and guidance and other necessary aspects related to music."
Talking about the need to bolster the culture of Indian Classical Music and support such an initiative, Mr Jayanta Ray, Managing Director of Matrix Freight Systems Private Limited said, "In India, cultural nationalism is proud of its linguistic heritage, culture and the diversity. But, at the same time, there is a need to protect, preserve and nurture our rich cultural heritage of classical music, which is otherwise eroding. Unless we logistically channelize our roots to classical music and our heritage, it will be very difficult for us to stand apart and position our identity in days to come."