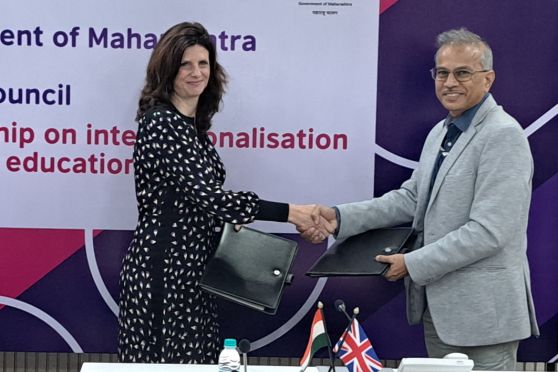 The Department of Higher and Technical Education, Government of Maharashtra, and the British Council, the UK's international organisation for educational opportunities and cultural exchange, have signed a Memorandum of Understanding (MoU) to strengthen educational and cultural exchange in support of the state's goals for knowledge and economic development. This is in keeping with the goals of the Maharashtra government, which has been working to increase opportunities for young people, higher-quality education, and skill development.
The MoU was signed in the presence of Alison Barrett MBE, Director India, British Council, and Mr. Chandrakant Dada Patil, Hon'ble Minister, Government of Maharashtra, Department of Higher and Technical Education. The Memorandum of Understanding was signed by Mr. Vikas Chandra Rastogi, IAS, Principal Secretary Higher Education, and Rashi Jain, Director West India, British Council.
The agreement would deepen the existing collaboration between the Government of Maharashtra and British Council India to improve higher education standards and skills in the state. This cooperation aims to give young people access to high-quality education, exams with worldwide standards, skills and credentials, and the sharing of ideas, culture, and creativity.
In accordance with the agreement, the British Council will provide assistance with research and mobility aimed at internationalising higher education in the state of Maharashtra. The agreement has been written so that the state government can provide chances for information sharing and teamwork in areas of shared interest. Through in-person and online workshops, training, mentoring, and knowledge exchange, the two organisations will collaborate closely to strengthen Maharashtra's higher education ecosystem with a focus on initiatives for faculty leadership development and capacity building to support the internationalisation agenda.
To make this cooperation a reality, representatives from the Maharashtra government and the British Council will create a working group.
"We want Maharashtra's higher education institutions to be internationalised and want to create opportunities that will increase collaboration between India and the UK, which in turn will help improve skills and confidence of young people in the state," said Mr. Chandrakant Dada Patil, Hon'ble Minister, Government of Maharashtra, Department of Higher and Technical Education. To improve research and development facilities and to positively touch the lives of students throughout the state, we are eager to form high-quality relationships with UK higher education institutions.
The British Council's Director for India, Alison Barrett MBE, stated, "As British Council, we work to foster linkages between institutions across India and the UK, by encouraging cooperation on similar interests and fields of study that might help us solve global challenges together. In accordance with this agreement with Maharashtra, we will hold high-level policy discussions to introduce decision-makers to institutional priorities related to levelling up and fostering an environment of excellence. Together, we want to make Maharashtra's social and economic future better while also enhancing the educational experience and employability of the students.
"We are thrilled to partner with the state of Maharashtra in our shared objective of empowering the higher education faculty and staff with new skills, resources, and methodologies for delivering high quality education," said Rashi Jain, Director West India, British Council. We anticipate that the new plan will have a cascading effect on Maharashtra's knowledge aspirations and economic growth by enabling the higher education system. This is an important effort in our long-standing partnership with the state, and we are dedicated to cooperating closely to make sure that it results in a revolutionary approach to delivering education to all students in the state.