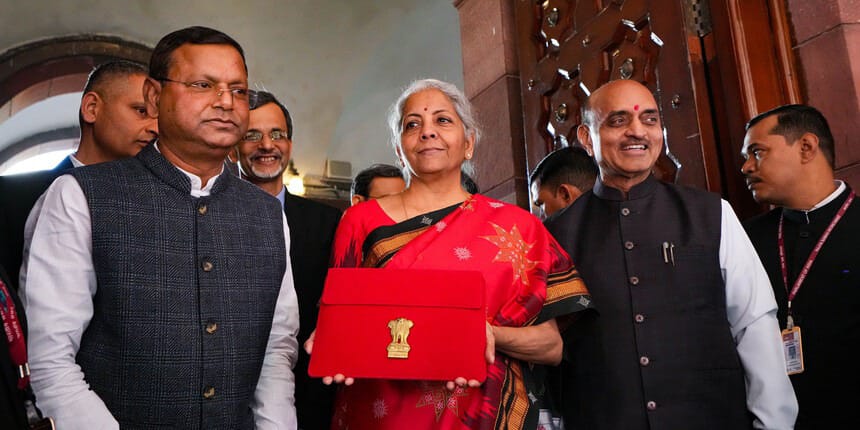 The budgetary allocation for the Education Ministry increased this year from Rs. 1.04 lakh crore to Rs. 1.12 lakh crore, an increase of only 8%.
The Department of School Education is anticipated to receive Rs 68,804 crore, while the Department of Higher Education is anticipated to receive Rs 44,094 crore.
It's interesting to note that the Ministry's largest school education programme, Sarva Shiksha Abhiyan, has been given about the same funding as the previous year — Rs 37,453 crore versus Rs 37,383 crore (budget estimate) in 2022–23.
At this time, educators and students are still working to make up for the learning deficits brought on by the pandemic.
Nirmala Sitharaman, the finance minister, mentioned a national digital library for kids and teenagers during her budget statement. Prakash Javadekar, who was the education minister at the time, also announced a similar project in 2018.
Since that time, IIT Kharagpur has been operating a national digital library. How the finance minister's announcement differs from the current system is unclear.
Additionally, Sitharaman stated that innovative pedagogy, curriculum change, continual professional development dipstick survey, and ICT implementation will be used to reimagine teacher training.
In order to improve medical education, 157 new nursing colleges will be built, and new medical equipment training programmes will be implemented.
For the 3.5 lakh tribal students being served by the 740 model Eklavya Model Residential Schools over the next three years, the Center will hire 38,800 teachers and other personnel. Aside from that, three Centers of Excellence for artificial intelligence will be established in prestigious universities.
Leading business players will collaborate to perform multidisciplinary research, create cutting-edge apps, and find scalable solutions to issues in the fields of sustainable cities, agriculture, and health, she said.
Highlights of the 2023 Education Budget include the opening of 157 new nursing colleges.
— the hiring of 38,800 teachers and support personnel for the 740 Eklavya Model Residential Schools.
— Three new AI centres of excellence in prestigious universities.
— The Ministry of Education received a budget of Rs. 1.12 lakh crore.
National Digital Library announced, but budget does not include funding
Nirmala Sitharaman, the union finance minister, said a national digital library will be established for "children and adolescents," despite the absence of any new significant sector-specific initiatives. But neither money nor a separate allocation for the National Digital University project, which was announced in 2022, was made in the budget for 2023–24.
IIT Kharagpur operates an online repository of texts and video lectures on a variety of subjects, spanning from humanities to sciences, under the National Digital Library (NDL) pilot project, which was started by the Center in 2016.
ICSI President on Budget 2023: "Focus on research & innovation, and AI-based Solutions will drive growth."
The government has prioritised supporting easy doing business, inclusive growth, research &9 innovation, and AI-based solutions while concentrating on the primary, secondary, and tertiary sectors. In order to achieve the twin objectives of lowering compliance and enhancing investor protection for a socially inclusive and economically sound nation, the tax proposals and fiscal management strategy outlined in the Union Budget 2023 will be helpful, according to CS Manish Gupta, President of the ICSI.