November As the festive season in India rolls on, the sun prepares to set on the banks of rivers, ponds, and reservoirs across the country, casting a golden hue that signals the commencement of a unique festival – the Chat Puja. This ancient Hindu festival, dedicated to the Sun God (Surya Dev), is a testament to the country's rich cultural tapestry and the unshakeable faith of its people. 18, 2023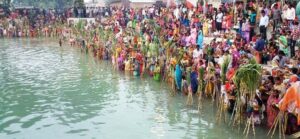 Chat Puja: The Sun's Festival
Primarily celebrated in Bihar, Jharkhand, eastern Uttar Pradesh, and Nepal, Chat Puja is a four-day-long festival that commences on Kartika Shukla Chaturthi and ends on Kartika Shukla Saptami, as per the Hindu calendar. However, its allure has transcended regional boundaries, with celebrations observed by the diaspora worldwide.
The Rituals and Traditions
The festival begins with 'Nahay-Khay' (bath and eat), where devotees take a holy dip in the river and prepare a traditional meal. The second day, known as 'Kharna', involves fasting for the whole day, which ends with a feast after sunset. The third day, 'Sandhya Arghya' (evening offerings), is when the main Chat Puja takes place. Devotees, after a day of strict fasting (without even drinking water), offer 'arghya' to the setting sun. The final day, 'Usha Arghya' (morning offerings), involves offering 'arghya' to the rising sun, marking the end of the festival.
The Significance of Chat Puja
Chat Puja is not just a festival but an embodiment of devotion and discipline. It is unique as it is one of the few festivals in the Hindu religion that lacks any involvement of a priest. The rituals are rigorous, and the fast is strict, but the spirit of the devotees remains unbroken, as they pray for the well-being and prosperity of their family.
The Sun, in Hinduism, is considered the sustainer of life, bestowing energy and stimulating growth. By worshipping the Sun during sunrise and sunset, devotees show gratitude for life and the continuity of life. The festival also venerates 'Chhathi Maiya' (Goddess Usha in the Vedas), believed to be the consort of the Sun God, thanking her for protecting their families.
The Environmental Connection
Interestingly, Chat Puja is also a celebration of nature and promotes eco-friendly practices. The materials used in the rituals, such as bamboo baskets and clay pots, are biodegradable. The offerings, including fruits and traditional sweets, are locally sourced, thus minimising carbon footprint.
Chat Puja is a beautiful amalgamation of faith, discipline, and gratitude. It is a festival where millions come together to show their thankfulness to nature and the divine for their blessings. Despite its rigorousness, the joy and devotion that mark Chat Puja make it a truly special occasion, illuminating the country with its radiant spirit.