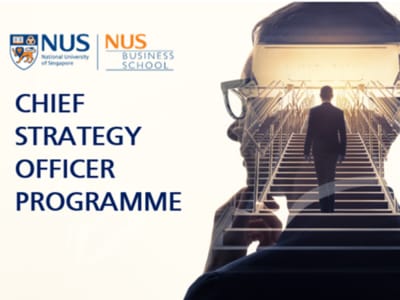 The National University of Singapore (NUS) Business School launched its first executive education online programme, Chief Strategy Officer, in partnership with education platform Emeritus (CSO).
Registration will end on February 14 and the programme will begin on March 28.
To apply, interested candidates should go to the programme page at nusbsee.emeritus.org.
The nine-month CSO programme is designed for senior-level professionals with more than 10 years of work experience who want to improve their ability to make strategic decisions in light of the dynamic business environment.
Senior executives, including HODs and CXOs, will benefit from the CSO program's assistance in applying their knowledge and frameworks for strategic leadership that are applicable across a variety of fields and industries.
The programme is divided into three sections: three core courses with in-depth video lectures from famous NUS Business School faculty and live discussions with business professionals; for their second programme, students can select from three electives.
After completing the programme, participants will be able to design strategic projects to tackle complex business problems and set up their companies for revolutionary growth.
Participants will get a digital certificate of completion from NUS Business School after completing the programme, and they will also be invited to an optional graduation and networking event at NUS Business School in Singapore.