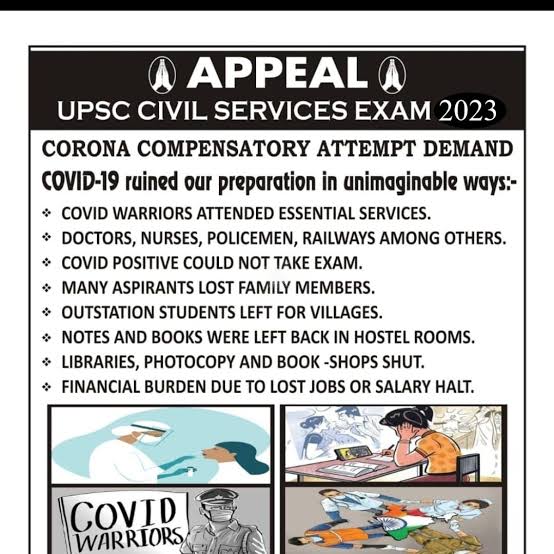 Civil Service Aspirants ; Demands #UPSCExtraAttempt2023
The Civil Services Examination (CSE) is one of the most prestigious and competitive exams conducted annually by the Union Public Service Commission (UPSC).
The UPSC CSE exam is divided into three phases: Prelims, Mains, and Personal Interview round.
The UPSC aspirants have once again come together to raise their demands to increase the number of attempts for the UPSC civil services exams as they say the Covid pandemic has affected their preparations and study.
Aspirants have taken to social media to express their concerns, tagging authorities such as PM Modi, the Official Twitter Account of the Department of Personnel and Training, and using hashtags such as #2CompensatoryAttempt4All, #UPSCExtraAttempt, #2yearagerelaxationforall, and #ExtraAttemptForAll.
Many students were unable to give UPSC CSE exam for the last two years are demanding age relaxation for the UPSC exam claiming they lost two important years because of Covid wave in India.
Aspirants of the Union Public Service Commission Civil Services Exam are demanding an extra attempt to clear the exam.
They have planned a protest on December 19 and are also contemplating filing a fresh petition in the Supreme Court.
Earlier in March, the apex court had recommended the government to change its mind and sympathetically consider the demand of CCE aspirants and grant an extra attempt with corresponding age relaxation to all candidates.
Candidates point out that thousands of aspirants were gathered at exam centres for the UPSC Mains exam in 2021, when there were still Covid-19 restrictions in place.
The health of the students and their families was at risk. Students who tested Covid-positive were debarred from writing the exam and there were no separate arrangements made for them either.
As per a report, after several requests and protests, the students have once again planned to stage a protest on December 19, 2022.
Fresh Petition in SC
In addition, aspirants have also filed a petition in the Supreme Court for an additional attempt/chance. Earlier in March, the Supreme Court asked the Centre to consider the representation of some aspirants who were unable to take the UPSC civil services main examination due to COVID-19.
However, the Centre in its response told the SC, the apex court that additional attempts for these candidates are "not possible". The aspirants have now decided to file a new petition with the Supreme Court for an additional attempt and age relaxation.