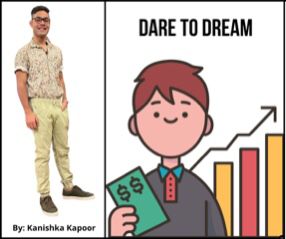 Entrepreneurs come in different age brackets and genders and as does their dreams, aspirations, goals and success. Trending is the success stories of young entrepreneurs who have dared to dream big against all odds to make or break it. It is difficult to imagine care free adolescent's journey from a larva to a butterfly in various contexts. However it has been proven many a times that 'Persuasion is the invention of Le Reve Devient Realite'.
Life in general of undulations and unforeseen impediments. Same lies ahead for these venturesome youth and without a doubt they may have pros and cons impacting their decisions, the bigger question is-are they prepared to take the plunge moreover what are the obstacles and success mantras?
Beginning with the advantages, the financial commitments and risks are comparatively lower marginally reducing the fear of failure.
Brimming with fresh ideas and technological skills, they can identify with the latest trends and the needs of young consumers better.
They have the time to do-undo-redo simultaneously learning the important lessons early in life.
Similarly the disadvantages go hand in hand.
Start up can go wrong as young minds may falter due to lack of experience and insights. Having limited assets can make them lack the ability to absorb the financial blow.
Banks may deny theirs aids & support to a young startup who generally don't have assets to offer for funding.
Young minds may lack the practical experience and gaining working knowledge while at job can impact an early ROI.
Distractions among youngsters is also an issue to be mindful of. Are they mentally prepared to distance themselves from a regular youngster life where friends, socializing, gaming among more play a vital role.
If you are prepared to miss out and stand alone strong, If you have a vision and a mind map, If your ambitions and calculated risks are optimized, then yes you can dare to dream to turn this specimen of your dream into reality.
Author – Kanishka Kapoor