• Stringent Security Measures and Examination by Police and Specialized Safety Teams
• On July 12th, similar to previous years, the citizens of Prayagraj and other parts of Uttar Pradesh will commemorate the rebirth of Minister Nand Gopal Gupta Nandi, the Minister of Industrial Development, with a magnificent celebration at the ancient Manokamna Purti Temple, accompanied by the worship of Lord Bholenath. The preparations for this event are already underway. Minister Nandi conducted a thorough inspection with a team of officials on Tuesday, focusing on security, traffic management, route adjustments, cleanliness, and other logistical aspects. He provided guidelines to ensure top-notch facilities and impeccable security for the large gathering of people.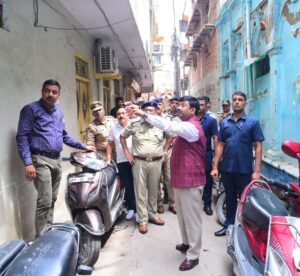 In 2010, on July 12th, Nand Gopal Gupta Nandi, Cabinet Minister of Uttar Pradesh and a Member of the South Vidhan Sabha from Prayagraj City, was the target of a lethal assault involving a remote-controlled explosive. The incident occurred while he was en route to perform ritual worship at the ancient Manokamna Purti Temple near his residence in Bahadurganj. During the attack, a senior journalist and a security staff member lost their lives, and Minister Nandi himself sustained severe injuries. He underwent extensive treatment and rehabilitation for nearly seven months.
Anticipating Minister Nandi's upcoming rebirth celebration, the authorities are exercising extreme caution. Stringent security measures will be implemented in the old city on July 12th. A large team of police and specialized safety personnel will be stationed at strategic locations to establish a secure environment for the event and prevent any untoward incidents.
Furthermore, plans for route adjustments have been developed to manage traffic flow and ensure smooth transportation during the celebration. The designated routes will be strictly followed, with traffic police positioned at critical junctions to guide vehicles and pedestrians.
The inspection conducted by Minister Nandi on Tuesday aimed to ensure that all necessary preparations are in place. He emphasized the importance of public convenience and safety in his instructions to the officials. Efforts will be made to provide superior facilities, including clean and hygienic surroundings, proper sanitation, and medical assistance.
The grand celebration of Minister Nandi's rebirth holds significant importance, not only for his supporters and well-wishers but also as an opportunity to acknowledge his contributions to the region's development. It is a moment of pride and joy for the people of Uttar Pradesh.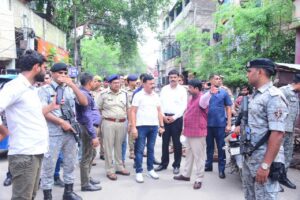 The arrangements for Minister Nandi's rebirth celebration at the Manokamna Purti Temple are progressing rapidly. The security preparations, involving the deployment of police and specialized safety teams, are meticulously organized to ensure a secure and successful event. With a focus on public convenience and safety, the officials are working diligently to create a memorable and enjoyable celebration for all attendees. Minister Nand Gopal Gupta Nandi's rebirth celebration signifies not only a personal milestone but also a testament to his dedication and commitment to the welfare of the people.