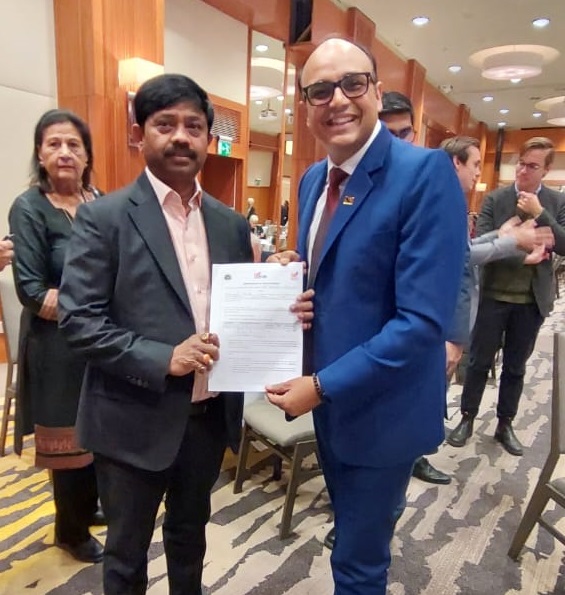 During the Roadshow of UP Government in Stockholm, Sweden Hon'ble Industries Minister of UP Shri Nand Gopal Gupta "Nandi" ji has launched website of European UP NRI Association (EUPNRI) – website is www.eupnri.org.
UP Global Investor Summit (GIS), intend to provide a platform for the best minds and expertise round the world to collaborate with UP. Uttar Pradesh government has organized roadshows in 5 European Countries to attract investors ahead of the Global Investor Summit (GIS) to be held at Lucknow in February 2023.
Hon'ble Minister of Industrial Development, Export Promotion, NRI and Investment Promotion, Shri Nand Gopal Gupta 'Nandi Ji', Hon'ble PWD Minister Shri Jitin Prasada ji and Shri Navneet Seghal ji, ACS UP Government alongwith other senior officials are in Europe for a Roadshow to showcase what opportunities exist in UP and invite the companies to come and attend GIS in Lucknow.
Website of EUPNRI was launched in presence of the above people and around 100 guests who were attending the Roadshow of UP in Sweden. Indian Ambassador to Sweden, Mr Tanmaya Lal was also present during the road show alongwith Mr. Robin Sukhia who is Secretary General of India-Swedish Business Council.
EUPNRI aims to bring UP NRI's Association spread across various European countries together to network, connect, promote culture, business, enhance skill development, education and to strengthen the manifold opportunities in Uttar Pradesh.
Dr. Vikas Chaturvedi who hails from Mathura, UP was in discussions with UP NRI Department for past 6 months to get a platform launched which would act as a focal point for UP NRI's in the European Countries.
EUPNRI is conceptualized and initiated by Dr. Vikas Chaturvedi, CEO of Valuecent Group, who is based out of the Netherlands for past 2 decades. Dr. Vikas Chaturvedi is also instrumental in arranging various meetings during roadshows for the delegations. He has over 2 decades of experience in advising Indian and European multinationals and contributed significantly in enhancing Europe and India business relations.
Valuecent has helped over 300 companies to do business in Europe-India corridor. Dr Chaturvedi closely works with various Government bodies in both India and Europe. Dr Chaturvedi is also playing significant role in mobilsing Investments and Technology from Europe to India. Currently working with over 7 state Governments in India. Dr Chaturvedi is playing key role in getting various MOU's for Investments in UP. Dr Chaturvedi is Founder and Chairman of Institute of Chartered Accountants of India in Netherlands, India Dutch Financial Corridor, ASSOCHAM Europe and Founding Director of Europe India Chamber of Commerce, Netherlands and sits on board of various companies.
EUPNRI will act as a linking PIN and further create solid foundation for UP business through its own Ambassadors i.e. it's Diaspora in European countries and thus rejuvenating various opportunities in their own homeland.