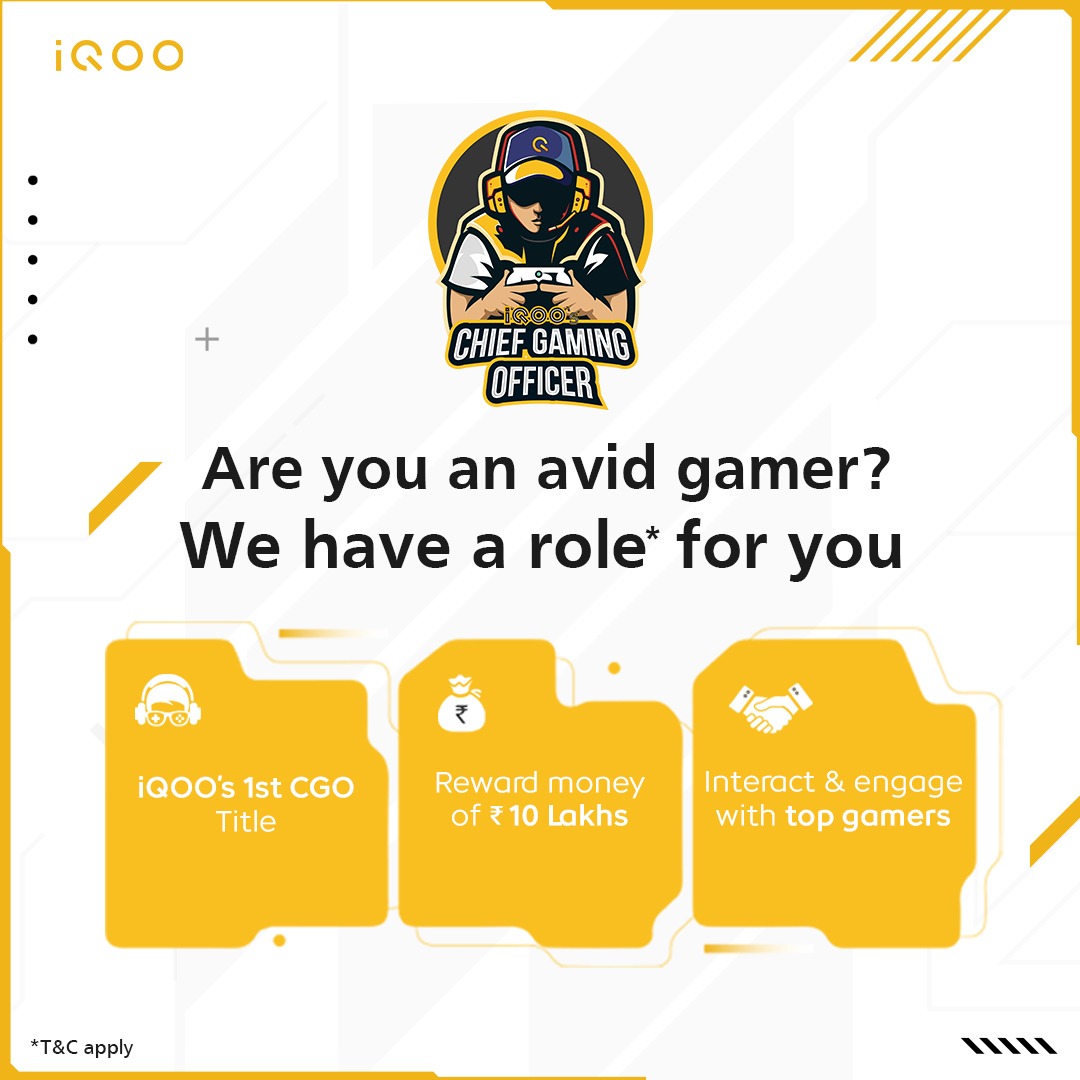 Offering a whopping sum of INR 10 Lakhs to its first CGO
India, May 30, 2023:-iQOO, a high-performance smartphone brand, is set to revolutionise the gaming and esports experience on mobile phones. They're on a mission to discover the ultimate gaming trailblazer! The hunt is on for the first-ever Chief Gaming Officer (CGO) under 25 years old, with a mind-blowingshot to earn INR 10 lakhs. The CGO will collaborate with the iQOO leadership team, top gamers nationwide, and an incredible gaming community.
iQOO is looking to ignite a gaming revolution by opening the doors to the youngest Chief Gaming Officer (CGO) position in India, exclusively for Gen Z. This exciting opportunity paves the way for aspiring gamers to transform their passion into a profession. iQOO eagerly awaits the arrival of talented and dedicated individuals who will shape the future of gaming.
Talking about the hunt for its first CGO, NipunMarya, CEO of iQOOsaid, "We recognise the undeniable passion and participation of GenZ in gaming. With their distinct preferences, they have the power to reshape the gaming and entertainment landscape. Our aim is to simply lead the way in innovation and thrilling gaming experiences for Indian gamers. This bold initiative represents our commitment to enhancing mobile gaming and fostering the growth of aspiring talent in the industry."
iQOO's Chief Gaming Officer (CGO) will play a key role in revamping the gaming world. The CGO will get a chance to associate with the leadership team at iQOO to share groundbreaking gaming insights and ideas. As the CGO, young gaming enthusiasts will have the incredible opportunity to work alongside top-notch gamers across India, connecting with gaming legends, forming alliances, and pushing the boundaries of gaming excellence to new heights.
To seize this thrilling opportunity, enthusiastic candidates can visitiQOO's official website or register on their Instagram handle<iQOO India>. The registration process will commence on May 30, 2023, and iQOO will welcome applications until June 11, 2023.