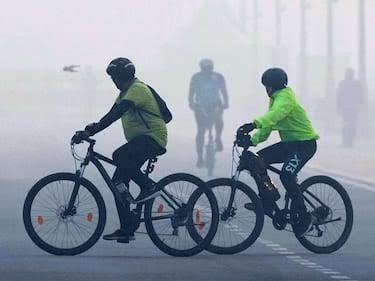 As the cold wave takes over northern India, schools are slowly extending winter vacations to ensure that students remain safe in their homes.
The cold wave has hit many states across North India. Due to the extreme cold weather, many states announced or extended the winter vacation in schools
Here is a list of cities and states that have closed schools in the wake of extreme cold conditions in the country.
Delhi:
Delhi people are experiencing teeth-chattering cold. The Directorate of Education in Delhi announced that all schools will remain closed for winter vacation from January 1 to 15.
Earlier private schools were slated to reopen after winter break on January 9.
The authorities also said that 'remedial classes' will be held for classes 9 to 12 from January 2 to January 14.
Madhya Pradesh:
In the view of cold wave in Madhya Pradesh, schools were closed in a few districts on Friday. Schools have been closed in a few districts of Madhya Pradesh as the lowest temperature was recorded at 0.2 degree Celsius in Nowgong town of Chattarpur district.
Schools in some districts including Bhopal, Indore, Vidisha and Ujjain have been closed up to January 10, 2023 for classes up to class 8.
Rajasthan
Earlier, the District Collector of Rajasthan had ordered all government and winter schools to remain shut from December 25 to January 5. However, looking at the dip in the temperature, the winter vacations have been extended till January 9.
Uttar Pradesh:
Agra: Considering the thick fog and dipping temperature, all schools and colleges up to class 12 in the Agra district have been ordered to remain shut till January 7. The orders were issued on Monday by the Lucknow District Magistrate Suryapal Gangwar.
In addition to this, schools are closed in the Mainpuri district till January 14.
Noida: The administration of the Gautam Buddha Nagar district has issued orders that Noida and Greater Noida schools will remain shut for classes 1 to 8 till January 14, 2023. In addition to this, the school timing for classes 9 to 12 has been changed to 10 am to 2 pm till further orders.
Lucknow: The district magistrate of Lucknow recently announced a change in the school timings for students of classes 1 to 8. According to the revised schedule, schools will now operate between 10 am and 2 pm. This will continue for at least till January 10. Schools in Sitapur have also been closed till January 7.
Haryana:
In Haryana, all government and private schools will remain closed till January 15, 2023. However, for classes 10 and 12 schools will remain open from 10 am to 2 pm in the wake of the Board examinations.
Punjab
The Punjab Chief Minister Bhagwant Mann recently tweeted that all schools in the state will open at 10 am from December 21 till January 21.
However, the closing time of the schools will remain the same.
"In view of the safety of school students and teachers because of dense fog in the state, the timing of government, aided, recognised and private schools will be 10 am from 21-12-2022 to 21-01-2023," Tweeted Mann.
Bihar
Muzaffarpur and Patna district schools have been ordered shut till January 7, 2023. The decision was taken after the authorities were told by experts that sending children to schools in such low temperature can put the health and life of the children at risk.
Jharkhand
Keeping in mind the cold wave that has taken over the state, the administration announced that the Jharkhand schools will remain closed for students of classes 1 to 5 till January 14. Primary classes will begin on January 16.