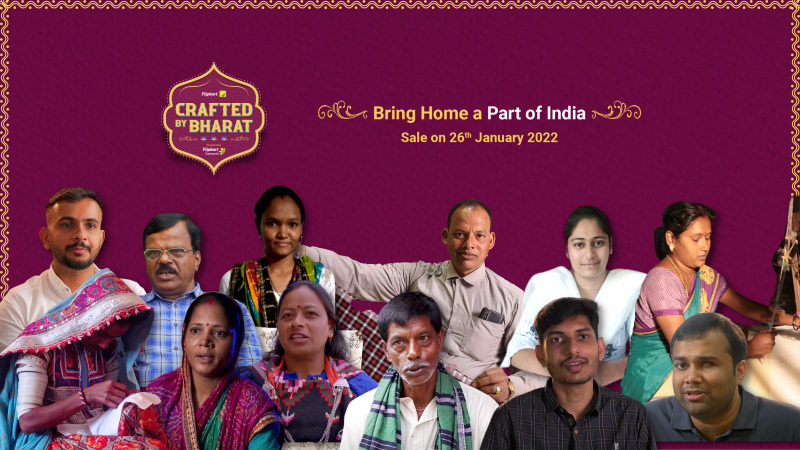 Flipkart hosts the fourth edition of 'Crafted by Bharat' on 74th Republic Day to support Indian artisans
Bengaluru – January 25, 2023: Flipkart, India's homegrown e-commerce marketplace, today announced the fourth edition of the Flipkart Samarth 'Crafted by Bharat' event which will be held from January 26-27 this year in honor of India's 74th Republic Day. The event will celebrate India's rich culture of handicrafts and handlooms by featuring over 100,000 products from more than 300 art forms across the country.
The goal of 'Crafted By Bharat' is to provide Indian craftsmen and weavers with a platform to be recognised and showcase their commendable craftsmanship that has preserved our nation's culture and traditions. The products available as part of this event exemplify both art and history, and support the artists who earn a livelihood from selling their products. Flipkart will also have a dedicated storefront on the platform for the event, under which products by women sellers will be specifically highlighted, to honor the distinctiveness that women sellers bring to the table.
As part of the celebration of India's rich cultural heritage, the event will bring people closer to works of art such as 'Rajasthani furniture' which is intricately crafted by Rajasthani artisans, and 'Dokra Art' which is an embodiment of the deeply held beliefs and values of the tribal community and their sacred form of art, 'Bamboo Jewelry' which is a singular fusion of nature and art, 'Tant Saree' which represents the state of West Bengal's ancient crafting tradition and affluent fashion, 'Khadi' and 'Kalamkari' that represents Bharat and its rooted art forms.
Lakhs of artisans, weavers, specially-abled people, women from SHGs and  government emporiums in the country who are associated with the Flipkart Samarth program will participate in the event. These include people from Tier-2 and Tier-3 cities, few urban centers, as well as rural regions of the country. Various government and private brands among other local businesses across the country are to be a part of the event.
Rajneesh Kumar, Chief Corporate Affairs Officer, Flipkart Group, said, "Flipkart's 'Samarth' initiative has been a key enabler to provide India's artisans, weavers, and handicraft makers with a platform to help them reach pan-India consumer base and help grow their income. Since the launch of 'Samarth' in 2019, we have empowered more than 1.5 million sellers, weavers, and artisans and feel proud of our contribution to traditional Indian arts and crafts. We remain committed to providing opportunities to indigenous and underserved businesses to leverage the online medium for growth, resilience, digital transformation and prosperity. 'Crafted by Bharat' event enables small enterprises and artisans to be recognized beyond their own communities, access a nationwide market, and contribute to the larger economy. Our constant endeavor is to bring customers closer to India's rich heritage and support the entrepreneurial journey of Bharat's artisans and weavers."
Flipkart Samarth expanded its seller base by 300% over the past year and helped them, in turn, to grow their business by an average of 300%. The growing participation in the Samarth program has been secured through the help of several strategic engagements with the State and Central Ministries, Government Departments, and other entities across India. Today, Flipkart Samarth today positively impacts 1.5 million livelihoods across the country.
Flipkart Samarth, launched in 2019, is a nationwide initiative that aims to open new growth opportunities for MSMEs, artisans, and underserved communities through e-commerce. The program's primary objective is to provide underserved indigenous communities and enterprises with an inclusive, nationwide digital platform and help them develop the capabilities for earning a better living. Flipkart Samarth provides time-limited incubation, onboarding support, free cataloging, marketing support, account administration, business insights, and warehousing support to help small enterprises establish their operations on the Flipkart marketplace.
About the Flipkart Group
The Flipkart Group is one of India's leading digital commerce entities and includes group companies Flipkart, Myntra, Flipkart Wholesale, Flipkart Health+ and Cleartrip.
Started in 2007, Flipkart has enabled millions of consumers, sellers, merchants, and small businesses to be a part of India's digital commerce revolution, with a registered customer base of more than 450 million, offering over 150 million products across 80+ categories. Our efforts to democratize commerce in India, drive access and affordability, delight customers, create lakhs of jobs in the ecosystem, and empower generations of entrepreneurs and MSMEs have inspired us to innovate on many industry firsts. Flipkart is known for pioneering services such as Cash on Delivery, No Cost EMI and easy returns – customer-centric innovations have made online shopping more accessible and affordable for millions of Indians. Together with its group companies, Flipkart is committed to transforming commerce in India through technology.