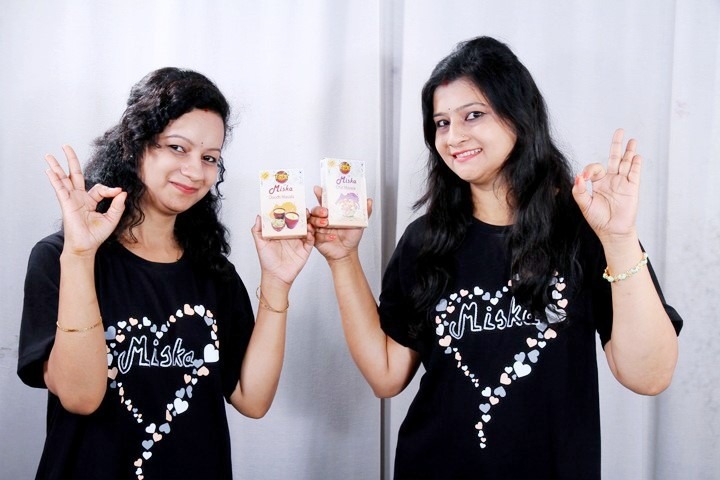 Mrs Priyanka Nitin Bhagwat, seen on the right side of the photo, used to prepare quick and delicious meals for her family, taking no more than 3 minutes to serve. This sparked an idea in her mind to establish her own brand specializing in "Ready to Cook and Blended Spices," with a commitment to providing preservative-free products alongside great taste.
In March 2020, Priyanka, along with her family, officially inaugurated their brand, MISKA SPICES & FOODS, which has since become a registered brand name. Their vision was to introduce traditional spice blends and natural flavors to customers across the country, celebrating the diverse range of authentic and traditional tastes.
With the unwavering support of her husband Nitin and family, Priyanka began MISKA SPICES & FOODS in a 200-square-foot space, equipped with limited machinery and a small inventory of spices, pulses, sugar, dry fruits, and more. Initially, they launched 10 instant mix products, and their product line has now expanded to include 32 different offerings.
In addition to their low volume packaging upto 100gm, MISKA recently introduced Daal Bati Mix and Kesari Daliya in 250gm and 500gm packaging options. Despite the challenges posed by the COVID-19 pandemic, Priyanka's determination kept the business going, even when dealing with fluctuating customer demand. She continued operations from her kitchen during this difficult period.
A crucial pillar of MISKA SPICES AND FOODS is the Marketing and Sales division, led by Priyanka's sister, Mrs. Pankita Vivek Mane, who is featured on the left side of the photo. Pankita possesses exceptional skills in Brand Building, Sales, Marketing and Negotiation, She is currently focused on expanding the reach of MISKA SPICES products across Indore, Betul, Bhopal, Pithampur, and other parts of Madhya Pradesh and India.
MISKA SPICES AND FOODS prides itself on its all-female production team, working diligently to deliver more than 32 varieties of authentic spice blends. The brand's products are available through retailers in Pune, Indore, Betul, Pithampur, Mumbai, and nare also accessible online through platforms like Meesho.
Team MISKA has set an ambitious goal to reach 150,000 customers by the last quarter of 2023, further solidifying their presence and impact in the spice and food industry.