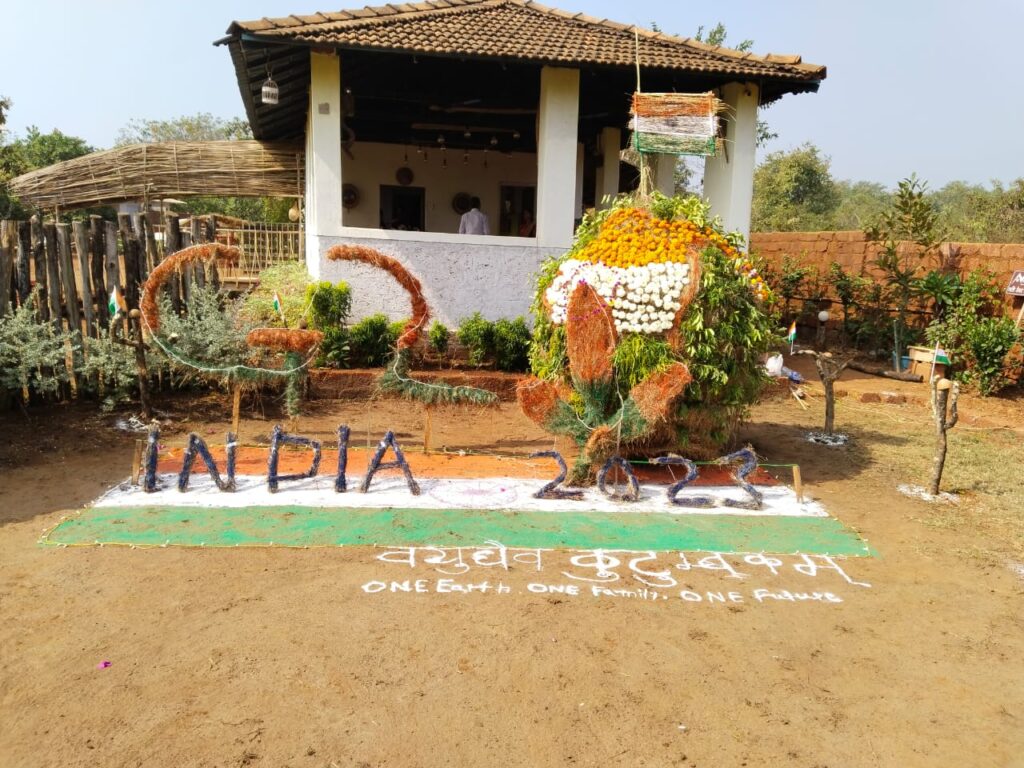 G-20 themed Maati Nature Resort, a unique way to celebrate India's Republic Day
Celebrating India's 74th Republic Day and Economic Leadership in the upcoming G – 20 Summit at India's and Konkan's First Soil – borne Tourism Habitat of Maati Nature Resort in Kankavali, Sindhudurg
A combined spirit of India's 74th Republic Day and Economic Prowess with the Batton of the G – 20 Summit in hand under the Visionary leadership of Hon. Prime Minister Shri Narendra Modi, was celebrated today at India's and Konkan's first Soil – borne Eco-friendly tourist Habitat Maati Nature Resort in Kankavali of Sindhudurg District of Maharashtra.
Taking the message of Hon. Prime Minister 'Entrepreneurship with Environment and Ecology' to the grassroots in India's small towns and villages like Kankavali in Sindhudurg District by Hon. Shri. Narayan Rane, Union Minister of MSME, Maati Nature Resort, a complete soil – based and borne Tourism Habitat conceptualised by the first – gen Enviropreneur Ms Sakshi Sawant, has perfectly epitomised how 'Environment and Entrepreneurship' could grow together as an MSME model envisaged by the Government of India.
To celebrate this spirit, on the 74th Republic Day, the Maati Nature Resort cherished the spirit of the Republic and the flourishing economic culture of India by creating a symbol of G – 20 in a glittering way.
Ms Sakshi Sawant, the curator and creator of the Maati Nature Resort who conceptualised this, "The Vision of our Prime Minister of Environment and Entrepreneurship is well spreading on the grassroots, as micro – entrepreneurship with environment is being rightly conveyed in the district like Sindhudurg under the leadership of Shri Narayan Rane, Union Minister of MSME. At India's and Konkan's first Soil – borne Tourism Habitat 'Maati Nature Resort', we have depicted India's growth prospects in a unique way by symbolising the ever rising Republic of India with Economic Leadership reflected by the G – 20 Summit."
The unique G-20 art is created by local village artist Sandeep Gawde from hay. The unique display is to spread the message of G-20 in the villages of India.