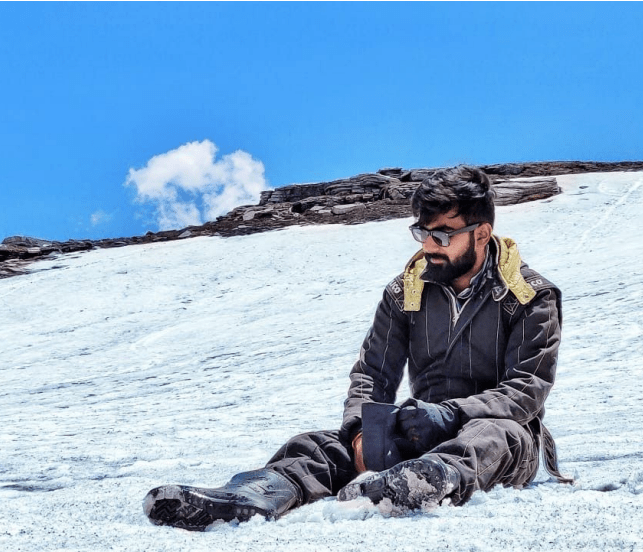 Life rarely offers the luxury of translating one's passion into one's profession. However, Mr Kartik Khandelwal's entrepreneurial journey stands as a sterling example of fructifying one's dreams. "Barefoot Trekians" Barefootrekians is touted to be the first travel group in Central Asia to initiate the culture of group travel with fixed departures and mind-blowing plans & itinerary for all-age-types.
Barefootrekians has became the curator of central India's first unique adventure travel venture. Barefootrekians has been successfully catering up to 200 + trips and 5000+ travel itineraries every year. It has gained tremendous popularity in the local city for its exclusive travel plans that allow a taste of pocket-friendly luxury to travellers.
The young entrepreneur behind Barefoot Trekians, Mr. Kartik Khandelwal, has been featured in several media houses like Dainik Bhaskar, Patrika, People's Samachar for exclusive contribution to the travel industry. Kartik has also been applauded as the Modern Travel Jugad Hero by creative art club, FELICITY for the feature startup story.
With this, Barefoot Trekians has excellent network in India and International Travel regions.
Origin of the Idea
Kartik Khandelwal says that he had always been a travel enthusiast. A travel buff with countless experience with solo travelling, Khandelwal soon realized there several people who are eager to travel but somehow their plans never fruit into reality either due to financial constraints or a lack of good company, or simply due to lack of knowledge on how to plan a trip and related requirements.
Kartik was pursuing a well-paying job in Mumbai. However, he did not want to succumb to the rat race of corporate life and wanted to do something bigger and closer to his heart. With this epiphany, he moved back to his home in Indore and started brainstorming with ideas to give shape to Barefoot trekians. The idea was very clear to build a unique brand that stands apart from all other travel ventures with best services, best travel experience at best affordable price.
Moved by this realization and driven by his passion, Kartik kickstarted his entrepreneurial venture with Barefoot Trekians.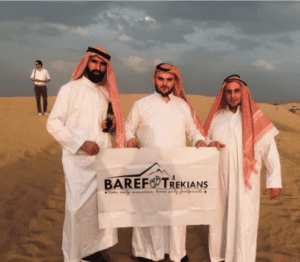 Initial days, challenges and struggles
 Kartik was merely 22 years old when he started Barefoot Trekians. With a Commerce background, he was pursuing his MBA.  In the initial days of his startup, he would go to the homes of prospective travellers to win their trust. Some people would also request to see Kartik's ID as it was surprising for them to see a young boy curate travel plans for a group of people. In the initial days, Kartik faced some disbelief from the concerned parents of the travelers. However, over time, with his finesse and expertise he managed to win over the hearts of his travellers and is now leading this mammoth startup now popular all across India.
He started this company from scratch with no industry experience. With this, funding crunch, credibility amongst clients, managing team with lesser operational budgets and criticism by competitors were a few challenges that Barefoot Trekians bravely faced and gradually overcame.
 Gradually, as things started changing over the years, the company started gaining trust, confidence and love amongst the local travel-loving audience. With every trip that Barefoot trekians completes successfully, it builds a new set of loyal clients who are pleased to recommend Barefoot trekians to their friends and family.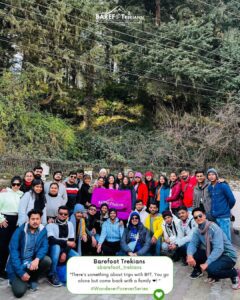 First Experience and more
The first group tour of Barefoot Trekians was to Triund Trek. Kartik tells that they were a group of 2530 people and likens the feeling to that of an excitement of a roller coaster ride.
Despite being busy with his brainchild, Kartik has also successfully managed to bring his passion home. In his own words, the most rewarding experience was when he took his mother to Dubai on his own expenses. He adds, "We had an amazing time there, that smile & satisfaction on her face wen we were back from the trip was priceless for me that was the most special feeling." After this one journey, Kartik has made it a point to take his on every new launch of trip.
Kartik recounts that every day is a whole new experience sometimes, good sometimes harsh. Travelling certainly expands one's horizons and contributes tremendously to a person's growth.  Especially, being at the helm of affairs, implementing ideas, executing them, launching new trips, coordinating and managing, and interacting with new people has added a few more feathers to Kartik's personality.
Message for the people:
Kartik shares a very profound message with us – "Don't be so busy with life that you forget to live happily." Recounting his own experience he would have been working in an air conditioned office, doing something he did not enjoy as much, living a smooth life but disconnected from his passion – a life which was complete but not happy. He challenged himself when he quit his job and dared to pursue his passion. He urges that it is very important to take bold measures to change the course of your life.
And as we close, here are some rather eye-opening words from Kartik,
"I never wanted air conditioned office, I was looking for roaming in mountains;
I never wanted wholesome salary in the end, I was looking for a month ending with full of memories of new places;
 I never wanted a 9-5 job, I was looking for rising with a view & sleeping under the stars;
I never wanted switching companies, I wanted to switch from state to state and city to city;
I never wanted increment, all I wanted was increased number of stamps on my passport."