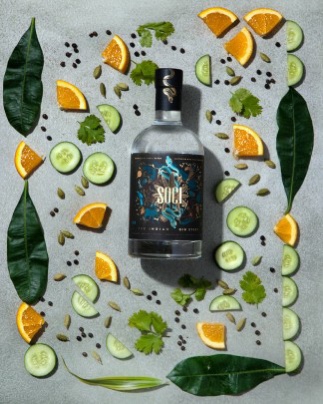 When you imagine sipping on some delicious gin and tonics, do you picture yourself in an outdoor setting under scorching heat, or bundled up under a cosy blanket? Well, it matters not! SOCI Gin, is here to tell you that you can do both! Refreshing gin-infused cocktails shouldn't just be reserved for indulging in a 'summer breeze making you feel fine' situation but should also have us reaching for our gin cocktails in our cosy sweaters and comforting bakes.
The Garden of SOCI, tucked away deep in the jungles of India, is a fable of whispered secrets. For years each nook and cranny yielded bountiful harvests, juniper berries, cardamom, coriander, oranges, pepper, and of course, cucumber. And then, one fateful day, explorers wandered into this untouched home. Its secrets and stories would soon be theirs, but at a price. The price was the answer to the question 'What If'? This gin is a curious concoction that has the power to reveal your deepest fantasies and desires. All that mischief you hide from the world. And now, you can let it all out. There is something so refreshing and formidable about SOCI Gin. And after all, nothing is really forbidden in the Garden of SOCI.
SOCI is from the House of Good Barrel Distillery Pvt Ltd., a craft liquor platform in collaboration with Living Liquidz and is founded by Mokksh Sani & Lalit Kalani. Talking about the originality behind the name 'SOCI,' Lalit Kalani elaborated, "SOCI is all about shedding inhibitions and hence the Garden of SOCI and the serpent symbolise this. We are going for the animalistic vibe and drinks that make you feel alive. The jungle seems to come to life, creatures awakening from their mid-day slumbers, birds beginning to chirp incessantly, all making a move toward the watering hole for a much-needed drink. Shoulders rub, conversations unfold, and most importantly, curious discoveries make their way into the light – the true faces behind the masks are revealed. With that said, SOCI is inspired by the spirit of society, one that seeks and thrives on secrets and curiosity."
"Gin, as a category, has been enjoying a steady increase in consumption over the past few years, and young Indian consumers are swaying towards gin because of its versatility. SOCI, offers younger drinkers a great quality liquid that is trendy, non-complicated, and easy to drink. A gin that helps drinkers be themselves – let go of their inhibitions and reveal their true identity to the world." says Moksh Saini
Aspiring to be the next go-to gin for young Indian consumers, the 'Delicious, Mysterious & Edgy' SOCI Gin is versatile, and also enables one to be creative & experimental- one that lets them explore their "edgy" side. SOCI Gin stands out amongst the rest as the botanicals infused in the gin are cold pressed to keep the flavours at their most optimum levels. It is refreshing and versatile, perfect for sipping neat or on the rocks, as well as great in cocktails.
With an apt ambition to provide consumers with a great quality Indian gin that enhances the cocktail culture, this Indian gin crafted in Goa is also gearing up to provide consumers with a wide range of mixers & cocktail options that they can enjoy. And simultaneously equip them with enough knowledge about gin, how it's made, and ways to consume it, so that they don't get intimidated while placing an order or asking for their favourite gin.
So what is the ideology behind SOCI? SOCI is a non-conformist. Its sole objective is to allow the drinker to let go of their inhibitions and reveal their true identity to the world, free from judgment and social obligations. SOCI encourages the audience to explore their inner fantasies and urges. SOCI is gearing up to encourage patrons to be courageous enough to go and talk to someone at a bar or inspire them to have that one extra drink on a weekday. It urges you to confidently utter that inappropriate joke at a wedding and encourages you to think for yourself. It's not all fun and games but also individualism that SOCI believes in. Freedom of thought, speech, and expression is deeply rooted in the core of this brand. And there's more! The brand mascot – the serpent – adds even more curiosity to the brand and this powerful figure can instantly capture the attention of the consumers and instil a sense of mischief.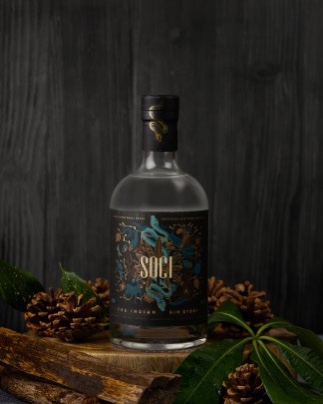 Gin is one of the most ancient alcohols in the world. Yet, in recent times, there's been a massive gin revival. Once seen as a bit of a niche drink that was only enjoyed by people that liked gin and tonic, things are now different, and gin is huge! From classics to modern twists, there is something for all tastes and many of them are really simple. Here are some savoury concoctions that you can indulge in with SOCI GIN that brings out the inner bartender in you making you go all out and say, 'It's Gin-o-clock!' Some gin-invigorating cocktails that will sweep you off your feet include the Cardamom Rose Cocktail, the secret ingredient of which is just a flavoursome rose syrup and has the taste of an expensive drink, but don't you worry! You can freshen these up as many times as you want without burning a hole in your pocket. Another awe-spiring cocktail is the Cucumber Mint Gin Cocktail which serves as the perfect brunch cocktail that will leave you thoroughly pleased. Next in line is the simplest gin cocktail which includes only two ingredients- Gin Gimlet. Two parts gin and one part lime cordial mixed together and you're good to go! Other killer SOCI-gin-infused cocktails that you can make from the comfort of your home include Blood Orange mint gin Fizz, Pink Negronis, Blueberry gin mojito, Gin Daiquiri, Gin-a-colada, and more!
So don't hold back – get moving on those Gin Cocktails with SOCI Gin from the Garden of Soci and unleash your inner rebel in full swing!