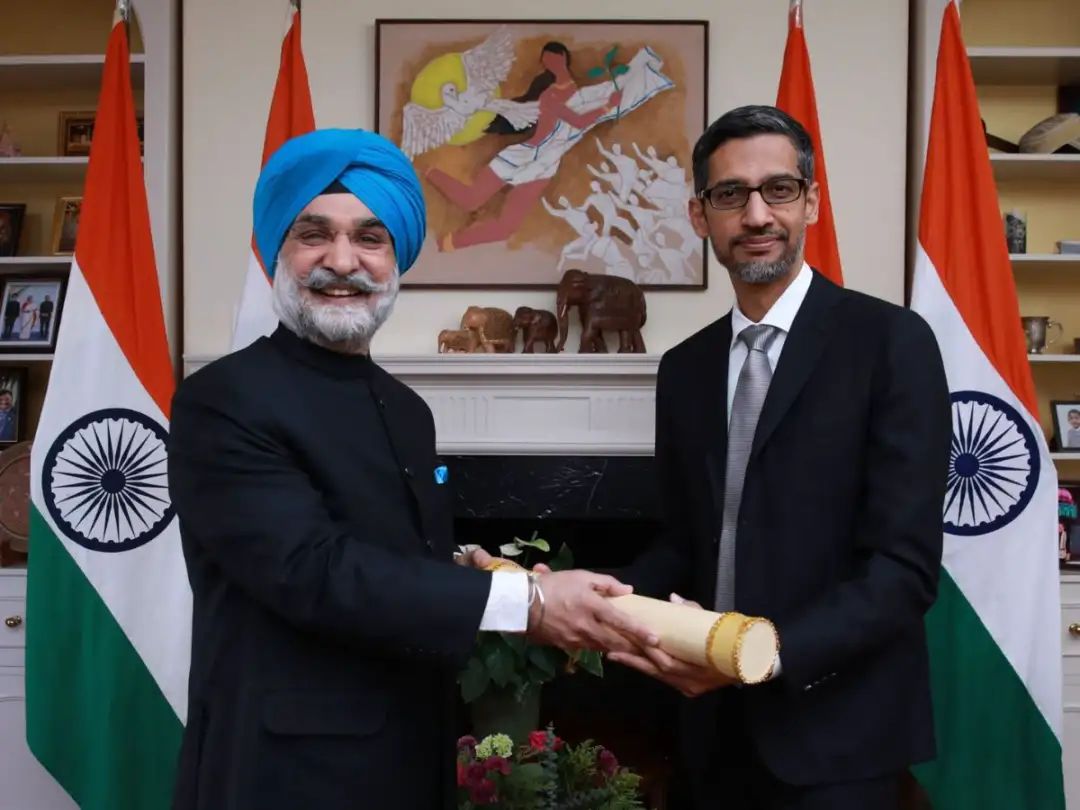 "India is a part of me and I carry it with me wherever I go," Google and Alphabet CEO Sunder Pichai has said, as he was presented with the prestigious Padma Bhushan award by the Indian envoy to the US.
Pichai, an Indian-American, received the Padma Bhushan in the trade and industry category for 2022. In San Francisco on Friday, Pichai, 50, received the country of India's third-highest civilian honour in the presence of his immediate family.
"For this incredible honour, the Indian government and people have my sincere gratitude. I consider India to be a part of myself, and I look forward to building on the successful relationship Google already has with the country as we continue to expand access to technology "Taranjit Singh Sandhu, the Indian ambassador to the US, presented the honour to Pichai.
"I always carry a piece of India with me because it is a part of who I am. I had the good fortune to grow up in a household that valued education and knowledge, "said he.
T V Nagendra Prasad, the general consul of India in San Francisco, was also present.
Pichai, according to Sandhu, stands for the transformational potential of technology's boundless possibilities.
He claimed that he had been working admirably to make digital tools and abilities available to a variety of social groups around the world.
Sandhu expressed his hope that Google would fully capitalise on the digital revolution taking place in India by recalling Prime Minister Narendra Modi's vision for technology, which combines the 3Ss of speed, simplicity, and service.
Pichai said that it had been amazing to return to India many times over the years to see the rapid pace of technological change.
The innovations created in India are benefitting people around the world – from digital payments to voice technology, he said
According to Pichai, businesses are embracing digital transformation chances and more individuals than ever before, even those living in rural communities, have access to the internet.
In addition, Pichai remarked, "I'm delighted that Google continues to invest in India, engaging with governments, businesses, and communities across two transformative decades. Prime Minister Modi's Digital India goal has clearly been an accelerator for that success.
"Every new piece of technology that came our way improved our quality of life. And that encounter led me to Google, where I had the opportunity to contribute to the creation of technology that enhances the lives of people everywhere "During his victory speech, he remarked.
Pichai claimed there are numerous opportunities in the future.
Pichai commented on India assuming the G20 chair as follows: "It's a fantastic opportunity to forge a consensus on promoting an open, connected, secure, and useful internet that benefits everyone. We are dedicated to working toward that objective with you." On Thursday, India formally took over as G20 President.
"I appreciate the chance to work with you on this project and help more people benefit from technology. I'm excited to continue our wonderful collaboration "said Pichai.