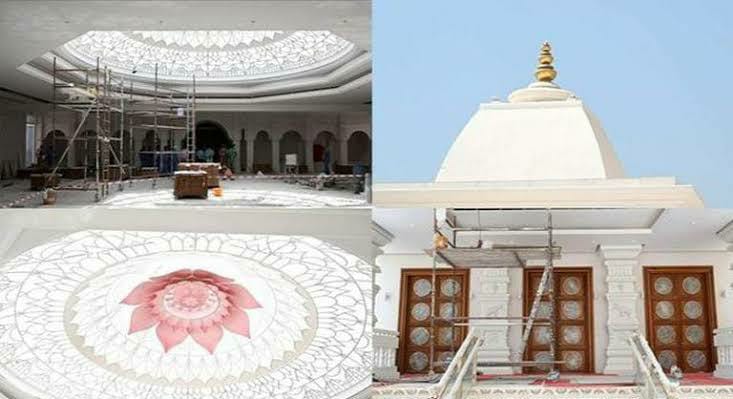 The massive new Hindu temple being built in Dubai is now in its last stages of construction. This year, the temple will be dedicated on October 4 and open to the public the next day, which falls on the day of the Dussehra holiday. The temple is located in the Jabel Ali neighbourhood of Dubai, along the Corridor of Tolerance. The region also has a Sikh Gurdwara and a number of churches representing various Christian denominations. 16 Hindu gods will be housed at the temple, according to UAE media. It will offer a variety of amenities for followers, including a knowledge room, a community centre for outreach initiatives, and a place where individuals of all religions are welcome. Only the worship space will initially be accessible to the public. The Knowledge Room and Community Center will also be open to the public starting on Makar Sankranti, January 14, 2023. The temple will feature spaces for people to host private events like havans and marriages.
Temple administrators have set up a QR-code-based appointment system, which is accessible on the temple website hindutempledubai.com, to assure protection against Covid-19. The temple will host Hindu holidays like Diwali and Navratri in a magnificent manner once it is open.
Here is a list of amenities and services available to worshippers at the Hindu Temple in Dubai:
LCD panels will be installed at Temple in its community and information area.
The temple's doors are made of walnut, and its tall concrete pillars are intricately ornamented.
Deities from South India are carved from black stone.
Lord Shiva will be the primary deity at the temple, along with 15 other deities, such as Ganesha, Krishna, Mahalakshmi, Guruvayoorappan, and Ayyappan.
Inside the temple, Sri Guru Granth Sahib, the Sikh holy book, will have a part.
An area has been set aside for Tulsi plants and related rituals like mundan, etc.
In the temple, eight priests will be employed full-time.
The temple and its surroundings are anticipated to rank among the most popular tourist destinations in the Emirates.