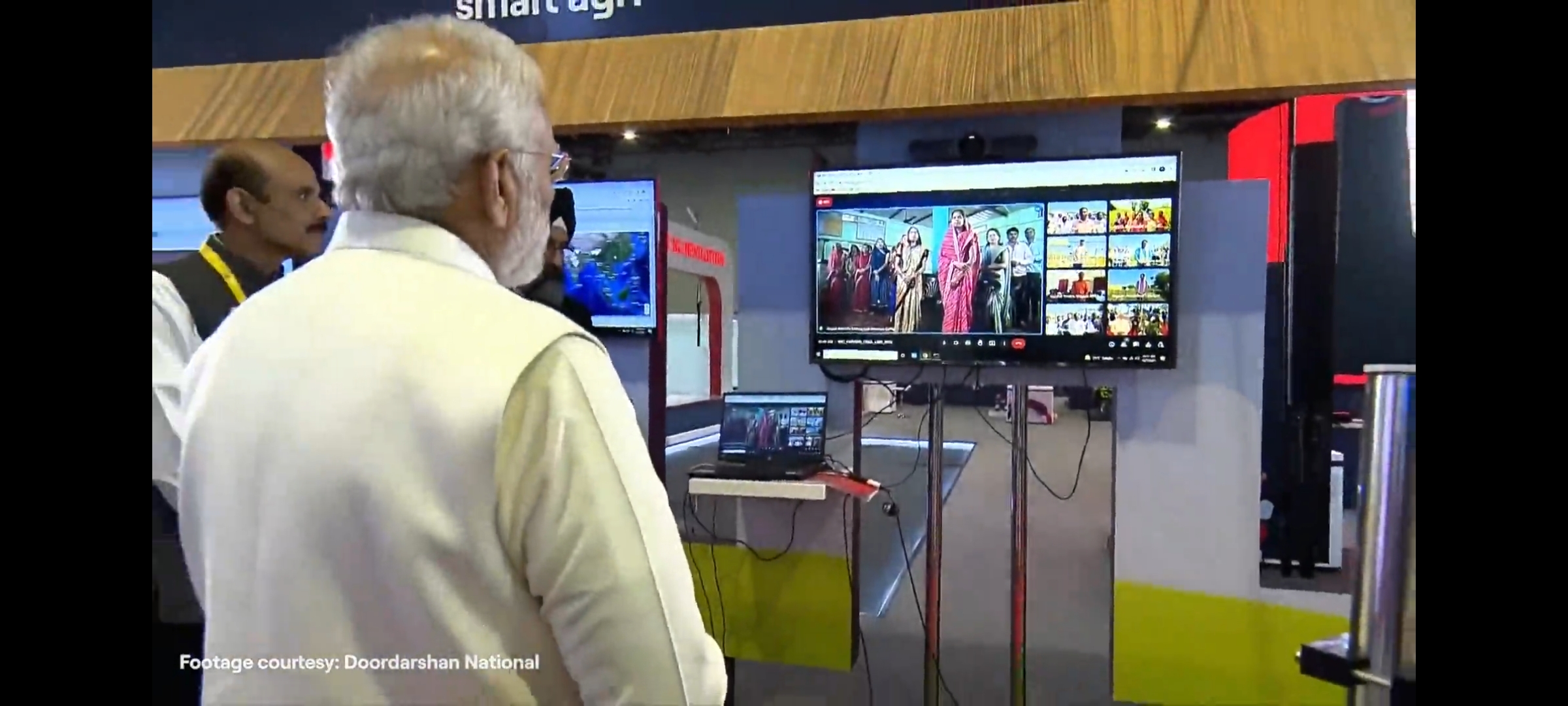 Hon'ble PM experienced the impact of technology in Agri sector and spoke to farmers on Vi 5G Live Network
Vi SmartAgri project has empowered over 5 lakh Indian farmers across 10 states to use sustainable farming practices
The Farmers got a once in a lifetime opportunity to interact with the Hon'ble PM
Leading telecom operator, Vodafone Idea Limited (VIL) demonstrated its SmartAgri initiative to the Honorable Prime Minister Shri Narendra Modi at the India Mobile Congress (IMC) 2022, Pragati Maidan, New Delhi. Vi SmartAgri technology solution is deployed across 10 states with 5 lakh farmers using advanced technology interventions such as Internet of Things (IoT), Artificial Intelligence (AI), Sensors, Cloud Technologies, HD Cameras, Drones, and Insect Traps to help them improve livelihood by adopting sustainable farming methods.
Accompanied by Shri Ashwini Vaishnaw, the Hon'ble Minister of Communications, Electronics & Information Technology, Government of India, the PM was given a demonstration of Vi SmartAgri by Ravinder Takkar, Chairman and P Balaji, Chief Regulatory & Corporate Affairs Officer, Vodafone Idea Ltd.
The Hon'ble Prime Minister virtually interacted with SmartAgri beneficiary farmers from Madhya Pradesh and Maharashtra on Live Vi 5G network from IMC. The farmers shared insights on how SmartAgri technology deployed in their fields have improved their livelihood and how real-time updates, localized text and video advisories have resulted in increased crop production, better crop quality, reduced water consumption, lower operational costs and income growth.
It was a memorable moment for Pawan Parmar, Bilkisganj, Sehore, Madhya Pradesh; Devli Kushwah, Berasia, Bhopal, Madhya Pradesh; Rupesh Tyagi, Khokariya, Bhopal, Madhya Pradesh, Yogesh Tyagi, Hataikhedi from Bhopal, Madhya Pradesh as well as Harshal Tondare, Nagpur; Reeta Gawande, Nagpur; Atul Wanjari, Wardha; and Vinay Choudhari from Amravati, Maharashtra, who had the privilege of interacting with the Prime Minister and giving him insights on the benefits they have derived through the SmartAgri Initiative.
Expressing his gratitude to the Prime Minister for his valuable time and support, P Balaji, Chief Regulatory & Corporate Affairs Officer, VIL, and Director, Vodafone Idea Foundation, said, "We thank the Honorable Prime Minister Shri Narendra Modi ji for his gracious presence at the Vi booth and spending time to interact with our farmer beneficiaries from Madhya Pradesh and Maharashtra. Vodafone Idea is proud to be supporting the Government of India's vision of
empowering farmers and promoting the use of new farm technologies. The Vi SmartAgri project has been transforming farming practices in India, instilling confidence in farmers to use technology and intelligent solutions to improve productivity. Our technology intervention have helped improve agriculture practices, farm yield, revenues and overall quality of life for over 5 lakh farmers across 10 Indian states. We remain committed to continue leveraging our technology expertise in enabling wider and deeper social transformation in the Indian Agriculture space."
Vi SmartAgri, in partnership with agriculture scientists and technology experts, also provides farmers with physical assistance to incorporate sustainable agricultural practices and intelligent farming methods to increase their yield. As part of the program, Vi has empaneled 140 tech-savvy young agri-enterpreneurs and 18 Farmer Producer Organisations (FPO) to assist the farmers and help them access vital information about their crops with ease. Vi SmartAgri programme has empowered over 5 lakh small and marginal farmers across 10 states – Maharashtra, Madhya Pradesh, Uttar Pradesh, Rajasthan, Assam, Telangana, Tamil Nadu, Karnataka, Orissa and West Bengal.
About Vodafone Idea Foundation:
Vodafone Idea Foundation, the CSR arm of Vodafone Idea Limited, believes that our mobile communications technologies can address some of the most pressing humanitarian challenges and our responsibility is to utilize our innovative mobile technology in mobilizing social change and improving people's lives. The Foundation focusses on addressing challenges relating to agriculture, education, health, equality and access. We are committed to enable people and technology to drive innovation, disseminate knowledge, and create shared value to improve lives. We work in partnership with key charities, development agencies and the community to drive social change on a large scale in India.
For more information, please visit: www.MyVi.in and www.vodafoneidea.com; Twitter: @VodaIdea_NEWS
Vodafone Idea Foundation handles: Twitter@vodafoneIN_Fdtn | Facebook@VodafoneIdeaFdn