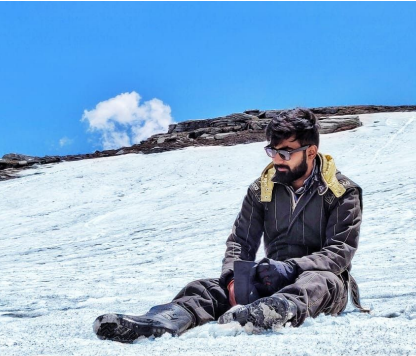 How the most loved travel start-up in Central India, Barefoot Trekians Started?
From where the thought came?
I always had an interest in travel since the beginning. I was actively involved in solo travelling from the past five years  and this helped me to understand how many people like me who r fond of travelling try to plan trips but smhow it gets cancelled either due to budget issues or if they don't get a gud company of people to travel with or may be sometims due to lack of knowledge that how to travel & wer to travel with best services, accomodation, sightseeing all included in one go.With a raw idea, keen interest, abrupt planning, somehow I managed to start this venture and make business out of my love for travel.
Individual Background, Beginning, Initial days challenges and struggle?
I come from a commerce background, I was pursuing MBA. & also doing my job with a package of 8lac P.A. in Mumbai
Initially, I actually had to meet parents of our travellers at their house to win their trust as we were new, even people used to come home to check my ID and address for verification. Even parents & people above my age would actually question me – WHAT..YOU? YOU SURE YOU ALONE WOULD BE ABLE TO MANAGE  ALL THIS?  They never thought that this young guy of 22 yrs would be able to.manage these many people that too on a trip of 4-5 days
But gradually, things started changing over the years and the company started gaining trust, confidence and love amongst the local travel-loving audience. With every trip that we completed successfully, fortunately gave us a new set of loyal clients who would genuinely recommend our plans to their friends and family. And that's how with immense hard work, patience, tolerance and many sleepless nights, they actually build a separate fan base amongst the clients who loved their plans for premium services with the best of luxury.
We started this company from scratch with no industry experience. With this, funding crunch, credibility amongst clients, managing team with lesser operational budgets and criticism by competitors were a few challenges we faced 
Where and how you started? The thought behind?
I had this thought in my mind when I was pursuing my job with a package of 8lac p.a. in Mumbai but suddenly one day just out of no wer I decided that this is not exactly what I need in my life . I have to follow my passion. I packed my bags came.back home (Indore).
I had a clear thought of converting my passion into profession for sure . Idea was very clear to build a brand that was very unique from all other travel ventures giving best services, best travel experience at best affordable price.
The very first experience of following your passion and how was that special feeling?
My first group tour was to triund trek . We were a group of 2530 people, tht feeling was same as the feeling that we have at starting of any roller coaster ride as u know it's not gonna be that easy
The best feeling I had was wen I took my mom to Dubai on my own expenses
One day she suddenly said : U travel a lot kartik but u never take us along with you , this is not done …
That day I actually realised that she was right & this time I have to make her feel special …..
I quickly applied for visa got the tickets done and planned a surprise trip to DUBAI . We had an amazing time there, Tht smile & satisfaction on her face wen we were back from the trip was priceless for me that was the most special feeling
And then I decided to take her with me on every new launch of  trip so that even she can travel along & I could see tht glow in her eyes wen fellow travellers are so happy with our trips & she feels so happy to see me growing every time with every new trip
 Experience till date?
Every day is a whole new experience sometimes good sometimes harsh . Daily learning something, implementing smthing,executing smthing, new trip launches , new ideas , meeting new people makes this experience super fun.
Phots, clips and work related stuff.
Barefootrekians has became the Curator of Central India's first unique adventure travel venture. The young Entrepreneur, Mr. Kartik Khandelwal has been featured in several media houses like Dainik Bhaskar, Patrika, People's Samachar for exclusive contribution to the travel industry. Kartik has been applauded as the Modern Travel Jugad Hero by creative art club, FELICITY for the feature startup story.
Barefootrekians has been successfully catering up to 200 + trips and 5000+ travel itineraries every year. They are much-loved in the local city for exclusive travel plans that are pocket-friendly with the best of luxury. With this, barefootrekians have excellent network in India and International Travel regions.
The message you want to give through Us :"like exactly how you are living your life – Living the way with your Love towards yourself
The message I want to convey is :
Guys there may be many of you busy in your lives may be so busy that we forget to think are we actually happy with the life tht we r living?
I gave this thought in year 2016 & tht thought changed my destiny. I would have worked on a chair in Air conditioned office getting well paid at the end of month living a smooth life but at the end I would have called my life complete but not happy.  What made me happy was travelling…  I never wanted air conditioned office , I was looking for roaming in mountains
I never wanted wholesome salary in the end , I was looking for a month ending with full of memories of. New places
I never wanted a 9-5 . . I was looking for rising with a view & sleeping under the stars
I never wanted switching companies I wanted to switch from state to state City to city
I never wanted increment, all I wanted was increased number of stamps on my passport
So here is list of wat made me happy