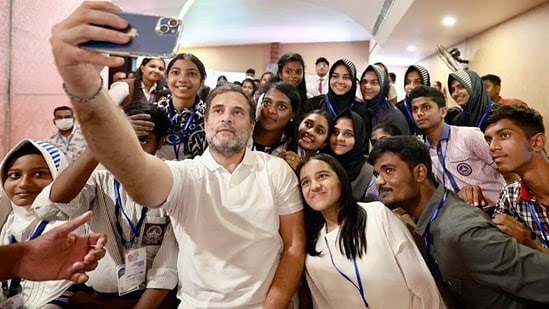 Rahul Gandhi, a member of the Congress, accused the BJP and the Rashtriya Swayamsevak Sangh (RSS) of "destroying the country" on Wednesday, according to the news agency ANI. Gandhi, who is travelling with the Congress on its "Bharat Jodo Yatra," said, "The ideology of BJP and RSS is the ideology of hatred," in a speech to the general people at Chathannoor in Kerala's Kollam district. They are obliterating the nation and eroding India's greatest asset, its capacity for tolerance.
The Congress 'eader asserted that Gandhi's nonviolent victory over a superpower demonstrated the actual strength of India.
Gandhi had stated on September 7 that the Tricolor belonged to all religions, states, and languages; nevertheless, now the BJP and the RSS are attacking it and dividing India along religious and linguistic lines.
"India is currently experiencing its biggest economic crisis. The entire nation is ruled by a small group of powerful corporations. Earlier, there was the East India Company which controlled India and today, there are 3-4 big companies which control entire India," Gandhi had said at the launch of the 'Bharat Jodo Yatra' at a rally in Tamil Nadu's Kanyakumari.
As he pleaded for the populace's support to keep the country united, Gandhi stressed that every single institution of the nation is under attack.
The Bharat Jodo Yatra will stop for a "well-earned respite" on Thursday in the Kollam region of Kerala after travelling 150 kilometres since starting on September 7 in Kanyakumari, Tamil Nadu, before continuing on September 16. According to a member of the party, the yatris would be taking Thursday off at Younus College in Kollam.
"150 kilometres have already been covered. Rahul Gandhi talked with students at Chathannoor in the Kollam district this afternoon. The evening padayatra was crowded to the brim. Everyone has earned a day of relaxation tomorrow, and the padayatra starts the following day from Kollam "AICC general secretary for communication Jairam Ramesh tweeted.
Gandhi spoke with the students at Chathannoor in the afternoon. According to the Congress, a sizable throng attended the evening padayatra.
The Bharat Jodo Yatra, whichh arrived in Kerala on September 10 evening, will travel 450 kilometres through the state, stopping in seven districts over the course of 19 days, before making its way into Karnataka on October 1.
On September 17, the yatra will arrive in Alappuzha. On September 21 and 22, it will pass through the Ernakulam district before arriving in Thrissur on September 23.
On September 26 and 27, the march's route will pass through Palakkad, and on September 28, it will enter Malappuram.