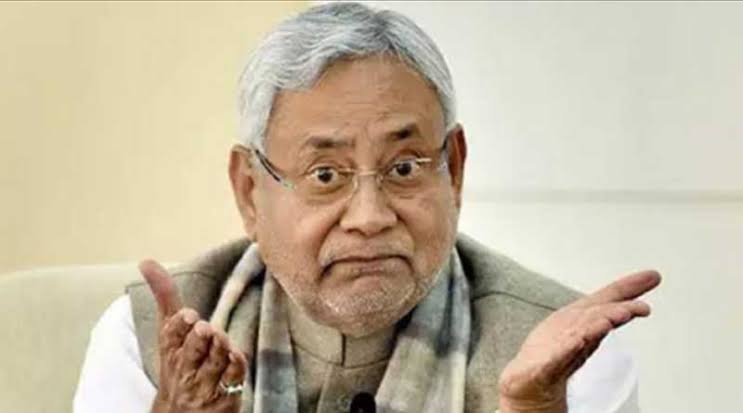 Bihar Chief Minister Nitish Kumar today rejected the possibility of giving compensation to the families of those killed by spurious liquor, and said people should be "more vigilant" when the state anyway has prohibition since 2016.
Over 30 people have died in Saran district in the most recent tragedy, and the JDU-RJD government has been facing protests by the BJP in the assembly and outside over alleged laxity in implementing prohibition.
"Jo sharaab peeyega, wo toh marega hi na… Udaharan saamne hai — peeyoge toh maroge. (Those who drunk liquor will obviously die. We have an example in this case)," Mr Kumar said in Hindi in response to a question in Patna, referring to demands of compensation in earlier cases.
In the Vidhan Sabha earlier this week, Nitish Kumar lost his composure over the demonstrations and made fun of the BJP members by saying, "You are inebriated."
He stated today that it is important to show grief and then educate the public by visiting the impacted areas. "We have conducted extensive social awareness campaigns."
He argued that hazardous alcohol killed people even when there was no prohibition. He continued, "People have also passed away in significant numbers in other states."
Similar deaths have recently occurred in Punjab and Gujarat, two states that have prohibition laws.
"You know what Bapu (Mahatma Gandhi) has said (in favour of prohibition), and what research across the world shows — all of that has been sent to people's homes — about how liquor is a bad thing, how many people die because of it. People have been dying of toxic (spurious) liquor since long, and it happens across the country," he said.
"We have taken strict action, but people need to be more vigilant. When there's prohibition, the liquor being sold will obviously have something wrong in it," he further said.
"Also, remember, you should not drink liquor anyway. Most people have agreed with the prohibition policy. But some people will make mistakes," he argued.
Minister Sunil Kumar has, meanwhile, said the government will take strict action against those responsible for the deaths.
Currently, there are just two sizable states with prohibition: Gujarat, the home state of Prime Minister Narendra Modi, and Bihar. Mizoram and Nagaland both share similar laws with a few exceptions.
States like Kerala in the south and Haryana in the north have tried the programme over the years but had to abandon it, primarily due of implementation issues.