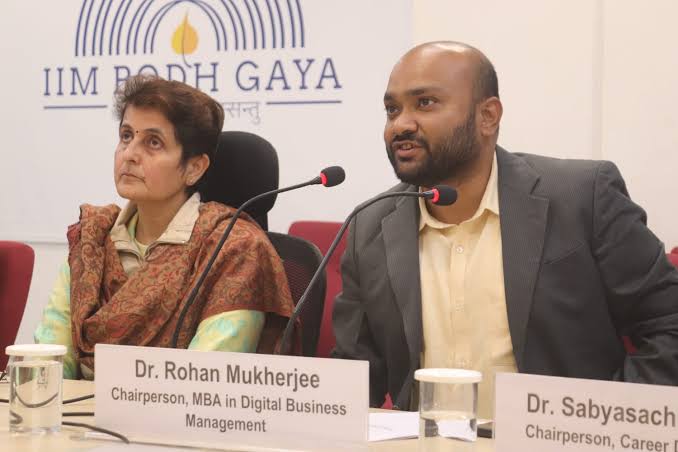 The Indian Institute of Management Bodh Gaya on Thursday launched two full-time residential MBA programmes— MBA in Hospital and Healthcare Management and MBA in Digital Business Management.
The inaugural batches for both programmes are set to commence from the last week of June of the next academic year, 2023-24.
As many as 90 seats for Digital Business Management and 60 for Hospital and Healthcare Management are on offer for this academic session.
The Hospital and Healthcare Management programme will follow a curriculum and pedagogy that addresses the growing demand for professionally trained human resources to take up managerial and leadership roles across different verticals of the healthcare industry, including hospitals, health insurance, pharmaceuticals, medical devices, as well as IT and consulting.
Application for admission to MBA programmes In Hospital And Healthcare Management and Digital Business Management will be starting by next week.
In a statement IIM Bodh Gaya said that eligible CAT 2022 candidates will be given a 15 days window to register and apply.
Statement state further that EoI forms will be available until the first week of February, and candidates will then be shortlisted for the personal interview round. The final admission merit list will be prepared on the basis of CAT score, PI score, and academic profile rating.
While the Digital Business Management programme is designed to meet the requirements for Industry 4.0 linked to the fast-paced adoption of digital technologies and disruption of business models.
A significant part of both of these lectures will be delivered by leaders and veterans of the respective industries.
The programmes were inaugurated by IIM Bodh Gaya director, Dr Vinita Sahay.
The healthcare management programme offers two tracks of specialisation, i.e., Hospital Management and Healthcare Management, that provide exposure to private and public health systems through internships and final projects in rural setups.
The Industry Advisory Board for the programme is represented by senior leaders from globally reputed firms like Apollo Hospitals, Biocon Biologics, Novartis, DoctCo, and Coforge.
The digital business management programme offers four tracks of specialisation— Digital Marketing and Business Development, Data Analytics and Decision Sciences, Strategy and Consulting, and FinTech.
Experts from tech companies like TCS, Infosys, and IBM have been part of the Industry Advisory Board to bring state-of-the-art practices and trends in classroom teachings.
Both the IIM Bodh Gaya MBA programmes seek to provide a unique hands-on learning experience for the participants through a long duration of industry immersion for four months.