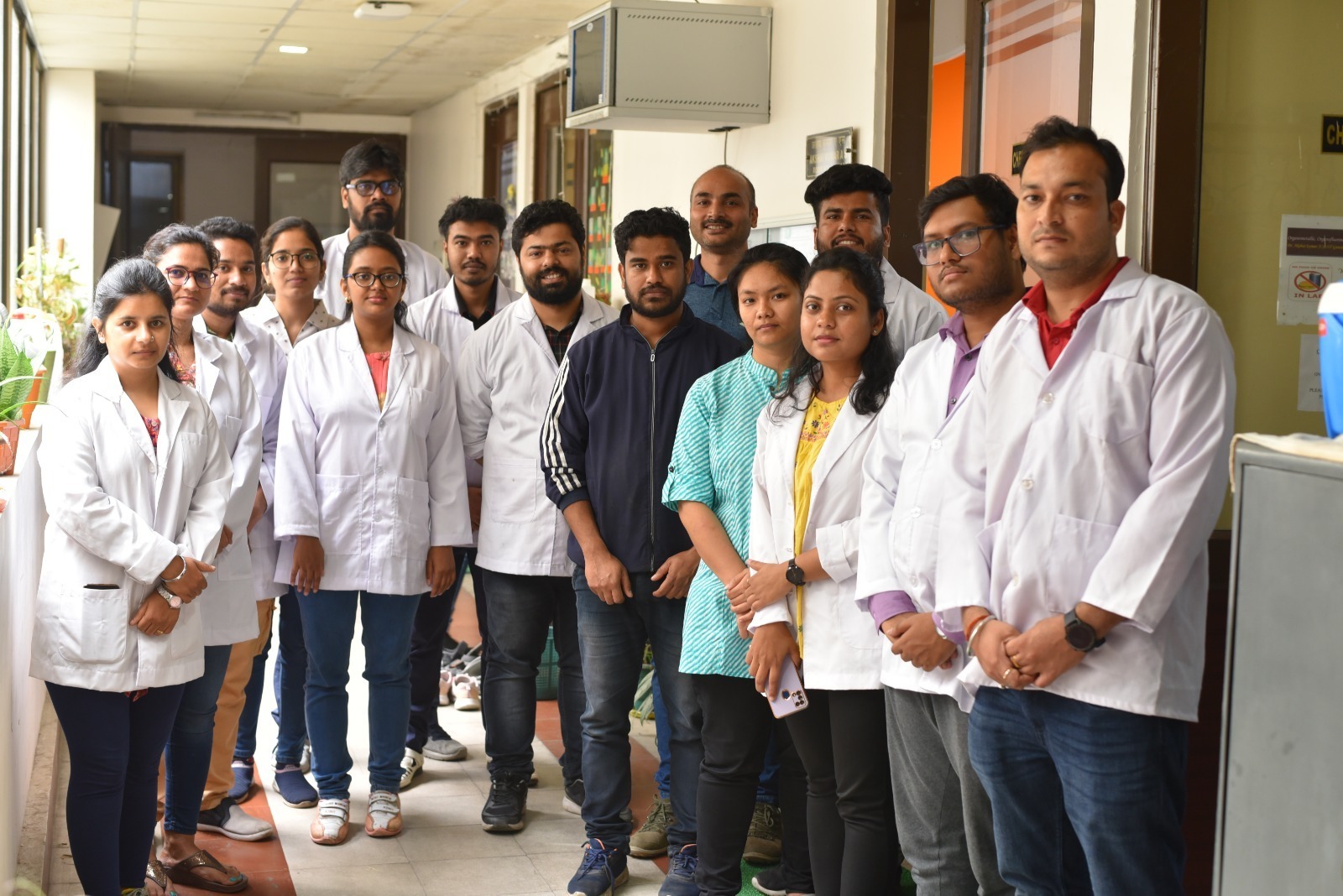 The catalytic system produces hydrogen and formic acid from wood alcohol. This is a step towards achieving the Global goal of decarbonization of the planet set for 2050
This research opens up exciting avenues for the development of hydrogen-methanol economy
 Video Byte:
https://drive.google.com/drive/folders/1wzQNJvAwuRB_43yDQ8tgnNkVJPC723Tk?usp=sharing
GUWAHATI, 1st May 2023: Researchers at Indian Institute of Technology Guwahati, led by Dr Akshai Kumar A.S., Associate Professor, Department of Chemistry, have developed a catalyst that can release hydrogen gas from wood alcohol, with no side production of carbon dioxide.  Beyond being an easy and environmentally safe process, the method produces formic acid which is a useful industrial chemical. This development makes methanol a promising 'Liquid Organic Hydrogen Carrier' (LOHC) and contributes to the concept of hydrogen-methanol economy.
As the world is moving towards finding alternatives to fossil fuels, hydrogen gas continues to be the best source of clean energy generation.  Currently, hydrogen is produced either by the electrochemical splitting of water or from bio-derived chemicals such as alcohol.  In the latter method, hydrogen is typically produced from methyl alcohol (commonly called wood alcohol) using a catalyst, in a process called methanol reforming.
There are two problems with the catalytic production of hydrogen from wood alcohol. The first is that the process involves high temperatures in the range of 300 oC and at high pressures (20 atmosphere). Secondly, the reaction co-produces carbon dioxide, which is a greenhouse gas.  This is where the IIT Guwahati team has found a solution.
Explaining the significance of their work, Dr Akshai Kumar A.S., Associate Professor, Department of Chemistry, IIT Guwahati, said, "In methanol-reforming, in stark contrast to well-reported catalytic systems that act like Brahmastra and result in complete destruction to carbon dioxide, the current work involves a smart strategy to design pincer (crab-like) catalysts that selectively produce high-value formic acid and clean-burning hydrogen."
The IIT Guwahati team developed a special form of catalyst called the 'pincer' catalyst, which contains a central metal and a few specific organic ligands. It is called a pincer because the organic ligands are like the claws of a crab that hold the metal in place.  Because of this special arrangement, the catalyst becomes very specific and selective.  Thus, as wood alcohol is broken into hydrogen, formic acid is generated instead of carbon dioxide.  The reaction takes place at 100 oC, much lower than the temperatures required for conventional methanol-reforming.
To make the catalyst reusable, the researchers loaded the catalyst on an inert support.  By this, they could reuse the catalyst over many cycles.
ChemDist Group of Companies is the industry collaborator on this project. Speaking on the industrial potential of the research Dr. Sunil Dhole, Director, ChemDist Group of Companies, said, "Commercially speaking, the exciting fact about this work is that an abundantly available and cheaper organic chemical like Methanol can be converted to Hydrogen using a cheaper catalyst, at lower temperatures and without the emission of Carbon Di-oxide. This technology has the potential to make significant strides towards achieving carbon neutrality."
The details of the catalytic system have been published in ACS Catalysis . The paper has been co-authored by Mr. Vinay Arora, Ms. Eileen Yasmin, Ms. Niharika Tanwar, Mr. Venkatesha R. Hathwar, Mr. Tushar Wagh, Dr. Sunil Dhole, and Dr Akshai Kumar A.S.
 Attached Picture Caption – (L to R) Ms. Niharika Tanwar, Dr Jagriti Singh, Mr. Bedabara Nag, Ms. Aditi Chaubey, Mr. Khadimul Islam. Ms. Tanima Pal, Mr. Sumit Kumar Show, Mr. Vinay Arora, Mr. Pran Gobinda Nandi, Dr. Akshai Kumar A. S, Ms. Himani Narjinari, Mr. Vikas, Mr. Akshara Bisarya, Mr. Rounak Ranjit, and Dr. Harsh Sharma
ABOUT IIT GUWAHATI
Indian Institute of Technology (IIT) Guwahati established in 1994 has completed 25 years of glorious existence in 2019. At present, the Institute has eleven departments, nine inter-disciplinary academic centres and five schools covering all the major engineering, science, healthcare, management and humanities disciplines, offering BTech, BDes, MA, MDes, MTech, MSc, MBA and PhD programmes. The institute offers a residential campus to 435 faculty members and more than 8,000 students at present.
IIT Guwahati has retained the 7th position among the best engineering institutions of the country and 8th position in 'Overall' Category in the 'India Rankings 2022' declared by the National Institutional Ranking Framework (NIRF) of the Union Ministry of Education.
IIT Guwahati is the only academic institution in India that occupied a place among the top 100 world universities – under 50 years of age – ranked by London-based Times Higher Education (THE) in 2014 and continues to maintain its superior position even today in various International Rankings. IIT Guwahati gained rank 37 globally in the 'Research Citations per Faculty' category and overall 384 rank in the QS World University Rankings 2023 released recently.
Among other frontier areas of research and innovation, IIT Guwahati is working towards augmenting critical science research initiatives in Genomics, Developmental Biology, Health Care and Bioinformatics and Flexible Electronics, among numerous other areas.
Please follow IIT Guwahati on: TWITTER / FACEBOOK / LINKEDIN / YOUTUBE / INSTAGRAM
MEDIA CONTACT FOR IIT GUWAHATI
Bhavani Giddu – Footprint Global Communications
Cell: 9999500262 / Email: [email protected]
Akhil Vaidya – Footprint Global Communications
Cell: 98821 02818 / Email: [email protected]
Kajal Yadav – Footprint Global Communications
Cell: 88059 66194 / Email:  [email protected]
Sudeshna Gupta – Footprint Global Communications
Cell: 91019 06449 / Email: [email protected]