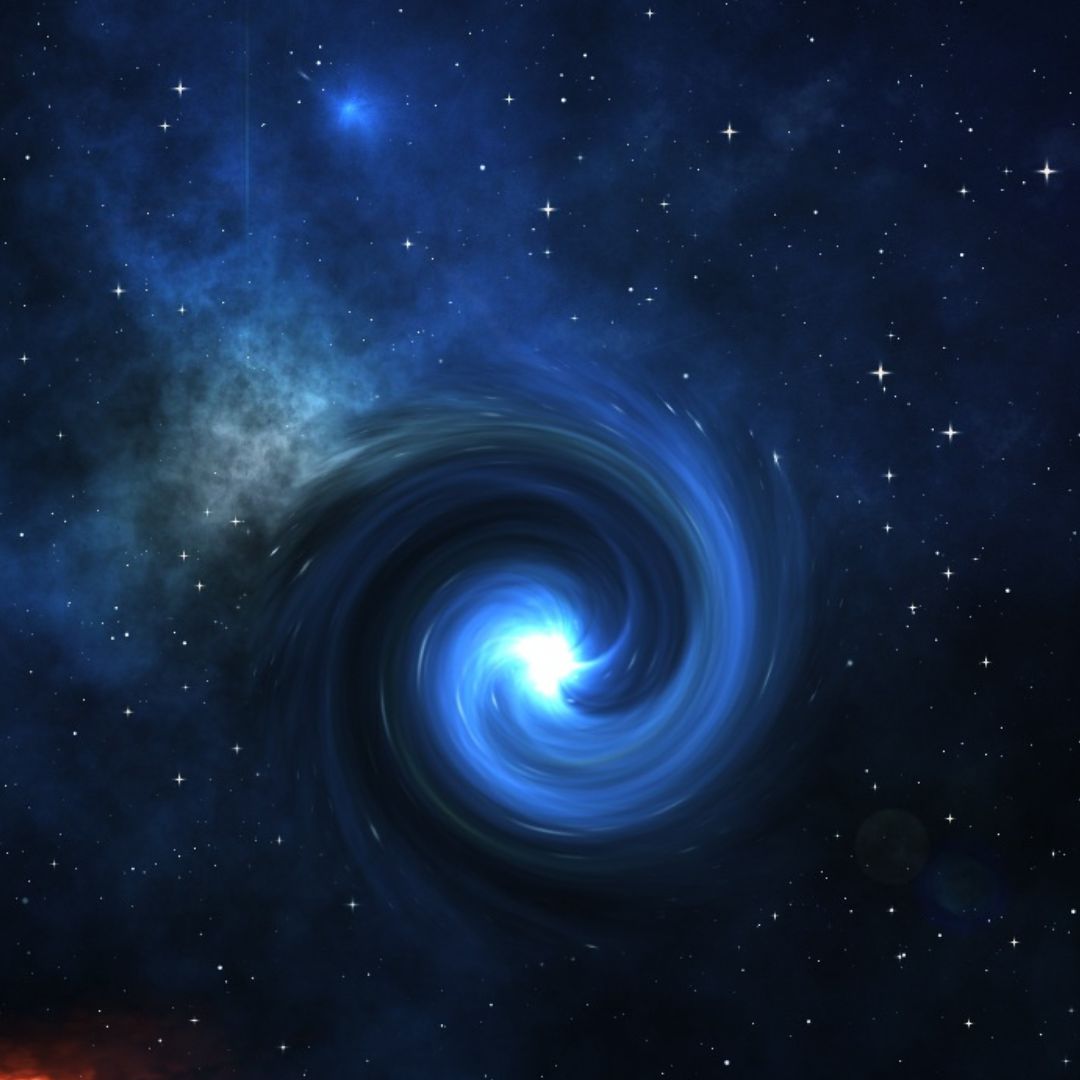 IIT Hyderabad Researchers Find Evidence for the Humming of the Universe through Low-Frequency Gravitational Waves
Hyderabad, July 05, 2023: A team of proficient researchers from IIT Hyderabad (IITH) has collaborated with international astronomers from India, Japan, and Europe to conduct a groundbreaking study on pulsars, known as nature's most accurate clocks. This study involved monitoring pulsars using six of the world's most sensitive radio telescopes, including India's largest telescope, uGMRT. The findings of this research provide compelling evidence for the continuous vibrations of the fabric of the universe, caused by ultra-low frequency gravitational waves. These waves are expected to originate from numerous massive black hole pairs, weighing millions of times more than our Sun. The team's results mark a significant milestone in unveiling a new window into the gravitational wave spectrum, rich with astrophysical insights.
These colossal black hole pairs, which are believed to exist at the centers of colliding galaxies, generate ripples in the fabric of our cosmos. Astronomers refer to them as nano-hertz gravitational waves, given that their wavelengths can span hundreds of thousands of billions of kilometers. The continuous symphony of gravitational waves produced by these supermassive black hole pairs creates a perpetual hum within our universe. The team, composed of members from the European Pulsar Timing Array (EPTA) and Indian Pulsar Timing Array (InPTA) consortia, has published their results in two papers featured in the Astronomy and Astrophysics journal. Their findings offer tantalizing hints of the presence of these gravitational waves within their extensive data set, which includes an analysis of pulsar data gathered over a span of 25 years using the world's most prominent radio telescopes.
The IITH team, actively involved in this remarkable discovery, includes Dr. Shantanu Desai from the Department of Physics and the Department of AI, Mr. Aman Srivastava, a Physics PhD student, Mr. Divyansh Kharbanda, a 2023 BTech graduate in Engineering Physics, and Ms. Swetha Arumugam, a rising BTech senior in EE. Additionally, Ms. Pragna Mamdipaka, another BTech student in EE, plays an active role in ongoing InPTA endeavors. IITH has been an integral part of InPTA since 2018, and previous InPTA students from IITH have pursued advanced studies in Astrophysics and related fields.
Highlighting the significance of this achievement and IITH's contribution, Prof. B S Murty, Director of IITH, expressed his congratulations, stating, "Congratulations to the InPTA collaboration and the IITH team involved in this discovery. I am delighted that the state-of-the-art NSM Param Seva computing facility at IITH has contributed to these groundbreaking results. This achievement underscores the power of collaboration in achieving scientific milestones."
"I am thrilled that students from both the Physics and Electrical Engineering departments at IITH were able to contribute to this historic discovery. These results are the culmination of many years of painstaking efforts by numerous scientists. I am grateful for the support we received from IITH, particularly the indispensable NSM (National Supercomputing Mission) facility Param Seva, installed at IIT Hyderabad," expressed Prof. Shantanu Desai, IITH.
The InPTA experiment involves researchers from NCRA (Pune), TIFR (Mumbai), IIT (Roorkee), IISER (Bhopal), IIT (Hyderabad), IMSc (Chennai), and RRI (Bengaluru), along with colleagues from Kumamoto University, Japan. More details about InPTA can be found at https://inpta.iitr.ac.in/.
This collective IPTA data set is expected to be even more sensitive, and scientists are thrilled about the constraints they can impose on the Gravitational Wave Background (GWB). Furthermore, they anticipate gaining insights into various other phenomena that might have occurred during the universe's early stages, merely a few seconds after the Big Bang, which could have also generated gravitational waves at these astronomically long wavelengths.
---
Frequently Asked Questions
Q: What is the significance of the IIT Hyderabad researchers' discovery?
A: The IIT Hyderabad researchers, in collaboration with international astronomers, have provided compelling evidence for the existence of ultra-low frequency gravitational waves, contributing to a better understanding of the vibrations within the fabric of the universe.
Q: How did the researchers collect the data for their study?
A: The team monitored pulsars, utilizing six of the world's most sensitive radio telescopes, including India's largest telescope, uGMRT, and analyzed pulsar data accumulated over 25 years.
Q: What are nano-hertz gravitational waves?
A: Nano-hertz gravitational waves refer to the ripples in the fabric of the cosmos generated by massive black hole pairs at the centers of colliding galaxies. These waves have incredibly long wavelengths, spanning hundreds of thousands of billions of kilometers.
Q: What is the InPTA experiment?
A: The InPTA experiment is a collaborative effort involving researchers from various institutions in India, including IIT Hyderabad, aiming to study pulsars and gravitational waves.
Q: How can this discovery impact our understanding of the early universe?
A: By analyzing the gravitational wave background and phenomena that occurred shortly after the Big Bang, scientists can gain insights into the early stages of the universe's formation and evolution.