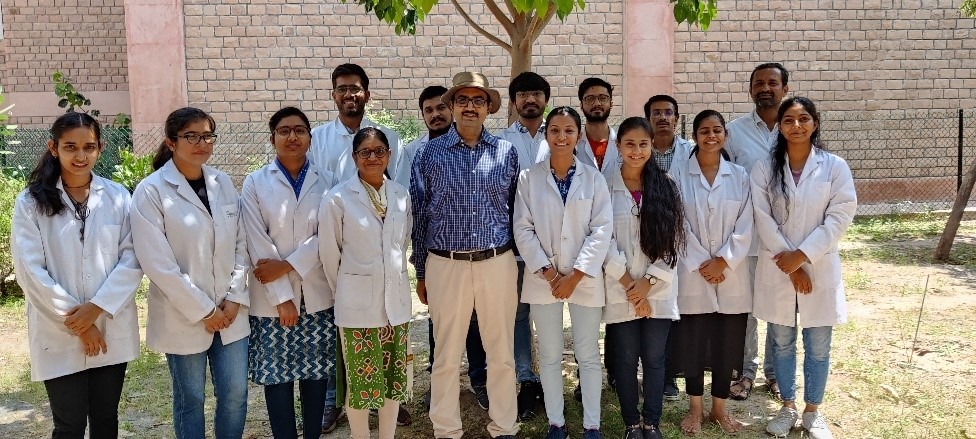 JODHPUR,07-July-2023:The researchers at theIndian Institute of Technology Jodhpurhave developed an abundantly available Iron based catalyst (Fe/Silica-Alumina) and utilized various non-edible oils and waste biomass to make the bio-jet fuel manufacturing process profitable, solving a problem that has inundated the industry for decades.This is an ingredient for cheaper, cleaner fuels that can transform the energy sector.Dr. Rakesh K Sharma, Professor, Department of Chemistry, IIT Jodhpur, and his PhD scholar Mr. Bhagirath Saini have reinvented the way bio-jet-fuel is made from plant-based biomass.
With an estimated daily fuel demand of more than 800 million litters daily, the global aviation sector is incredibly energy-intensive and almost entirely reliant on petroleum-based fuels. Unlike other energy sectors, such as ground transportation or residential and commercial buildings, the aviation industry can't be easily shifted to renewable energy sources using existing technologies. Hence the plant-based sustainable bio-jet fuels suggested by IIT Jodhpur researchers could provide a competitive alternative to conventional petroleum fuels and have the potential to play a big role in greenhouse gas emissions reductions. The research was featured in thecover-page of Sustainable Energy & Fuels journal (https://doi.org/10.1039/D3SE00144J) published by the Royal Society of Chemistry, London.
The present study has great significance for developing aviation fuel under relatively
mild reaction conditions, i.e., low H2 pressure and high reusability (up to 10 test cycles), using the earth-abundant Fe/SiO2–Al2O3 catalyst. The catalyst homologous of nature clay that has been successful story from Prof. Sharma's research group.The catalyst maintains excellent reusability up to 10cycles (but works well for >50 cycles) towards bio-jet fuel. The results are promising, especiallyconsidering the catalyst's high acidity and unique texturalproperties under relatively mild process conditions, such as lowH2 pressure under solvent-free conditions.The work is being supported by Department of Biotechnology, DBT PAN-IIT Center for Bioenergy.
Speaking about the significance of the research, Dr. Rakesh K Sharma, Professor, Department of Chemistry, IIT Jodhpur, said,"What is really impressive about our work is the unprecedented bio jet fuel selectivity from biomass using earth abundant reusable heterogeneous iron catalyst under mild conditions. The process shows not only increased efficiency but also decreased emissions of greenhouse gases in airline sector."
The future scope of the developed sulphur-free and highly dispersed non-noble metal-based catalyst for bio-jet fuel production is promising. Scaling up the catalyst production and optimizing the manufacturing process for commercial-scale applications is a potential avenue. Further research can focus on process optimization to enhance catalytic activity, selectivity, and conversion efficiency, considering factors such as temperature, pressure, and reaction time.