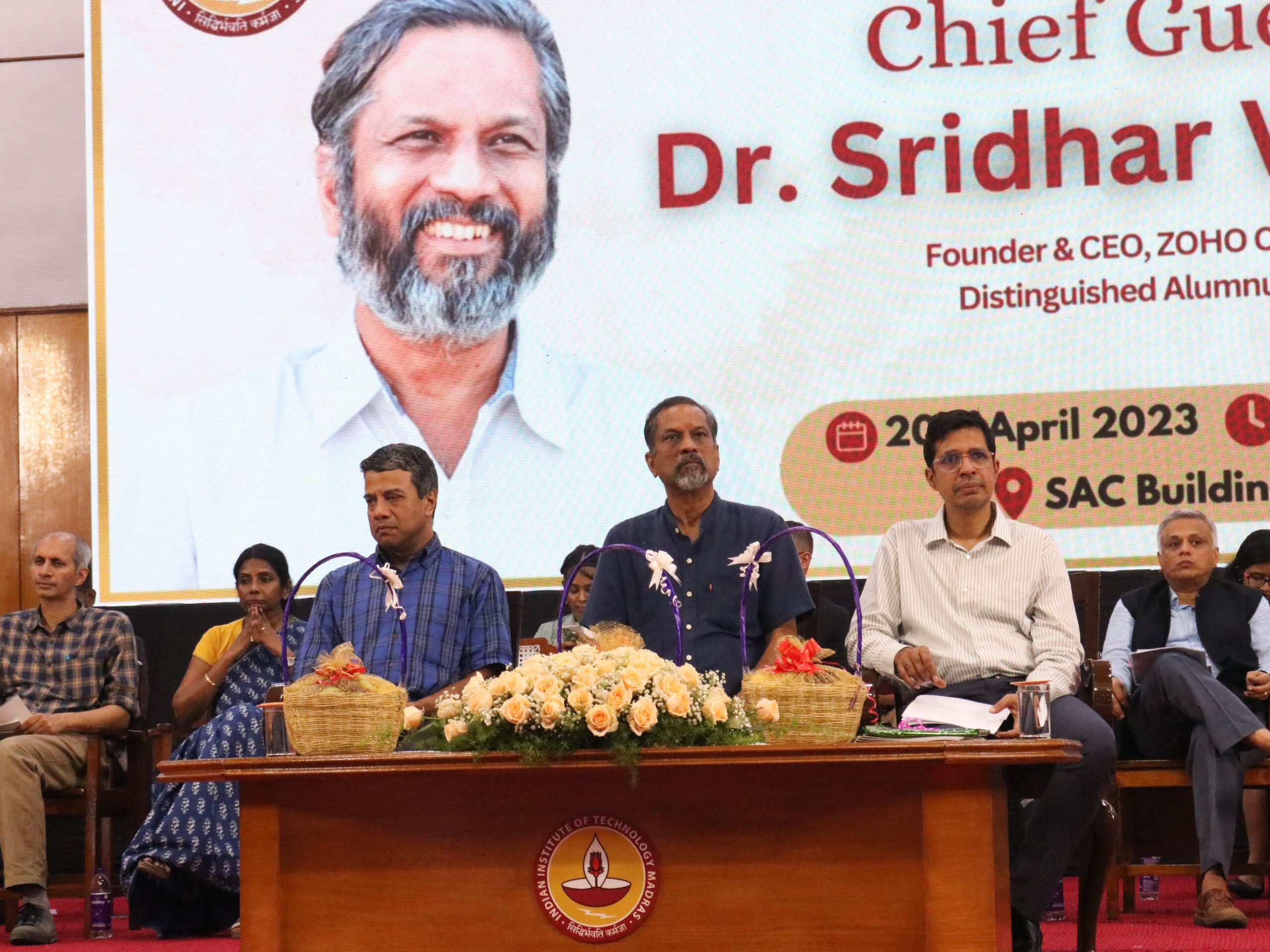 "You cannot separate the model building, which is what you call theory, from the practice of real world system; otherwise models will get totally detached from reality:" Chief Guest Dr. Sridhar Vembu, Zoho Founder
CHENNAI, 19th April 2023: Indian Institute of Technology Madras (IIT Madras) celebrated its 64th Institute Day today (20th April 2023) with students, faculty, teaching and non-teaching staff. A highlight of the event was the honouring of alumni, faculty and students for their extraordinary achievements over the last year.
A major achievement of the Institute was gaining the top honours in the National Institutional Rankings Framework (NIRF) Rankings, bagging Number 1 institute in 'Overall' category for four consecutive years and Number 1 in 'Engineering' Category for seven consecutive years.
The Event Live Stream can be found using the following link – https://www.youtube.com/live/bDgqv0eVbos?feature=share
The Chief Guest of this occasion was Dr. Sridhar Vembu, Founder and CEO, Zoho Corporation and a Distinguished Alumnus Awardee of IIT Madras.
Dr. Sridhar Vembu is an alumnus of the 1989 batch of BTech in Electrical Engineering and a Distinguished Alumnus of IIT Madras. In 2009, Dr. Sridhar Vembu founded Zoho Corporation along with Dr Tony Thomas who graduated with a B.Tech. in Electrical Engineering from IIT Madras in 1987, and Mr. Shaliesh Davey who graduated with a B.Tech in Metallurgical Engineering from IIT Madras in 1992.  Over the course of the last few years, Zoho has built a strong domestic and international presence with a user base of 80 million people, through its diverse offerings.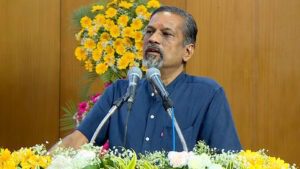 Addressing the students and faculty, Dr. Sridhar Vembu said, "(During my early days in the Industry) The models had to represent the real world because we are building systems for the real world. That is when I realized this is what real engineering is about. We had to build models to fit the real world and the only way to build that is to actually build real world systems. That was probably one of the deepest lessons I learnt. We had to build real world stuff to even make models meaningful."
Further, Dr. Sridhar Vembu, "You cannot separate the model building, which is what you call theory, from the practice of real world system; otherwise models will get totally detached from reality. It could happen in the best of places."
Dr. Sridhar Vembu has supported various initiatives at IIT Madras that further the cause of learning and education.  Zoho corporation has supported IIT Madras in instituting the 'Zoho Chair Professorship,' whose first occupant was Prof. Bhaskar Ramamurthi, Former Director,  IIT Madras, a key player in giving wings to indigenous 5G technology in India.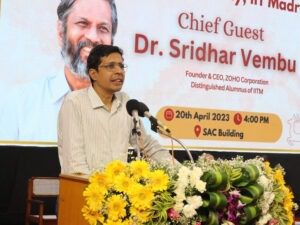 Delivering the Presidential Address, Prof. V. Kamakoti, Director, IIT Madras, said, "Under the IoE Grants from the Government of India, we have granted more than 75 interdisciplinary projects were funded in Round 1, each to a tune of Rs. 2 Crore on an average, to enable exploration of different proposed areas by the respective groups. As an outcome, 15 IoE centres of excellence in niche areas of research are to be set up at a funding of Rs. 15 crore each. In addition, around 20 IoE centres with a funding of Rs. 5 Crore each and 15 IoE Projects with a funding of Rs. 2 crore shall be supported."
Prof. V. Kamakoti added, "A team of 72 students (from IIT Madras) are working on the Hyperloop project, which aims to set up Asia's first 500 metre test track at IIT Madras Discovery campus"
Further, Prof. V. Kamakoti said, "Happiness is a collective responsibility. As we rebooted our campus after COVID, we are challenged with an unprecedented number of unfortunate events. This coming year, our large focus will be to bring more and more happiness and peace to our campus. In this direction, we have launched a website – https://behappy.iitm.ac.in/ wherein we will be putting up all the initiatives we are taking in this direction."
Presenting the student report, the outgoing Students General Secretary, Mr. Ajay Singh Sitole informed that the Student Mentorship Cell of IIT Madras received a record-breaking response in excess of 300 mentors for Freshers for a smooth induction into Institute life. The mentors are in constant touch with the mentees and act as the primary points of contact for mentees.
The students also reported the establishment of 'Pragati,' a new initiative that guides and supports the Institute's students in their academic and competitive examination preparation such as UPSC-CSE, CAT. The Finance Club of IIT Madras conducted its first ever offline fest in an attempt to connect the students of IITM to industry leaders in the finance domain including CFA Institute, Worldquant, Trexquant, Groww, Zerodha, Quantinsti among many others.
The Research Affairs Secretary reported the formation of an All-India Research Scholars Team and the launch of the All India Research Fest 2023 in association with the IIT Madras Research Park. The Secretary also reported the collaboration with national and international scientist communities such as PhDs of India to enhance networking and bring opportunities for scholars
AWARDS & RECOGNITIONS
Several recognitions were presented during the occasion. They include the Distinguished Alumni Award (DAA) presented to Prof. Viswanathan Kumaran, IISc Bengaluru, for the year 2020.
Dr. Rupesh Nasre, Department of Computer Science and Engineering, and Dr. Nagabhushana Rao Vadlamani, Department of Aerospace Engineering, were jointly selected for the 'Srimathi Marti Annapurna Gurunath Award for Excellence in Teaching' for 2022-23. This award is based on an endowment by IIT Madras alumnus, Prof. Marti Subrahmanyam, Stern School of Business, New York University.
The Institute Research and Development Awards (IRDA) were introduced in 2013-14 to encourage excellence in research.
Prof. R.I. Sujith, Department of Aerospace Engineering, was presented the 'Lifetime Achievement Research Award of IIT Madras.' He received an Institute colloquium and be designated as 'Institute Professor.' He has been invited to teach and take on research scholars from various departments.  The award carries a grant of Rs 50 lakh, to be operated as a project.
The Mid-Career Research and Development Award, which carries a grant of Rs 40 lakh, was presented to the following Professors:
Radhakrishna Pillai, Department of Civil Engineering
Suresh Kumar Rayala, Department of Biotechnology
The Distinguished Alumnus Awardees for 2023 are:
Azeez Mohammed, President and CEO, Covanta Holding Corporation, USA [1993/B.Tech/ME]
Durga Malladi, Senior Vice President and General Manager, Qualcomm, USA [1993/B.Tech/ME]
Karthik Sarma, Founder and Managing Partner, SRS Investment Management, USA [1996/B.Tech/ME]
M. P. Paranthaman, Distinguished Corporate Fellow, Chemical Sciences Division, Oak Ridge National Laboratory, USA [1988/Ph.D/CY]
Naveen Tahilyani, CEO and MD, TATA AIA Life Insurance, India [1995/B.Tech/EE]
Rajesh Rajamani, Benjamin Y.H. Liu-TSI Endowed Professor, University of Minnesota, USA [1989/B.Tech/ME]
Ram Mohan Narayanan, Professor, Pennsylvania State University, USA [1976/B.Tech/EE]
Ram Sundaram, Former Partner, Goldman Sachs, USA [1988/B.Tech/CE]
Venkatesan Guruswami, Chancellor's Professor of Electrical Engineering and Computer Science, University of California, Berkeley, USA [1997/B.Tech/CS]
Vidhya Srinivasan, VP and GM, Search Advertising and Experiences, Google, USA [2000/B.Tech/CS]
Vijay Ullal, Founder and CEO, Seabed VC, USA [1980/B.Tech/CH]
The combined donations raised by Shaastra 2023 and Saarang 2023 team was Rs.3,00,000/- for this year. It was donated to:
Deepam Trust, Chennai – Rs. 1,00,000/-
The United Orphanage for the Disabled, Coimbatore – Rs.Rs.1,00,000/-
Ties That Bind Foundation, Chennai – Rs.1,00,000/-
The following awards were also presented:
Institute Blues – students
Academic awards – students
Excellence in teaching – faculty
Outgoing officials who have completed their terms as HoD/Dean/Advisor etc. – memento – faculty
Outgoing student executive wing – memento – students