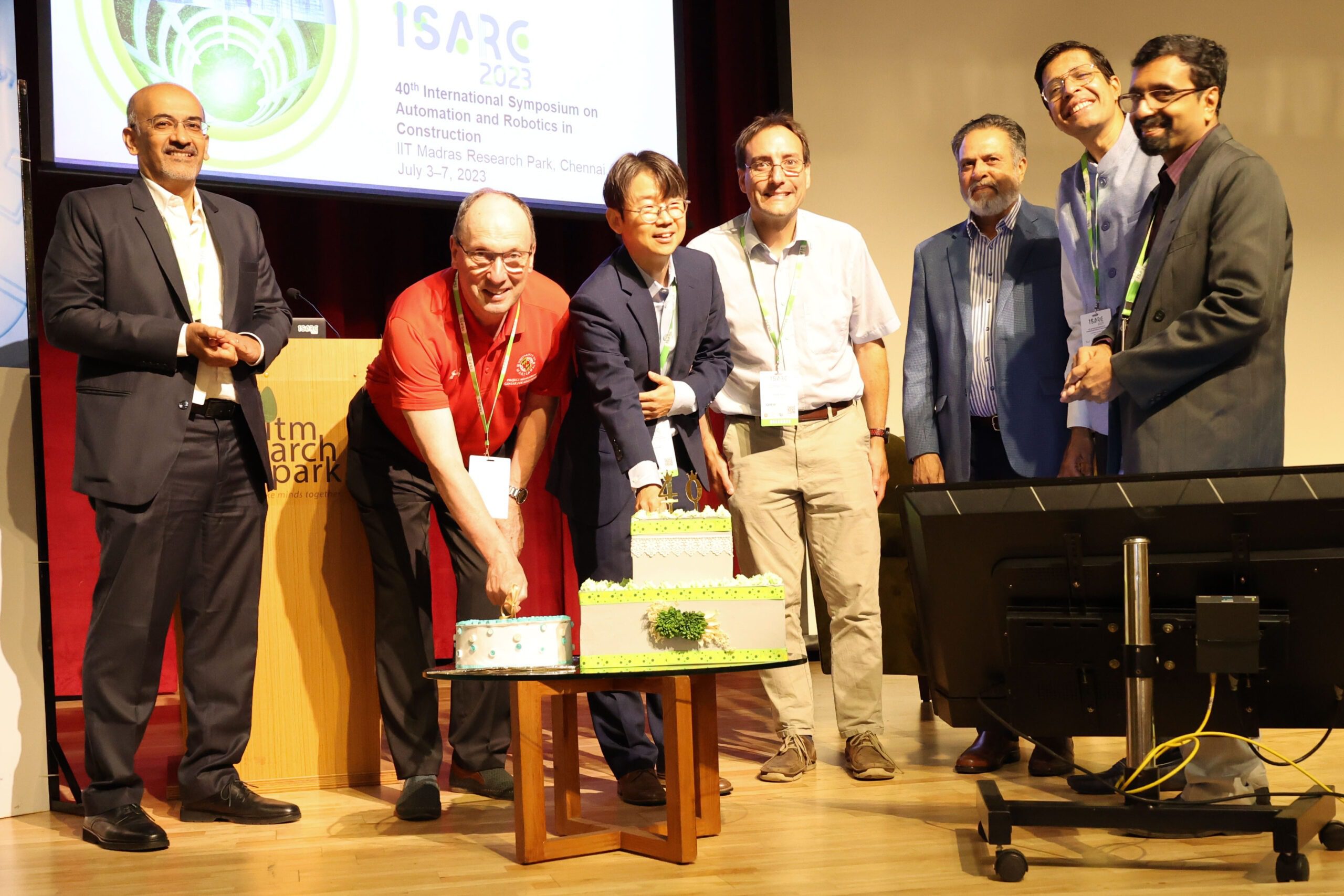 The pre-eminent global conference in the field, this prestigious event is coming to India only for the second time in its history and is being coordinated by the IIT-M Department of Civil Engineering
CHENNAI, 5thJuly2023:Indian Institute of Technology Madras(IIT Madras) is hosting the 40th International Symposium on Automation and Robotics in Construction (ISARC 2023) from 3rd to 9th July 2023. The Symposium is being participated byhundreds of experts from academia, industry, policymaking organizations, and other stakeholders related to the construction industry from across the world. Close to a 100 research papers and posters from academics from all over the globe will be presented and discussed at the conference.
This prestigious conference, considered to be the pre-eminent event in the construction sector globally in this area, is coming to India only for the second time in its history. The event is being coordinated by the Institute of Eminence Research Initiative Project on 'Technologies for Low-Carbon Lean-Construction' (TLC2), Building Technology and Construction ManagementGroup in the Department of Civil Engineering, IIT Madras.
Addressing the workshop today (5th July 2023), Prof. V. Kamakoti, Director, IIT Madras, said,"IIT Madras is proud to host the ISARC as it comes back to India. From the Indian perspective, our infrastructure is growing at an exponential pace. There are three important things – speed, accuracy and safety. We are expecting a lot more in these areas from the construction sector and this is where a technologies like 5G, Sensors and other data acquisition systems can make construction a lot more reliable and faster. Over a period of time, IIT Madras has been nurturing many start-ups that are working in multiple areas of automation and robotics"
Prof. V. Kamakoti added,"We are also getting some exciting things in India. We will be constructing a university at an altitude of 4,000 metres where we are looking at zero carbon emission and adopting 'Lean Construction.' This place can be accessed only three to four months in a year. We are looking at automation to guide us through construction at a quick pace, enhance the safety for the labourers and provide stability for the building. As a Computer Science Professor, I see three important trends coming up – Digital Twins, in which one can create a digital version of the building to be constructed, a lot more of Deep Learning, and the last is a very big intervention of Internet of Things (IoT) in energy. We have a commitment to the Sustainable Development Goals of the United Nations in the given time period. We have to use IoT and a lot more of Edge Intelligence in the area of Energy."
The conference is being organized in partnership withInternational Association for Automation and Robotics in Construction (IAARC), a premier global organization dedicated to advancement of Automation and Robotics in Construction. IAARC integrates different fields including civil and building engineering, machine automation, robotics applications to construction, information technologies, planning, and logistics, among others.
Since 1984, IAARC has been the only global organization dedicated to advancing automation and robotics in construction. IAARC's annual meeting is the International Symposium on Automation and Robotics in Construction (ISARC).
Speaking on the occasion, Dr. Hyoungkwan Kim, President, International Association for Automation and Robotics in Construction (IAARC), said,"It is time to rely on construction automation and robotics to tackle increasingly complex societal challenges like climate change, energy, and a safer society."
Dr. Hyoungkwan Kim added,"ISARC has evolved into the premium platform for exchange of information from across the Globe. Our strength has been the young researchers…This year's event features many exciting things including technical and industry sessions besides networking opportunities. A lot of important topics will be discussed including Climate Change and Energy."
The Key Themes of ISARC 2023 include
Sustainability and Circular Economy in Construction through Automation
Autonomous Construction or Construction Robots
Augmented Reality and Virtual Reality-based visualizations
5G applications in Construction Automation
Big Data applications, framework, and best practices for construction
Artificial Intelligence and Machine Learning
Highlighting the benefits for Industry from participating in such conferences, M. V. Satish, Whole Time Director & Senior Executive Vice President (Buildings), Larsen &Toubro, said,"In an increasingly competitive environment where companies are seeking ways and means to improve productivity, enhance efficiency to deliver projects faster to more exacting specifications, the advent of technology is extremely welcome. The introduction of 3D concrete printing is set to completely change the dynamics of construction while we have already proved that speed of construction can be increased manifold times with our Integrated Hybrid Modular Construction Technology. Many more such technologies, increased automation & robotics are certainly set to rewrite the rules of the game in our sphere."
Elaborating on the impact of this conference, Prof. Benny Raphael, Chair, ISARC 2023, and Head, Department of Civil Engineering, IIT Madras, said,"This conference will result in increased awareness of the potential for automation in the construction industry and eventually pave the way for wider adoption of advanced computing and automation technologies.We wanted more involvement from the industry, especially from the region. We planned a series of events including an Industry Day…In India, there is a lot of awareness on automation in Construction Sector. This conference is another push to create awareness about the new technologies in the construction sector."
INDUSTRY DAY
The Symposium also featured an 'Industry Day,' designed to provide participants in the Indian architecture, engineering, construction, and real estate industries with an understanding of the trajectory that automation and digitalization will take. It also provided opportunities for innovators in the Indian construction industry to showcase their work.
The Industry Day, held on 4th July 2023, was attended by some of the leading firms in India as well as some of the world's leading researchers. It featured four panel discussions on the following topics
Startups and Innovation – featuring some of India's most exciting startups in Construction Automation who spoke on how they plan to change the industry
Technologies and Construction – which focused on how cutting-edge technological advances such as AI/ML, 5G and Quantum Computing will impact the Construction Industry
Sustainability through Automation – Sustainability is the biggest challenge of ourtime. The session focused on How can Automation help achieve ESG targets and SDG goals
Frontiers in Digital Construction – Focused on cutting-edge implementations of Digital applications in Indian construction and inspiring examples that Indian firms can emulate right away.