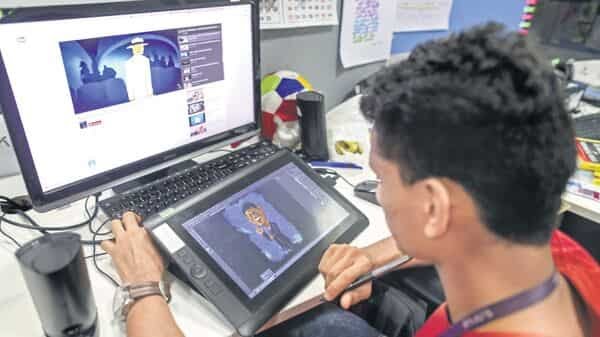 In India's online education market, going offline is currently the biggest trend.
After two years of explosive growth, which was prompted by one of the world's longest Covid-19 school closures, India now has a crowded field of unicorns in the sector of education technology. Since the nationwide lockdown in March 2020, six have reached the $1 billion valuation milestone. According to PitchBook Data Inc., they joined Byju's, which arrived there in 2017 and is currently the most valued edtech firm in the world with a $22 billion price tag following a funding round in March.
However, a change in strategy has been necessitated by the resurgence of in-person instruction as colleges and institutions across the globe reopen, as well as the drying up of cheap funding as monetary authorities seek to control inflation. Byju's, run by Think and Learn Pvt., and other top Indian edtech firms are slashing staff and marketing expenses while investing in physical tutoring facilities in an effort to find new sources of development.
Sreedhar Prasad, an online business expert, stated that "the relevance of digital education needs to be reinvented" and added that "until you solve that physical story, it's tough to expand in India in edtech."
In recent months, Byju's has opened over 200 tutoring facilities for students and intends to open up to 500 in total. The $1 billion+ companies Unacademy, Vedantu Innovations Pvt., and Physics Wallah Pvt. Have also entered the offline teaching market.
They are thus directly in conflict with India's extensive and well-established network of cram schools and private tutors that assist students in preparing for extremely tough exams to get admission to prestigious colleges or secure lucrative government positions. In 2018, almost 1 million prospective engineering students registered for an exam with a 12,000-spot prize at the Indian Institutes of Technology.
On a recent Friday, a steady stream of students entered the offline location of Byju in Delhi's bustling Karol Bagh market district.
We revise our online class in the offline class and raise our questions and doubts with our teachers in person. "These offline classes are much more helpful," said Anshika Kumari, a 9-year-old who has two-hour math and science sessions with Byju's after school five days a week—three at the centre and two online.
Analysts claim that what makes India so alluring for edtech investors is the country's sizable student population—more than 260 million students—and the failure of its institutions to match the demands of the growing ranks of middle-class parents. Employers claim that because of rote learning, millions of students graduate from high school each year unprepared for the demands of the nation's fast modernising economy.
Instead of depending on local private instructors and cramming centres, edtech promised that students anywhere could access top teaching expertise at reasonable prices by offering courses online.