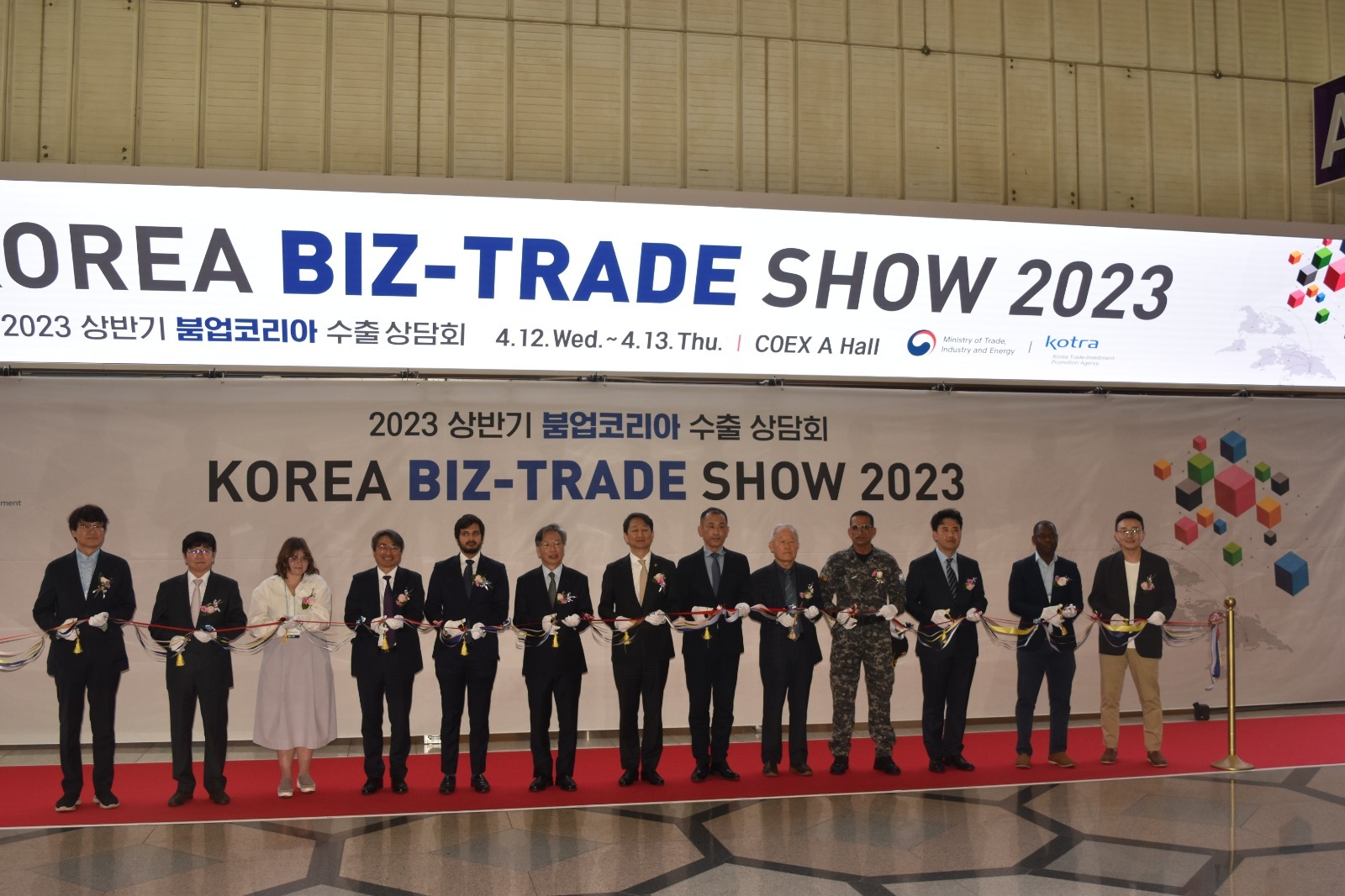 Vedanta's successful roadshow at KOTRA's Korea Biz-Trade Show 2023 supported by Indian government officials
 Mumbai, India, April 17, 2023: Vedanta Group announced that it has signed memoranda of understanding (MoU) with 20 Korean companies from the display glass industry for the development of an electronics manufacturing hub in India. Vedanta was invited to a roadshow at the recently-concluded Korea Biz-Trade Show 2023 event organized by KOTRA – the state-funded trade and investment promotion organization operated by the Government of South Korea – in collaboration with Korea's Ministry of Trade, Industry and Energy.
 Akarsh K. Hebbar, Global Managing Director of Vedanta's Semiconductor and Display business presented his plans of setting up a display fab in India. He invited prospective partners and customers to join Vedanta in establishing an electronics hub, supported by favourable government policies.
 More than 50 companies have shown their interest in partnering with us and we are pleased to announce that we have signed MoUs with 20 Korean companies engaged in the electronics manufacturing value chain," said Akarsh K. Hebbar. "Along with the Indian Government, we showcased the immense investment opportunities that our country has to offer, supported by conducive policies, good talent and a robust innovation ecosystem."
 While pitching to business leaders from Korea's electronics industry, Akarsh spoke about the scale and size of the proposed electronics ecosystem hub. He said that the hub had the potential to attract more than 150 companies and create upwards of 100 thousand direct and indirect jobs. He said that Vedanta's greenfield display fab would be one of the anchors for this proposed hub, and offered help to any company willing to explore India as an investment destination.
 Indian Government officials – led by H.E. Amit Kumar, India's Ambassador to South Korea – participated in the roadshow and spoke about India's investment-friendly policies. Shri Amit Kumar
said that the Indian electronics industry is of one the fastest sectors in the country and is expected to reach $300Bn by 2026, driven by robust domestic demand, government incentives, and increasing consumer spending power. He pointed out that this presents a lucrative opportunity for Korean companies, known for their technology prowess and innovation, to tap into a vast and growing Indian market.
 Manish Naik, Assistant Director, ICT and e-Goverance, Department of Science and Technology (GSEM), Government of Gujarat, showcased infrastructure facilities being offered at Dholera SIR, the country's first industrial greenfield smart city, and outlined Government incentives on offer for Korean companies.
 In December 2022, Vedanta had received a similar invitation for a roadshow in Japan, which was attended by more than 200 delegates from around 100 companies. That roadshow concluded with Vedanta signing MoUs with 30 Japanese firms.
 Vedanta Group company Avanstrate Inc. is a pioneering leader in the display glass industry with manufacturing footprint in Korea and Taiwan. Avanstrate's Pyeongtaek-si plant in Korea has been operational for more than 15 years, and manufactures Gen 4 to Gen 8 TFT display glass. The facility also serves as the company's R&D center, working on developing wafer glass, ultra-thin glass, next generation cover glass and AR/VR glass applications.
About Vedanta Group
Vedanta Group ("Vedanta") is a diversified global natural resources and technology conglomerate. The group produces Oil & Gas, Zinc, Lead, Silver, Copper, Iron Ore, Steel, Nickel, Aluminium, Power, Renewable Energy, and Display glass.   Vedanta has operations in India, Zambia, Namibia, South Africa, Korea and Taiwan.   Vedanta is foraying into the manufacture of semiconductors and displays, with plans to set up an integrated electronics center in India and is partnering with Foxconn for semiconductor manufacturing. With an empowered talent pool globally, Vedanta places strong emphasis on partnering with all its stakeholders based on the core values of trust, sustainability, growth, entrepreneurship, integrity, respect and care. Good governance and sustainable development are at the core of Vedanta's strategy, with a strong focus on health, safety and environment, and on enhancing the lives of local communities. The group is focused on becoming the ESG leader in the natural resources sector and is committed to reducing carbon emissions to zero by 2050 or sooner. It has pledged $5 billion over the next 10 years to accelerate the transition to net zero operations. The group's CSR philosophy is to eradicate poverty and malnutrition with a focus on development of women & children through the marquee project Nand Ghar. 
Disclaimer
This press release contains "forward-looking statements" – that is, statements related to future, not past, events. In this context, forward-looking statements often address our expected future business and financial performance, and often contain words such as "expects," "anticipates," "intends," "plans," "believes," "seeks," "should" or "will." Forward–looking statements by their nature address matters that are, to different degrees, uncertain. For us, uncertainties arise from the behaviour of financial and metals markets including the London Metal Exchange, fluctuations in interest and or exchange rates and metal prices; from future integration of acquired businesses; and from numerous other matters of national, regional, and global scale, including those of a political, economic, business, competitive or regulatory nature. These uncertainties may cause our actual future results to be materially different that those expressed in our forward-looking statements. We do not undertake to update our forward-looking statements.
For any media queries, please contact:
 Mukul Chhatwal
Group Head – PR & Media Relations, Vedanta
+91 880 079 8864