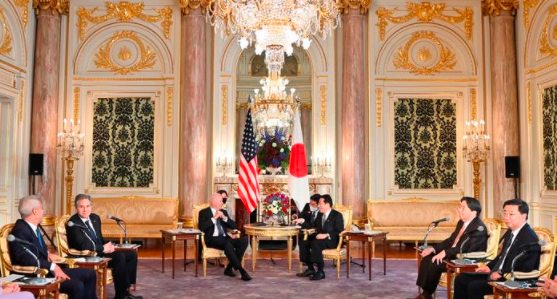 The US-led Indo-Pacific Economic Framework for Prosperity (IPEF) held a Ministerial in Los Angeles on September 8-9, 2022, the first in-person ministerial meeting after the framework's official launch in May. Spearhead by U.S., IPEF includes Singapore, Japan, Republic of Korea, Australia, India, New Zealand, Indonesia, Malaysia, Philippines, Thailand, Vietnam, Brunei Darussalam, and Fiji. Together these 14 countries represent around 40 percent of the global GDP.
The Los Angeles Ministerial conducted intensive discussions on the four pillars of the framework: Trade, Supply Chains, Clean Economy and Fair Economy. Four ministerial statements, corresponding to each pillar, were issued after the meeting. In the Supply Chains Pillar, IPEF plans to establish an information-sharing mechanism, mainly for semiconductors, critical minerals, key raw materials for food and industrial products, and important materials such as medical protective clothing and batteries. IPEF will also further strengthen information exchange of the supply chains among the participant countries, decentralize production bases, solidify the reserve system, etc. Reports point out that the consideration behind this is vigilance against China.
The meeting was co-hosted by U.S. Trade Representative Katherine Tai and U.S. Secretary of Commerce Gina Raimondo. They believe that this meeting is a "milestone" of IPEF and will serve as a model for the rest of the world to "follow". Gina Raimondo says that IPEF is at the center of the Biden Administration's Indo-Pacific Strategy, and it reflects the President's commitment to putting workers at the center of our economic and foreign policy while strengthening ties with our allies and partners.
Analysts generally believe that IPEF is designed to counter China. Trump Administration withdrew U.S. from the Trans-Pacific Partnership (TPP) in 2017, claiming that it was not in the best interests of U.S. Following its withdrawal, the remaining TPP members ratified the agreement and established the Comprehensive and Progressive Trans-Pacific Partnership (CPTPP). The Biden Administration has made clear that it does not intend to re-join CPTPP under the pressure of domestic opposition. Instead, in order to manage China's increasing regional influence, the Biden Administration decided to start anew and launched IPEF to buttress its economic and trade relations with Asia-Pacific countries.
However, many observers are not entirely optimistic about prospects of the framework. Analysis points out that since U.S. fails to give substantive economic benefits to other partner countries, their participation in the framework may not be very high. An example is India's choice to remain out of the Trade Pillar. Considering India's huge trading market and volume, its exit marked a bad start.
Indian media has quoted the Indian Commerce and Industry Minister Piyush Goyal that India stayed out of negotiations on the Trade Pillar because the nature of the benefits was unclear. "We have to see what benefits member countries will deliver (from trade)". The Associated Press reported that due to fears of domestic protectionist sentiment, IPEF lacked preferential terms for access to the U.S. market and tax reduction commitments, so its attractiveness was doubtful.
For this, New York Times believes that more market access is the only interest bait for U.S. to encourage these changes. "Without commitments to freer access to the U.S. market, it will be difficult to persuade Asian governments to change the rules in a way that could undermine their politics and economy," said Aaron Connelly, Research Fellow of the International Institute for Strategic Studies (IISS), Singapore.
Author: Jack Smith