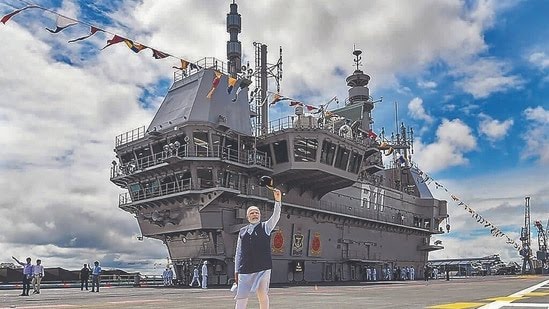 India has strengthened its expeditionary force capacity in the Indo-Pacific and is projecting maritime dominance from its eastern and western seaboards with the introduction of its own aircraft carrier, INS Vikrant. This is just the first of many steps India needs to take to protect freedom of navigation in the Indo-Pacific and resist China's growing maritime menace.
The integration of the Indian military under a single marine theatre command led by a Navy Admiral with a dedicated support force from the Indian Army and Indian Air Force is the first step in this direction.
At the Integrated Defence Staff Headquarters, the fighting forces' synergy must be seen on the battlefield rather than just in writing. India cannot afford to have its armed forces working in isolation to defend its own fiefs and the remnants of the previous imperial system. The Indian military must shed its British military background, Raj customs, and ceremonies in order to forge its own identity as Prime Minister Narendra Modi unveiled the new naval ensign.
Gen Bipin Rawat, the first Chief of Defence Staff of India, thought that by creating a maritime security infrastructure in the Andaman and Nicobar Islands, India would become a true Indo-Pacific power. In order to avoid having to wait in line at Sri Lankan ports, his national security plans included building a container cum replenishment facility at Campbell Bay in Great Nicobar. This would allow friendly nation warships and merchant shipping to refuel while sailing toward the Malacca Straits.
A deep harbour was built in Campbell Bay as part of the plan so that an Indian aircraft carrier could berth there and respond more quickly to any international emergency, including natural disasters. After INS Vikrant is commissioned, the Modi administration must implement its drawn-out plans by getting past the typical military bureaucratic red tape.
India now has the potential to manufacture aircraft carriers, diesel- and nuclear-powered submarines, and light combat aircraft on its own. This competence and capacity cannot be compromised due to the incredibly long manhours required by defence public sector undertakings to create these hardware platforms or be left inactive for lack of orders.
It would be preferable to keep silent about the current situation with HAL's Tejas and Mirage 2000 fighter fleet upgrade projects. The same may be said for the public shipyards in India, as they frequently experience delays and cost overruns. The next phase for Aatmanirbhar Bharat is to export hardware to friendly countries; otherwise, the specialised labour and tooling capacities would run out, and India will find itself back where it started.
The Indian military has to have more faith in homegrown equipment instead of relying so heavily on foreign technology and knowledge. Rome was not created in a day, despite the cliche. While Prime Minister Narendra Modi never stops praising the use of a 155 mm advanced towed howitzer with a firing range of nearly 50 kilometres on the nation's 75th Independence Day, it is important to determine whether the Indian armed forces have made any orders for purchasing this artillery gun as of yet.
Instead of outright acquiring foreign weaponry, the Indian military must encourage the domestic commercial defence industry by purchasing indigenous equipment. Only high-end technologies that will take a long time for Indian R&D to develop should be acquired from abroad. In order to develop hardware in India that may be used by the Indian armed forces and exported to friendly countries, global defence majors must collaborate with Indian private companies in the future.
In light of Russia's apparent alliance with China following the invasion of Ukraine and the high cost of western defence equipment, it is only a matter of time before Russia's weapons supply to India runs out. Currently, all of the main defence exporters, with the exception of France, are supplying to India's bitter enemies China and Pakistan.
Given the situation, Aatmanirbhar Bharat is not only a passing political trend as some strategists believe it to be. The Indo-Pacific region is the future theatre, and control of this conflict zone can only be attained by advanced, targeted research and development, together with high-quality products and workmanship.