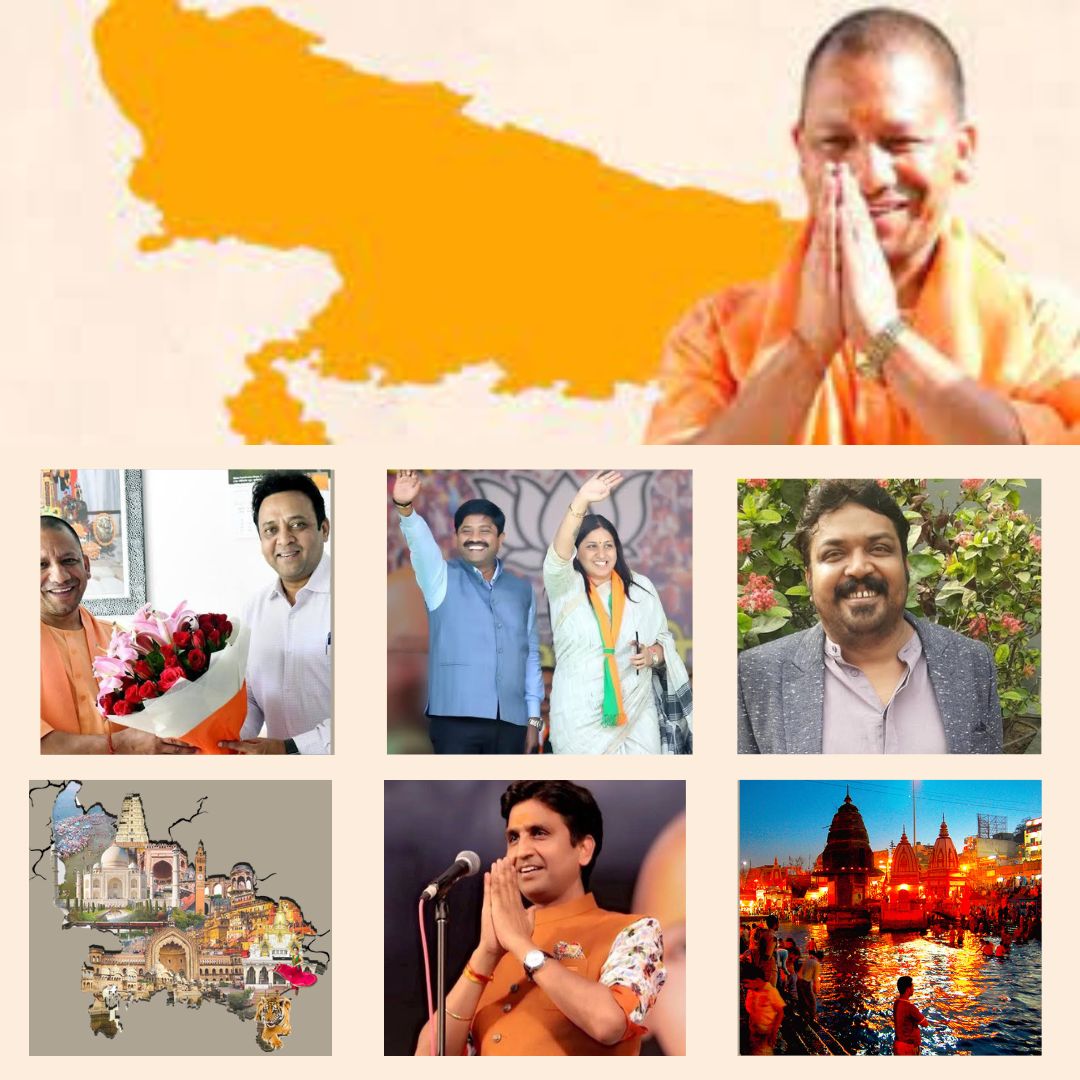 India has been given the honour of presiding over the G-20 group of the world's leading nations. This global event has opened up enormous opportunities for Uttar Pradesh. This event is a fantastic opportunity to introduce 'Brand UP' to the world, and here are the dynamic change makers who are doing just that.
The Visionary – Yogi Adityanath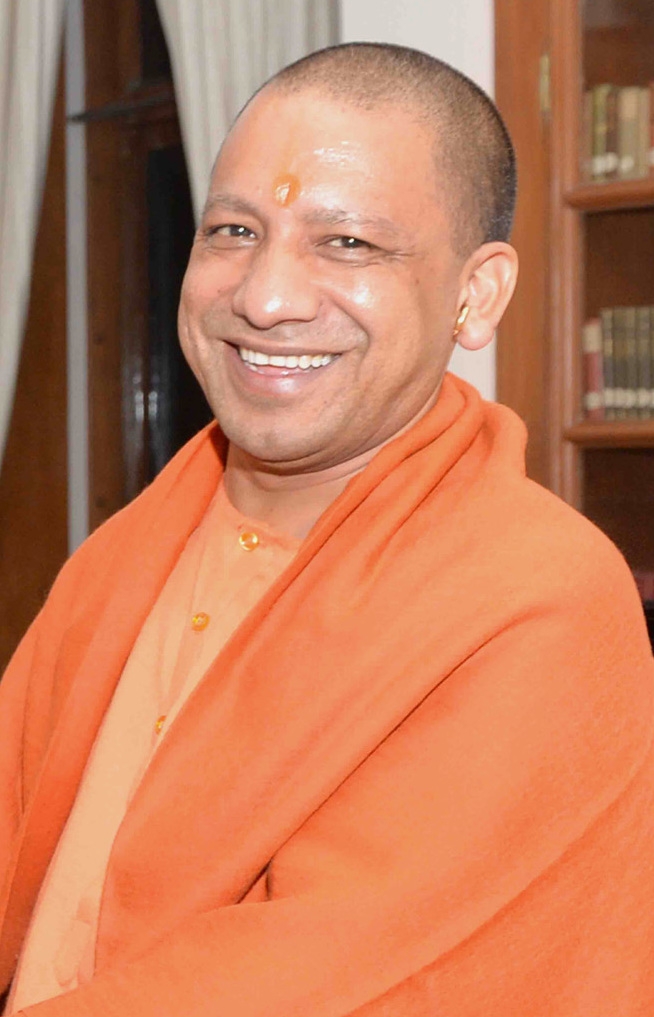 Yogi Adityanath, the Chief Minister of Uttar Pradesh, has had a historic year. He drove his party to its second consecutive victory in the state, a feat no CM had accomplished since 1985. The Noida jinx, which had dogged his predecessors since the 1990s, failed to derail his rise to power. In the second season, he hit the ground running, cracking down on lax and corrupt officials and setting 100-day goals for all of his ministers and their departments.
In bypolls, he led his party past the SP's fortifications in Rampur and Azamgarh. Despite the defeat in Khatauli, the score was evened with the fall of SP veteran Azam Khan's kingdom in Rampur. Following that, he has set his sights on a trillion-dollar economy. His administration is preparing to host a massive Global Investors' Summit in February. The goal is to make a Rs 10 lakh crore investment. UPGIS 2023 is a mega event organized by the Uttar Pradesh government. Initiated by Chief Minister Yogi Adityanath, the event is a major tool for the state to achieve its goal of a $ One Trillion economy and is expected to attract an investment of Rs 10 lakh crore to UP.
The Power Couple – Nand Gopal Gupta 'Nandi' and Abhilasha Gupta Nandi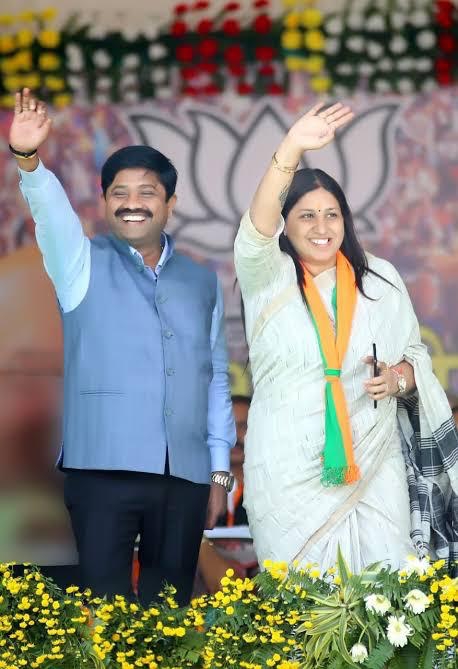 Nand Gopal Gupta 'Nandi' is the Cabinet Minister Cabinet Minister UP Government, for Industrial Development, Export Promotion, NRI, and Investment Promotion in the BJP-led Government of Uttar Pradesh whereas his super-talented wife, Abhilasha Nandi is the present mayor of Prayagraj Municipal Corporation. They are working together for the upliftment of their constituency to propel the state to new heights.
"Uttar Pradesh has attracted investment proposals worth Rs 77,140 crore from Germany, Belgium, and Sweden ahead of the state's global investors' summit", says Nand Gopal Gupta UP Industrial Development Minister.
He was on a nine-day tour to these countries earlier this month along with Public Works Department Minister Jitin Prasada, Additional Chief Secretary Navneet Sehgal, Excise Commissioner Senthil Pandian C, and MSME Secretary Pranjal Yadav. The UP Government will hold the Global Investors Summit (GIS) in Lucknow from February 12, 2023. CM Yogi will take part in the Mumbai Roadshow, along with Industrial Development Minister Nanda Gopal Nandi and Independent Charge Minister Ravindra Jaiswal. Along with representatives from the Tata Group, Reliance Industries, Mahindra, Godrej, Aditya Birla Group, Bombay Dyeing, Britannia, JSW Group, and Asian Paints Group, he is set to meet people from the banking and film industries during his visit.
While talks will be held with large industrial groups, companies like Adani Group, Hitachi, Hiranandani Group, Nestle, Coca-Cola, Maruti Suzuki, Ashoka Leyland, Goenka Group, Oswal Industries etc. Gemini Corporation, based in Belgium, has signed an MoU worth Rs 200 crore with the Uttar Pradesh government to establish a recycling plant in Varanasi. Nand Gopal Gupta Nandi, the state's Industrial Development Minister, confirmed this. Nandi is leading the delegation that is meeting in Belgium, along with PWD Minister Jitin Prasada. Gemini Corporation, according to reports, will invest Rs 200 crores in the construction of a 300-tonne-per-day plastic recycling plant in Varanasi. Gemini Corporation directors Ved Prakash Lata, Vishnu Agarwal, Pawan Birla, and Vivek Begwani were present, as was a delegation from Uttar Pradesh. Nand Gopal Gupta, Minister for Industrial and Infrastructure Development
Nandiji directed UP Expressways Industrial Development Authority (UPEIDA) officials to penalize companies involved in the construction of motorways in the state that fail to meet quality standards. the minister directed that an additional penalty be imposed to discourage companies from taking the work lightly. Concerning motorway fencing, the minister stated that concrete fencing should be installed all along the motorways.
The Powerful Officer – Sanjay Prasad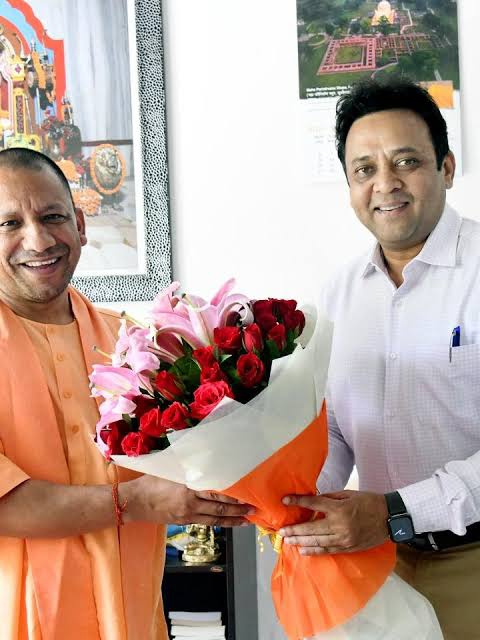 Sanjay Prasad is a Graduated UPSC Topper and is an IAS officer from the 1995 Batch. He has been Dm for Lakhimpur Kheeri, Agra, Faizabad, Firozabad, and Maharajganj. He has been the Principal Secretary to UP Chief Minister Yogi Adityanath and has now been given the additional charge of the Home and Information departments as well as information and public relations, visa and passport, and vigilance. He is a close confidante of Chief Minister Yogi Adityanath and has served as Chief Minister Principal Secretary and was in charge of the CMO's responsibilities. He has been part of the Chief Minister's Office (CMO) since 2019 when he returned to his cadre after serving for four years on central deputation. In addition, he has served as Secretary of Information. With this new role assigned to him in September 2022, Sanjay Prasad has risen to become the state's most powerful bureaucrat.
Noida's Madam-Sir – Ritu Maheswari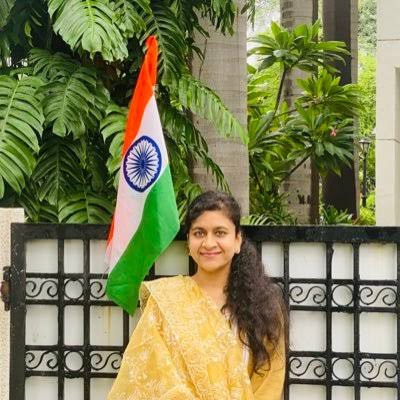 The CEO of the Noida Authority may not have an emblem like Batman or the likes, but she has earned the respect of her peers and citizens' admiration. More women's restrooms and a Pride metro station in Sector 50—the first of its kind in North India dedicated to transgender people—have helped to change Noida's image. However, it's her decision to base Noida's governance system on feedback that has earned Maheshwari the most praise. People can now register complaints more easily, especially since most services, including registration, have moved online.
Because of the low cost of real estate in Noida, there has been a rush to rent or buy property in recent years. With parks and trees, the suburb is on its way to becoming the "Manchester of Uttar Pradesh," as envisioned by Sanjay Gandhi when it was first established in 1976. Noida is giving its posher cousin, Gurugram, a run for its money with its nearly 50% green cover, state-of-the-art residential societies, and sheer ease of living.
Buzzing Talent – Faisal Malik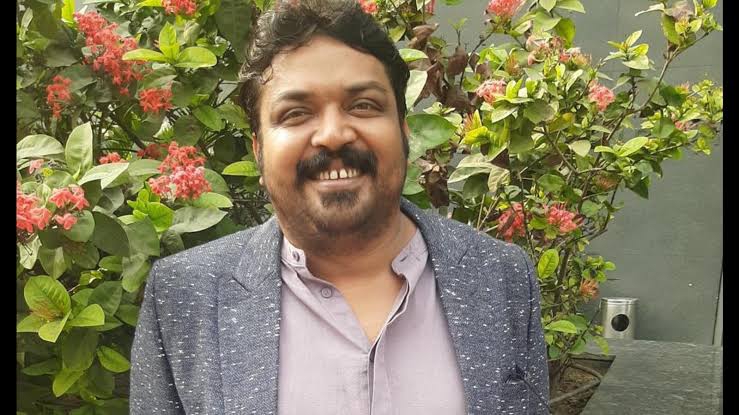 Faisal Malik is an Indian actor best known for his roles in Amazon Prime Video's Panchayat, Fraud Saiyan, Black Widows, and Anurag Kashyap's Gangs of Wasseypur Part 2. he is winning accolades for his hometown. The gaily Faisal Malik, as 'UP-Pradhan' Prahlad Pandey, is the banter buddy of Phulera regulars in the first season of Panchayat. Faisal, best known for his role as the portly cop in Gangs of Wasseypur – Part 2, brings an ominous stillness to the series' general frolic by the end of season 2. You don't want to be present when the laughter comes to an end.
He is working on a number of projects "I finished the Tribhuwan Mishra CA Topper series with Mirzapur creator Puneet Krishna, starring Manav Kaul and Tillotama Shome. I worked on Vijay Maurya's Sabun with Jackie Shroff, Pulkit's Dedh Bigha Jameen with Pratik Gandhi, and another project with Amit Sial and Paresh Rawal. I'm doing a film next month, followed by a series."
The Multi-talented- Kumar Vishwas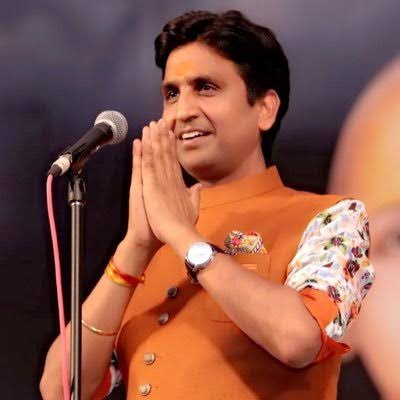 Kumar Vishwas is an Indian Hindi poet, politician, and lecturer. He was a founding member of the Aam Aadmi Party (AAP) and a former member of its National Executive. Vishwas regularly gives performances in which he showcases his poetry and passion for Hindi, Urdu, and Sanskrit literature. He incorporates his thoughts on current Indian issues. He has performed poetry and functions in the United States, the United Kingdom, Dubai, Oman, Singapore, and Japan. Ending the year on a poetic note he wishes us all a very happy and prosperous new year in his own style :
इस साल न हो पुर-नम आँखें, इस साल न वो खामोशी हो
इस साल न दिल को दहलाने वाली बेबस-बेहोशी हो
इस साल मुहब्बत की दुनिया में, दिल-दिमाग की आँखें हों
इस साल हमारे हाथों में आकाश चूमती पाँखें हों
ये साल अगर इतनी मुहलत दिलवा जाए तो अच्छा है
ये साल अगर हमसे हम को, मिलवा जाए तो अच्छा है
चाहे दिल की बंजर धरती सागर भर आँसू पी जाए
ये साल मगर कुछ फूल नए खिलवा जाए तो अच्छा है
ये साल हमारी कि़स्मत में कुछ नए सितारे टाँकेगा
ये साल हमारी हिम्मत को कुछ नई नज़र से आँकेगा
इस साल अगर हम अम्बर से दुःख की बदली को हटा सके
तो मुमकिन है कि इसी साल हम सब में सूरज झाँकेगा।