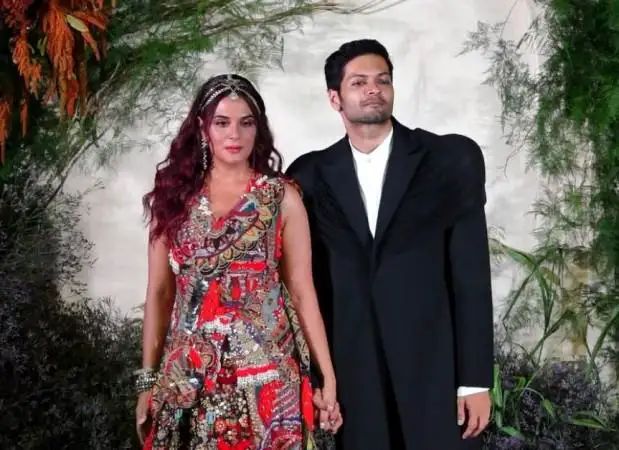 The internet is flooded with images and videos of Ali Fazal's reception. In each of their pictures, the two appear to be deeply in love.
The couple's 2020 legal marriage was recently made public.
Richa and Ali held a peculiar wedding reception. Ali opted for an Indo-Western appearance for their Mumbai wedding celebration, while Richa was seen wearing a colourful handcrafted gown by Anamika Khanna.
Who wore what
Kaushik Velendra was the designer of Fazal's long coat. The two gave out candy and even posed for photos with the media. Even at their reception events, Richa and Ali gave it their all on the dance floor. However, many users of social media were unimpressed by their unusual appearance. The two were mocked online, and their outfit was even referred to as "fancy dress" or a "Halloween costume."
One commenter commented, "His coat looks like a fancy dress for Halloween." Another person wrote, "What awful dress." An further user questioned, "Ye wedding reception hai?" A social media user wrote, "They both are wearing terrible clothes but they both look so happy, which is the most important thing." Another person commented, "Ali fatal shittiest groom attire I've ever seen… Richa was ok.. lehnga bhi utaar diya."
Richa – Ali wed 2.5 years back
"When Richa Chadha and Ali Fazal registered their marriage, they had been cohabiting for 2.5 years. As of right now, they are simply celebrating with friends and family on September 29 as they had said in their statement. They've held their wedding parties and receptions in Delhi and Lucknow, and their final event will be tonight in Mumbai "a spokesperson for them said.