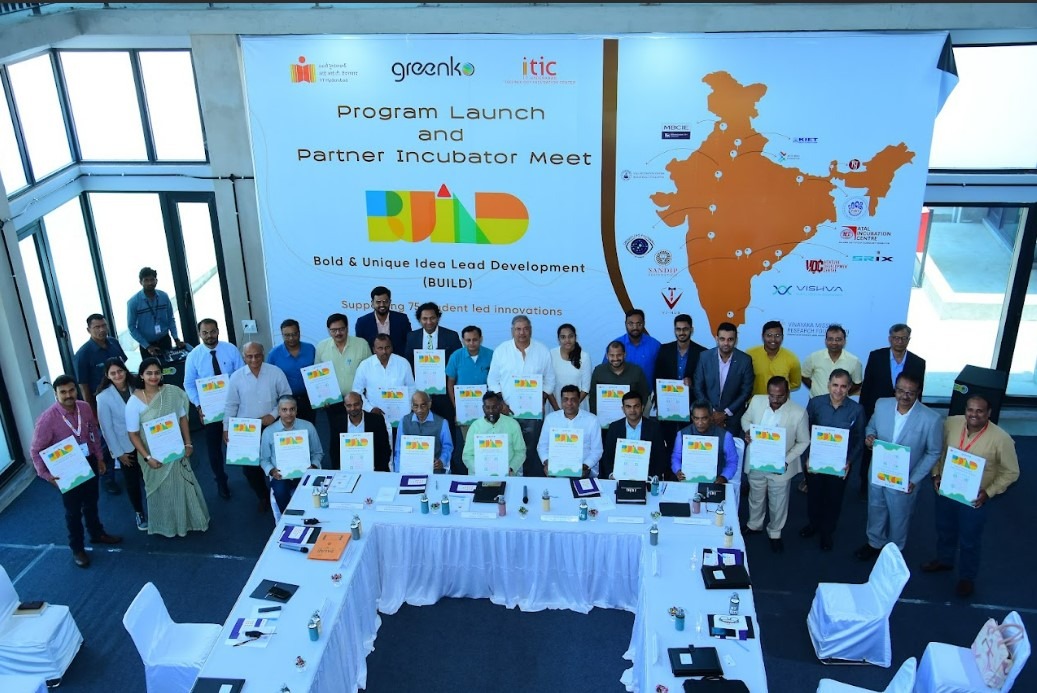 Hyderabad, June 06, 2023: iTIC Incubator at IIT Hyderabad, in collaboration with Greenko Group, has launched a new program called Bold & Unique Ideas Leading to Development (BUILD) on the emblematic occasion of World Environment Day on June 05, 2023. The program was launched at IIT Hyderabad by Dr Anil Chalamalasetty, MD and CEO, Greenko Group and Prof B S Murty, Director, IIT Hyderabad, in the presence of Dr A S Kiran Kumar (former Chairman, ISRO), Faculty of IITH and Partner Incubators. The primary objective of BUILD is to support undergraduate students and recent graduates to give shape to their innovative ideas and eventually turn them into a startup.
Under this BUILD initiative, iTIC Incubator at IIT Hyderabad signed an MoU with 14 incubators pan India to promote the BUILD program and to scout, shortlist and support 75 innovators. i-TIC Incubator has launched a national call for applications on its website. Benefits to selected innovators include financial aid of up to INR 1 lakh, mentorship, prototyping support and co-working space. At the end of the 12-month program, innovators could get a chance for pre-incubation support and further grants at iTIC Incubator at IIT Hyderabad.
Innovators can apply from the iTIC website: https:itic.iith.ac.in/build, with the deadline being July 5, 2023.
Announcing the program's launch, Prof B S Murty, Director IITH, said, "BUILD scheme has been in place at IITH for its own students for the past 3 years. After building the Technology Innovation Park (TIP) with about 1.5 lakh sqft, we felt that it is time for us to extend the BUILD program to the whole nation. With Innovation as its DNA, IITH believes in developing job creators instead of job seekers. By supporting such innovators from their student days, the BUILD Scheme provides a suitable platform for these young innovators to convert their ideas into successful products, thus aiding our urge towards making India self-reliant (Atmanirbhar) and a global leader.
Conveying his best wishes for the success of the initiative, Dr Anil Chalamalasetty, MD and CEO, Greenko Group, added, "BUILD program represents a remarkable milestone in our collective journey towards creating a vibrant ecosystem that nurtures and amplifies the innovation and creative genius of our youth. The BUILD program is a testament to our unwavering belief in the power of ideas.''
Dr A S Kiran Kumar, (former Chairman, ISRO) congratulated iTIC Incubator at IIT Hyderabad and Greenko Group for such a unique initiative and said, "BUILD program is like seeds of growth and initiatives like this are vital to support which will turn into branches and eventually trees.''