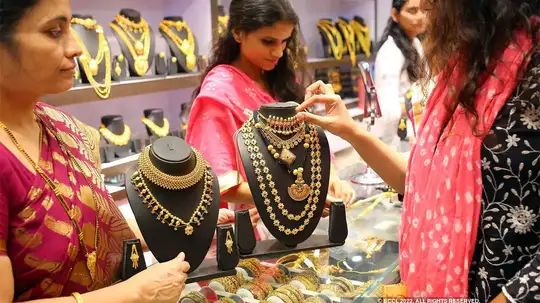 After the Covid crisis disrupted sales for two years running, this Karva Chauth saw a significant increase in foot traffic at jewellery retailers all around the country.
According to CAIT and AIJGF figures, gold and silver jewellery were sold on Thursday for almost Rs 3,000 crore, an increase of 36% from the previous year.
In a joint statement, the two representative bodies of traders and retailers, Confederation of All India Traders (CAIT) and All India Jewellers and Goldsmith Federation (AIJGF), stated that the sale of gold and silver jewellery nationwide on Thursday was approximately Rs 3,000 crore, compared to approximately Rs 2,200 crore a year ago.
In Delhi, the cost of a gramme of 24-carat gold was Rs 52,000, a gramme of 22-carat gold was Rs 48,000, and a kilogramme of silver was Rs 59,000.
"From a business perspective, October and November are seen as being particularly favourable for gold and silver traders across the nation. Following Karva Chauth, other holidays with great fervour are also observed, such as Pushya Nakshatra, Dhanteras, Laxmi Pujan, Deepawali, Bhaiya Dooj, Chhath Puja, and Tulsi Vivah "explained Pankaj Arora, national president of the AIJGF, and Praveen Khandelwal, secretary general of CAIT.
They added that customers bought a lot of lightweight jewellery in addition to trendy jewellery and conventional gold and silver jewellery, both of which did quite well.
"In addition to the enormous demand for new fashion jewellery, conventional gold and silver jewellery stocks also saw tremendous growth. Today, there was a big demand for mangalsutras, collar sets, chains, and wedding rings. On the other hand, Tier 2 and Tier 3 cities also made significant purchases of silver pazeb, nettle, half kamarband, etc."
The report cited AIJGF National President Pankaj Arora and CAIT Secretary General Praveen Khandelwal as saying, "They further said that in the last many years the demand for artificial jewellery including chick and polki sets is being demanded in the market accordingly today al-so there was a huge demand of these items by the people."