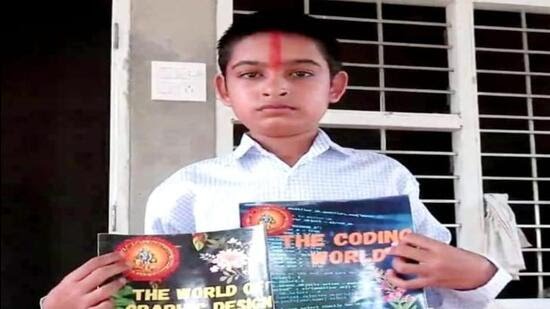 A boy in Class 8 at Jhajjar's Jawahar Navodaya Vidyalaya named Kartikeya Jakhar created three educational applications on his own and found his way to Harvard University in the United States. He also managed to enter himself into the Guinness Book of World Records.
The 12-year-old youngster Kartikeya claimed that his farmer father Ajit Singh had bought a cell phone for online education during the pandemic for about 10,000.
"The cell phone has numerous problems because it used to hang while coding. I managed the phone and resumed my study with the aid of You Tube. I created three apps; the first, called Lucent G.K. online, was about general knowledge. The second app was the graphic design and coding school Ram Kartik Learning Centre. Shri Ram Kartik Digital Education was the third app. Over 45,000 students are currently receiving free training from these apps. The focus on the Digital India initiative by our prime minister, Narendra Modi, inspired me. I wish to serve the country "Added he.
Jakhar, a student in Class 8, has received numerous honourable awards at such a young age. After passing the Harvard University entrance exam, Kartik was awarded a scholarship. He is a university student majoring in computer science.
The mobile phone that Kartikeya, a student in Class 8, is using has a damaged screen, according to his father Ajit Jakhar, yet because of his son's intense interest, three apps were created.
"I urge the government to assist my kid in order for him to create other applications. He is a phenomenal talent, and I want him to help the country in digital technology. Despite the frequent power outages in our village, Karitkeya is handling every crisis because of his intense passion. Dushyant Chautala, the deputy chief minister of Haryana, and Manohar Lal Khattar, the chief minister, also spoke with him and encouraged him for his accomplishments "Added Ajit.
Manohar Lal Khattar, the chief minister of Haryana, said in a tweet that 12-year-old Kartikeya of Jhajjar is the youngest app developer and has made it into the Guinness Book of World Records.
In addition to excelling in technology, Haryana's youth also excel in sports, culture, and the arts, the CM continued.
Captain Shakti Singh, the deputy commissioner for Jhajjar, stated that they will assist the 12-year-old youngster as needed.
The DC said, "We'll also lead a Kartikeya session with other pupils so that other kids can also get inspired.